This post may contain affiliate links, which means we may receive a commission if you purchase through our links. Please
read our full disclosure here
.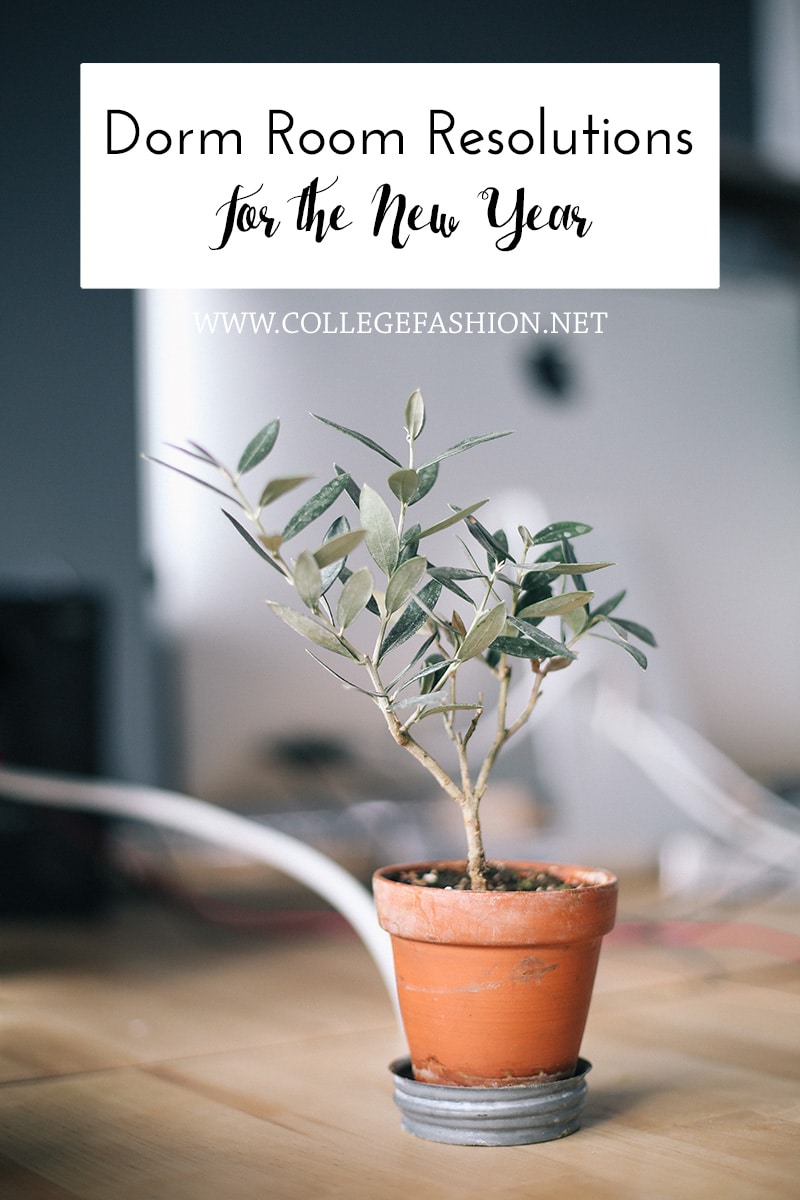 If I had a dollar for every time I saw "New Year, New Me!" as a Facebook status or tweet over the past few days, let's just say that I'd probably be rocking some brand-new Louboutins right now. Figuring out how to make good resolutions — and keep them —is one of the challenges that always seems to pervade the first week of January.
We've recently covered some of our fashion and beauty resolutions for the new year, but as your resident interior design columnist, I'm a firm believer that resolutions shouldn't be limited to only one avenue. Why not try making a resolution or two that focuses on your dorm life? You certainly spend enough time there, and after a few years at school, I've noticed a direct correlation between the cleanliness of my room and how productive I am that day.
In this article, we'll discuss five dorm room resolutions for the new year to help you start the new year on the right foot, whether you live on-campus, in an apartment, or even in a Greek house. Let's get started!
1. Maintain, maintain, maintain.
I completely neglected my binder organization this past semester, and when finals week rolled around, I had a stack of notes three feet high, with all of my classes jumbled together in the pile. So this year, I'm vowing to avoid that by maintaining my systems!
Keep yourself on top of your studies by actively maintaining your schoolwork organization! Color-code your classes (a red binder and notebook for calc, a blue one for economics, etc.), invest in a three-hole punch, and as soon as you get a handout, put it in your binder. Keep on top of your daily schedule, as well. You'll save yourself countless headaches over the semester.
2. Keep your fridge well-stocked.
Have an 8:30am class or an early practice — or both?! (Here's to you, college athletes!). Sometimes you just don't have time to grab a bite to eat before your day begins, and that's where keeping your fridge well-stocked becomes a necessity.
Shop the local farmer's markets for apples and fresh veggies, and pick up some healthy snacks with a long shelf life, like organic peanut butter or hummus. Sticking with a New Year's resolution to eat healthy will be easier if you've got nutritious snacks to keep you full… and away from the vending machines.
3. Learn how to do your laundry — properly!
If you never learned how to sort your dirty laundry and extend the life of your clothes, now is the time. Separate whites from bright colors, heavy fabrics from delicate ones, wash your jeans inside out — and check your pockets before your iPod winds up in a washing machine. Don't dump too much detergent in, as this can damage the machine (and cause your clothes to retain the suds after a rinse). And for heaven's sake, don't put your bras in the dryer!
Learn which clothes should be hung up in the closet, and which should be folded (knits stretch out on hangers, which makes them fit poorly when you wear them). Pretty soon you'll be a pro at all things laundry, and your clothes (and your wallet) will thank you!
4. Get to know someone new in your residence hall.
Odds are that there's someone who lives on your floor or down the hall that you don't know too well. For seasoned upperclassmen who lived in a freshman residence hall, don't you miss those community dinners you had during the first few weeks of school? Prop your door open for a little while every day and you'll be surprised at who stops in for a chat or to compliment your decor. Or, be that person who makes the first move and introduces themselves!
Once you've gotten to know someone new on your floor, a whole new world of possibilities opens up. Have random sleepovers with your neighbors, drag your mattress down the hall, put on Modern Family, and make popcorn with taco seasoning, stop by when you're procrastinating your paper… you know the drill. Now go forth and meet people!
5. Make your bed a little more comfortable.
My neighbor (hi, Francis!) stored his vast collection of pillows and blankets on my bed before we left for winter vacation, and my bed became so cozy that I immediately resolved to invest in something to make my bed more comfortable. After all, you spend nearly 1/3 of your college experience on your bed, so it may as well be as comfy as possible.
A quilt is a good investment if a lot of people visit your room and sit on your bed–it keeps your sheets and bedding from getting dirty. You could also think about getting a memory foam pillow or body pillow. Can't think of anything else your bed needs? Get yourself a Pillow Pet.
More Dorm Room New Year's Resolution Ideas:
EDIT: Want even more ideas? See our follow-up posts with more resolution ideas here and here.
What do you think?
What do you think of our dorm room resolutions for the new year? Have you made any resolutions of your own? How do you stay organized during the school year? What do you stock your fridge with? Let us know with a comment!