This post may contain affiliate links, which means we may receive a commission if you purchase through our links. Please
read our full disclosure here
.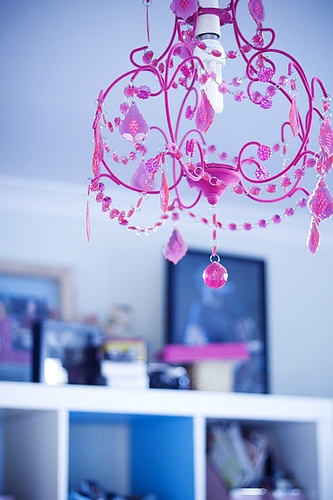 Spring cleaning is something I do more than seasonally; it's important to reassess the space in your room in order to keep it streamlined and clutter-free! Once I'm done, a clean room feels like a blank canvas to me, and I get pumped up about personalizing it.
Unfortunately, most dorms and apartment complexes require that tenants adhere to strict regulations regarding changing the property. But while new flooring or a coat of paint may be out of the question, the following ideas are some non-permanent ways you can give your room or apartment a facelift.
Hanging Canopy

Product Information:White Four-Point Canopy, Purple Hoop Canopy, White Hoop Canopy
Sheer hanging canopies are great for adding a romantic, relaxed vibe to your space. These pieces, which are usually made of netting or lightweight cotton, and come in a variety of colors, can be a cheap and effective way to give your bedroom an expensive-looking aesthetic.
Don't have a four poster bed? You can create the illusion of one without the hassle of buying new furniture by using a four point canopy (above left). Or, if a smaller version is more appealing, try putting up a hoop canopy. Because hanging canopies aren't heavy, installation is simple and non-invasive; ceiling hooks (the kind you use for hanging plants) can be purchased at any hardware store, and often times, come included with your canopy.
One word of warning: If you live in a dorm, make sure to check your building's rules before you buy a canopy – many schools prohibit student residents from attaching things to their ceilings, so it's best to check beforehand to avoid breaking any rules.
Wall Murals/Decals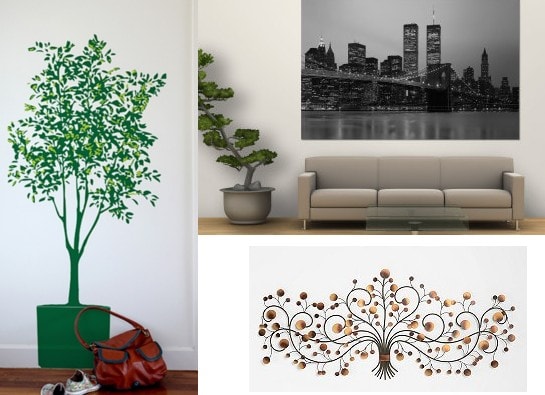 Product Information:Olive Tree Decal, Brooklyn Wall Mural, Scroll Decal
Stuck with a bedroom window overlooking an alley, or worse, facing someone else's apartment? Give your room some life with a wall mural!
With their large size, wall murals have a similar effect as painting the walls, but are a lot easier to apply and remove. Most murals come with a paint-safe adhesive that can be easily peeled off when you're ready to move out. Forests, city skylines, and fine art are a few examples of wall murals that can be easily found. Similarly, wall decals can make a big impact with little effort – some can even be saved and repositioned at a later time (or at your new place!).
Area Rugs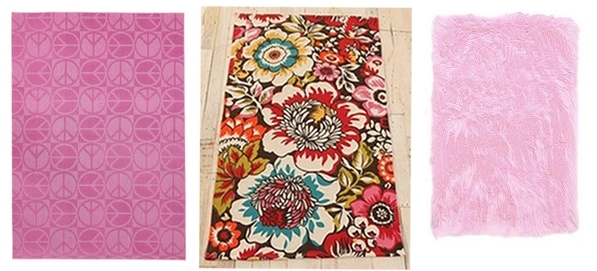 Product Information:Peace Sign Rug, Floral Rug, Pink Flokati Rug
Dorm rooms and student apartments can get pretty badly abused, and carpets are usually the first place to show it. To keep up with constant turnover and high traffic, the carpet used in most student dwellings is often low-pile in a forgiving (read: dingy) color, and may be riddled with stains from previous occupants.
While you can't rip out the carpet in your dorm room and replace it with hardwood, padding your place with area rugs is a treat for your feet, as well as a great way to cover up any unsightly stains from past residents. Plus, an area rug in a bright color will help your space feel cheery and unique. Even better? Area rugs can be taken with you when you leave, and will also prevent you from damaging the actual carpet, which can eat up your security deposit.
Lighting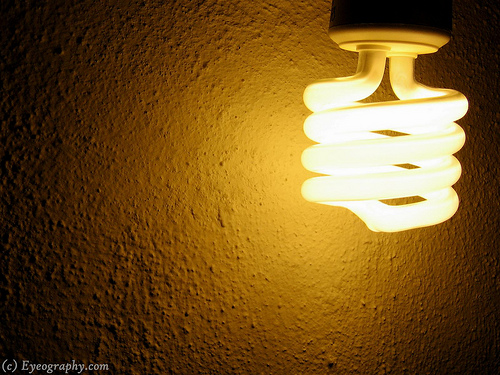 Product Information:Black Chandelier, Lime Green Chandelier, Pendant Lamp, Dachshund Lamp
While most dorm rooms and student apartments come with (horrific) overhead flourescent lighting, there's no rule that says you have to use it! Instead, buy a few inexpensive lamps and create your own lighting scheme.
Feeling glamorous? Many chandeliers can be hung from the ceiling and simply plugged into an outlet. If you're wary of (or prohibited from) hanging things, try a table lamp in a fun shape or color – this dachshund lamp is a little kitschy, but reminds me of my four-legged best friend.
Want more?
If you're inspired to start sprucing up your space, check out these other CF articles on dorm room decorating for more ideas:
What Do You Think?
How do you personalize your space? What's your favorite style of home decor? How do you personalize your space without violating your dorm or apartment rules? Does your style clash with your roommate's? I would love to hear your thoughts!