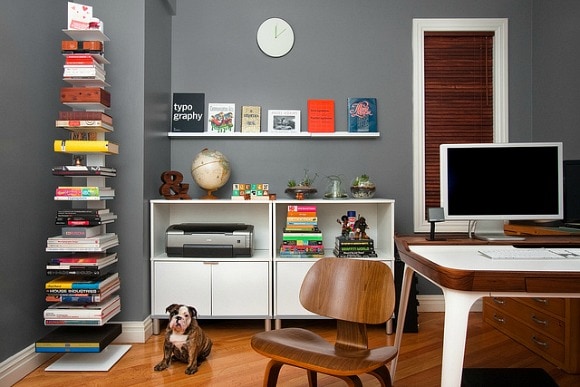 Right around this time of year, I get an inexplicable urge to re-organize my bookshelf, the haphazard under-bed storage jumble, and (unfortunately) the black hole of my dorm, more commonly known as my closet.
If you've ever been there or are one of those people that cleans their room to avoid studying for an exam, I'm right there with you. Sometimes, all it takes is a simple, ingenious method to get something organized — and keep it organized — for a lengthy amount of time.
With that being said, there are a few cult-favorite organization products that fashion bloggers and magazine editors alike swear by. Whether your goal is to mask the clutter, make a space more accessible, or change up the feeling of a room with rearrangement, organization is central to having all of those goals become a reality.
In this article, we'll describe some top dorm room organization products that can often be found peeking from a corner of interior design photoshoots (or, more often, on those mysteriously helpful and comprehensive Pinterest links). Let's get started!
IKEA Raskog Kitchen Cart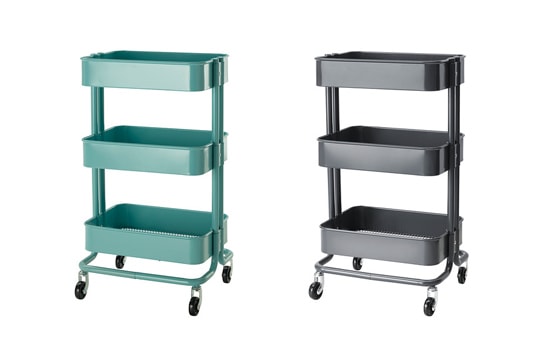 I promise you, the second I get my own apartment (and after I splurge on an Eames chair), the first thing I am going to purchase is the IKEA Raskog Kitchen Cart. Sleek enough to belong in a trendy loft apartment and utilitarian enough to serve as a portable island in your kitchen, this cart serves any and all purposes for simple, visual storage.
Use it to store snacks and drinks under a lofted bed, put it to work holding toiletries or guest towels in the bath, or transform it into an electronics cart next to your workspace.
Poppin Desk Set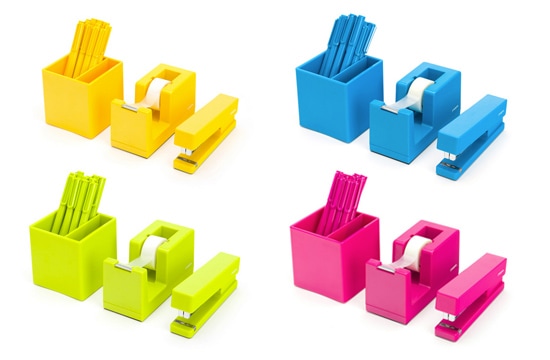 If your style isn't so much woven-baskets-and-Mason-jars and instead veers into a happy and bizarre marriage of Beyonce's Blow music video, Piet Mondrian, and Andy Warhol, these bright, geometric starter desk sets (Poppin's signature line) will be the perfect way for you to keep your desk implements corralled while working with your room's color scheme.
To very roughly paraphrase Napoleon, uniformity is the midwife of organization (okay, that one was a bit of a stretch), and I certainly can't think of a better way to tie a workspace together than with matching desk accessories.
The Container Store Baskets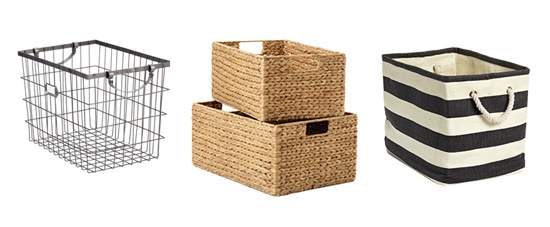 Product Information: Metal, Woven, Striped
Storage baskets are among the most beautiful things ever, and that is a fact. Infinitely customizable and gorgeous on display, they make you wonder why anyone would ever use giant plastic bins in a bedroom. (Although I will admit that my family will never give up our huge Rubbermaid bins full of sports gear in the garage.)
The best thing about them is their wide variety of styles. Try a metal storage bin for soft towels or toiletries if you're the type of person who prefers bare bulbs over fabric lampshades. If your dream house is a log cabin or something similarly rustic, woven baskets hide excess clutter and look wonderfully organic. Nautical rugby stripes look great in sporty rooms and those that tend to have anchors/wooden ship wheels on the walls.
What do you think?
What other cult favorite organization products can you think of? Do you have any of these in your room? What do you swear by when it comes to keeping your things corralled? Let us know with a comment!