This post may contain affiliate links, which means we may receive a commission if you purchase through our links. Please
read our full disclosure here
.
'Tis the season for lights, ribbons, and (fortunately or unfortunately) Secret Santa and/or Hanukkah Fairy gift exchanges. With so many gifts to buy and a rapidly approaching holiday season on top of finals week (!) and final papers (!!), what's a girl to do?
If you're at a loss for what gifts to give and receive this season, look no further! While clothing may not always fit and snacks may trigger allergic reactions, home decor and office accessories are functional, adorable, and always welcomed.
In this article, we've rounded up a bunch of fantastic home-furnishing holiday gifts to add to your wishlist or to pick up for your next office Yankee Swap. Whether you're shopping for the super-organized friend or the one who manages to make gourmet meals out of coffee brewers, there's something for everyone! (Or, you know, just for you.)
For the Kitchen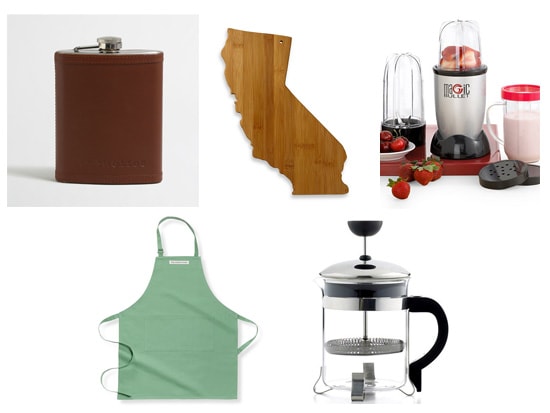 Product Information: Flask, Cutting Board, Magic Bullet, Apron, French Press
For the chef who has everything, or the friend who stress-bakes, these gifts are fab options that they didn't even know they needed.
A classic leather flask with a quirky "BOTTOMS UP" stamped on is perfect for the friend who quotes Anchorman constantly and/or is never seen out of business casual dress.
For the friend who's far from home, a state-shaped bamboo cutting board reminds them of their stomping grounds while they arrange cheese on their favorite cities.
The Magic Bullet blender sets are excellent for those friends who have entire Pinterest boards dedicated solely to smoothies, or who always suggest going to Jamba Juice while you're out shopping.
Do the caffeine-addicted friend a solid by gifting them a French press, which will save them literally heaps of money spent at local coffee shops while looking classy on their kitchen counter.
A gorgeous mint-colored apron is the perfect gift for the friend who made the turkey on Friendsgiving (read: the one who actually knows how to cook something without setting the kitchen on fire).
For the Office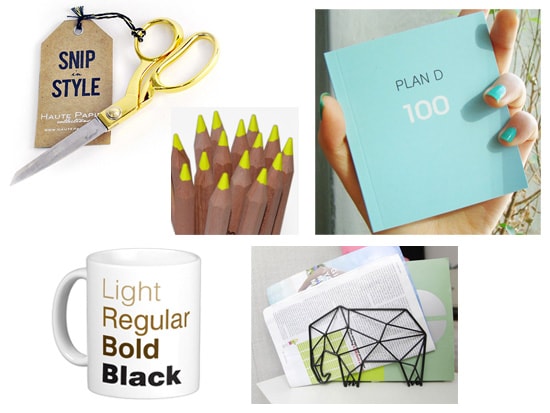 Product Information: Scissors, Highlighter Pencils, 100-Day Planner, Helvetica Mug, Letter Holder
Kitschy office supplies are my jam, so I'm a little biased here, but there's no denying the wonderful utility of these chic organization and office gifts. Parents and Secret Santa friends: feel free to buy any and all of these for me.
For the friend who monograms her dish towels and sends birthday greetings on personalized stationery, gold-handled scissors make the perfect addition to their desktop.
Eco-friendly pencil highlighters are just all-around great.
Know someone with a solid goal in mind? A 100-day planner will help them keep track of their steps and motivation while looking adorable and bright blue.
The font snob in all of us will love the Helvetica family coffee mug.
Animal lovers and minimalists alike will appreciate this elephant wire letter holder.
Do-It-Yourself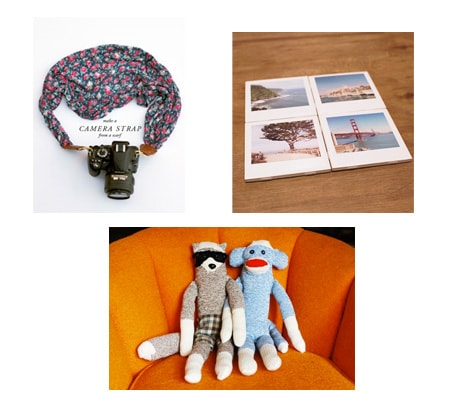 DIY Project Information: Camera Strap, Coasters, Sock Monkey
When all else fails, skip the frantic online shopping and head straight to your local hardware or craft store. DIY projects are a great stress-reliever during finals, and the result is a truly personal touch to a useful present.
For the friend who favors real photographs over blurry iPhone nonsense, treat them to a camera strap made from a scarf.
Housewarming made simple: Instagram polaroid coasters are both cheap and practical.
Finally, homemade sock monkeys have a home on even the most minimalist of beds.
What do you think?
Do you like our holiday picks? What are your go-to gifts? Do you prefer DIY or store bought gifts? Let us know with a comment!