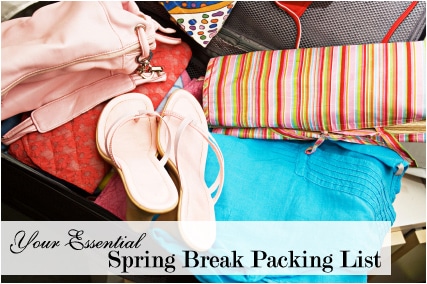 I can't believe my semester is almost halfway over and Spring Break is just a week away. (It definitely feels like winter break just happened.) My favorite part of Spring Break is being able to put my life on hold and run away to somewhere warm, beautiful, and relaxing, where things like homework and exams don't exist and all I have to worry about is where we're going out to that night.
Tragically, I am not going to such a tropical paradise this year (I'll be in Shanghai instead, which is equally exciting but definitely not as warm). Nevertheless, in an effort to live vicariously through all you girls who will be going on tropical Spring Break vacations, I've made the following essential packing list.
1. Swimsuit
1. DKNY, 2. VS Beach Sexy, 3. VS Very Sexy, 4. VS Very Sexy
5. VS Beach Sexy, 6. American Eagle, 7. VS Beach Sexy, 8. VS Very Sexy
What's Spring Break without a swimsuit? When I went to Jamaica last year, I brought three sets because I knew I'd be wearing them every day and I didn't want to get bored with just one. If you're packing more than one swim suit, try to bring different styles — flirty, classic, or all-eyes-on-you.
This year, popular swimwear trends include neon colors, animal prints, and monokinis. Experiment with mixing and matching, and you can even try the mixed prints trend like the adorable pink polka-dotted/floral look above.
2. Cover-Up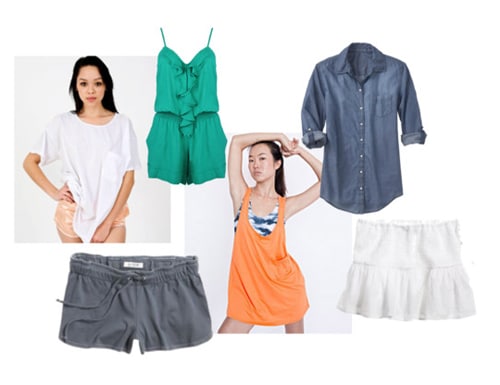 T-Shirt – American Apparel, Romper – Forever 21, Boyfriend Shirt – Old Navy, Terry Shorts – aerie, Tank Top – American Apparel, Skirt – aerie
If you're wearing your swimsuit all day, you'll also need something to wear over it when you're not near the water.
The easiest cover-up is just shorts and a tank top, which can be super cute and sexy, but don't be afraid to experiment. A pretty white skirt goes a long way (especially with one of those colorful bikini tops); or try a sheer, oversized tee (shorts optional) for an effortless resort look. My personal favorite is a casual boyfriend shirt in linen, chambray (very popular this season), or sheer white — unbuttoned, and again, shorts optional.
3. Day Outfits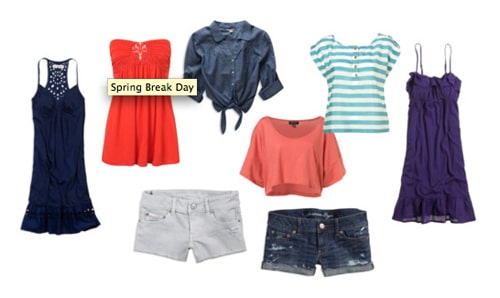 Dress – American Eagle, Crochet Top – Forever 21, Woven Shirt – Forever 21, Striped Shirt – Topshop, Dress – aerie, Cropped Shirt – Topshop, Gray Shorts – American Eagle, Denim Shorts – American Eagle
If I could pick two words to describe the ideal Spring Break wardrobe, they would be casual and bright.
For your day look, you can't go wrong with simple denim and colorful cotton. I personally like to pack mix-and-match pieces so I don't have to lug a million pounds of clothes around. You'll want to keep it simple and easy — Spring Break is all about relaxing, which you can't do if you're decked out in jewelry and too many layers.
4. Night Outfits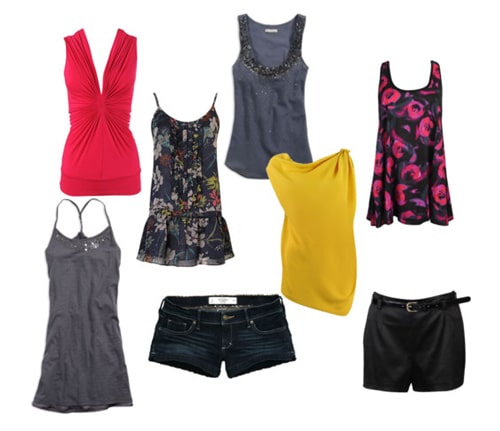 Pink Top – Forever 21, Floral Tunic – Forever 21, Embellished Tank – American Eagle, Yellow Tunic – Forever 21, Roses Tank – Forever 21, Embellished Dress – American Eagle, Denim Shorts – Abercrombie & Fitch, Satin Shorts – Forever 21
At most popular Spring Break destinations, you can probably wear your "day" looks at night without a problem, but you also have the flexibility to dress up a little, especially if you're going to a nicer club.
The main difference is the texture and fabric — embellishments, satin, ruching, etc. will make your look more nighttime-appropriate. Darker colors are fine, but florals and simple brights also look great with black satin shorts or liquid leggings. Again, having mix-and-match pieces will give you the most options.
5. Other Stuff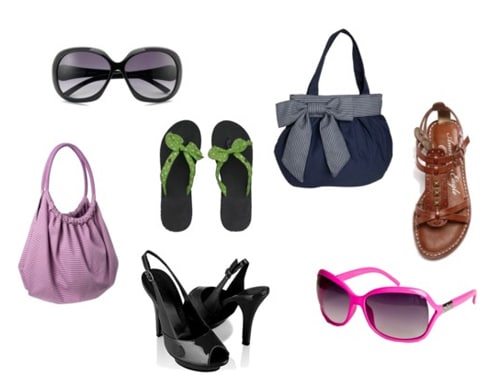 Black Sunglasses – Monsoon, Flip Flops – Hollister, Navy Tote – Debenhams, Sandals – American Eagle, Lilac Tote – Old Navy, Heels – Forever 21, Pink Sunglasses – Miso
Aside from clothing, you'll need some fab accessories for Spring Break as well. I recommend a day tote — anything colorful and inexpensive, because you don't want sand getting all over your nice leather bag. You might want to bring a clutch for going out at night, but be careful with it because stuff gets lost pretty easily when you're having fun.
For shoes, just stick to one pair for each occasion — beach flip flops, day sandals, and all-purpose black heels (comfort is a must!) for night.
Also, don't forget to bring your favorite pair of classic sunglasses, and maybe a pair in a bright color just for fun. Finally, don't forget your sunscreen! Sunburns are never cute.
More Spring Break Fashion
For even more tips and ideas for what to wear on spring break, plus plenty of affordable and cute clothes and accessories, make sure to check out our article on Spring Break Outfit Ideas!
What do you think?
What are your Spring Break plans? Do you have any packing essentials for beachy vacations? Do you pack light or heavy? Have you done any swim suit shopping this year or are you still waiting?
Personally, I had way too much fun looking through the hundreds of styles on Victoria's Secret; the ones I posted were my favorite but they have tons more that are also super cute. I also randomly really love the Hollister flip flops — if you look on the product web page, it has a giant fabric bow on it. Way too cute. Which item from this post was your favorite?