This post may contain affiliate links, which means we may receive a commission if you purchase through our links. Please
read our full disclosure here
.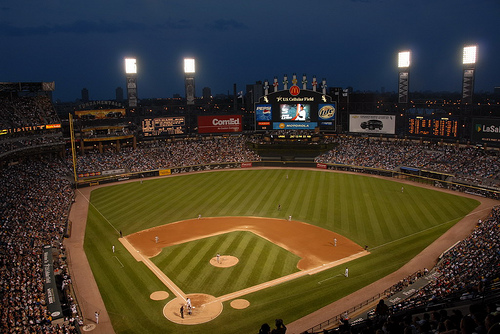 Welcome to the latest edition of What to Do, What to Wear, where we share fun activity ideas and tips on what to wear while doing them! (In case you missed it, see the first post on what to wear to a zoo.) By reader request, I've put together three cute, comfortable outfits to wear to a baseball game. I used the Pittsburgh Pirates' colors (black and gold) for all of the outfits, but you could easily recreate them with your own team's colors.
Ok, ok, I admit it — I'm not really a sports fan (which is practically a sin in Pittsburgh!). I go to the baseball games for the beautiful view of the city, yummy food, great company and Mrs. T's Pierogie races. You'll definitely see me more enamored with my nachos and cotton candy than the game.
Even if you, like me, aren't a die-hard fan, a baseball game is the perfect summer activity. Tickets are incredibly cheap (sometimes as low as $9!) and it's a great excuse to get together with friends for an evening of fun in your city. Although tickets can be affordable, ballpark food is the opposite. Be sure to eat dinner prior to the game and go for the kiddie size nachos, hot dogs and ice cream. You'll save cash and calories! Also, the farther you park from the field, the cheaper it will be. If you're willing to walk, park farther! You'll get the exercise to justify the extra ice cream cone and a great scenic walking tour of the city.
A few things to remember when dressing for a game:
AVOID WHITE SHORTS. Mustard will surely find a way onto your bottoms and that's not a cute look for anyone.
Wear something in your team's colors! It's important not to accidentally don rival colors, so do your research before the game.
Leave those ultra short skirts at home. You'll be walking up and down stairs to your seats, which leaves a big chance for a wardrobe malfunction. And the backs of your thighs will surely stick right to those stadium seats. Yuck.
Dressing for a baseball game can be a tricky task, but if you do it right, you'll look effortlessly chic. Without further ado, here are the outfits:
Sporty Chic
Shirt: VS Pink, Shorts: Zumiez, Shoes: Zappos, Earrings: Nordstrom, Clutch: Vera Bradley
I'm not a huge fan of women's sports jerseys. Aside from the fact that they are absurdly expensive, they are also usually quite tacky looking. A pink bedazzled jersey does not scream fashionable sport-goer to me. Thankfully, Victoria's Secret collaborated with MLB merchandise and created a line of adorable baseball shirts. Each shirt is fashioned as typical baseball tee (white torso & colored three-quarter length sleeves), but cut to fit a woman's body. Paired with simple studs, denim cut-offs, comfortable sneaks and a cute clutch, this is a foolproof outfit to sport to a ball game with friends or family. Throw your hair into a cute side braid and you'll be ready for all the rain, shine and humidity the weather will throw at you.
Color Blocking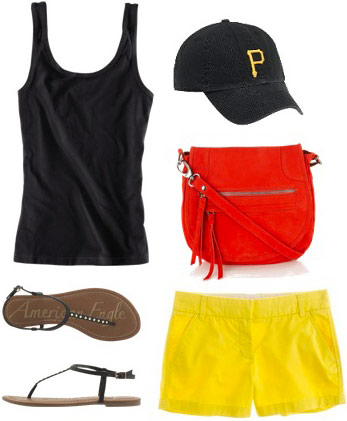 Tank: H&M, Shorts: J.Crew, Hat: Amazon.com, Shoes: Payless, Bag: Oasis
If you're not an avid ball game-goer, you may not have invested in a logoed shirt. Then what will you wear?! Simple, color block! With your team's colors in mind, raid your closet and find some shorts and tops that will work. After finding the perfect outfit, throw on a hat and you'll be good to go. Hats are a much cheaper investment (or borrow your brother's). Plus, there is something very chic about a lady in a ball cap.
First Date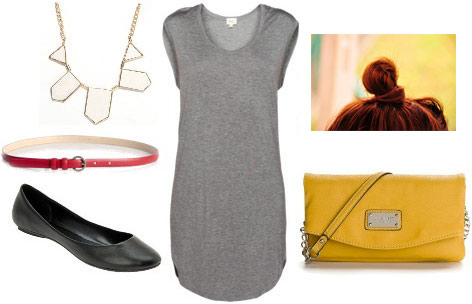 Dress: Artizia, Shoes: Debenhams, Bag: DSW, Necklace: Pacsun, Belt: Jigsaw, Hair photo: Flickr
Picture this — you're going to dinner and a ball game for a first date. Shorts will be too casual, so what to wear, what to wear? A t-shirt dress is the perfect piece to wear for a ball game date. The breathable fabric will keep you cool, comfortable and looking cute. To add some interest and highlight your shape, synch your waist with a thin belt. Throw your hair into an effortless top knot, slip on your comfiest flats, put on a chunky necklace, sling on a cross body and you'll be sure to turn heads at the game.
Your thoughts?
Have you gone to a baseball game this summer? What did you wear? Would you wear any of these outfits? Which could you see yourself wearing? Are there any other summer activities you'd like to see outfits for? Let us know down below!