This post may contain affiliate links, which means we may receive a commission if you purchase through our links. Please
read our full disclosure here
.
It's almost time to break out the luggage, suitcases that you could probably (and have tried to) fit inside, and millions of hangers. Packing the basics is easy: plain t-shirts, jeans, a simple black dress. But once you get to school and get your first theme party invite, you usually start to realize that you should have explored the far-reaches of your closet back at home and brought some not-so-common items.
We've already discussed fashion essentials for themed events in college, but we've never talked about how exactly to wear them. Below, I'll show you how one funky item – a pair of knee-high socks – can be used in a variety of themed atmospheres (because you never do know where you'll end up).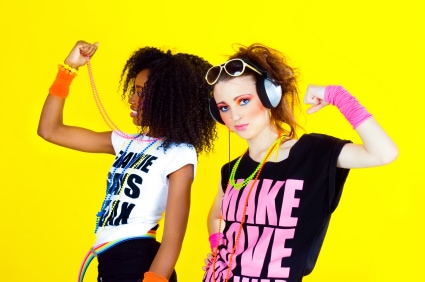 Photo: iStockPhoto.com
How to Wear Knee-High Socks for Themed Events
*Flashback to 1st through 8th grade* As much as we may not want to admit it, we all probably own a pair of knee socks from school uniforms, soccer practice, or an old Halloween costume. The knee sock, although not necessarily recommended for daily wear, is perfect for the right themed situation.
Here are three outfits for fun themed events that incorporate the ever-popular knee sock.
1. '80s Flashdance Flashback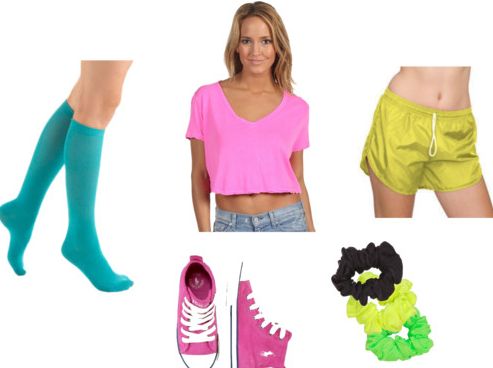 Knee Highs- Modcloth, Top- Free People, Shorts- American Apparel, Scrunchies- American Apparel, Sneakers- Ralph Lauren
This look can be used for any event that requires a bright and tight outfit – think '80s party or highlighter party. Modcloth makes a great spandex pair of knee socks for those of you who don't already own this obnoxious item. Pair your socks with a bright crop top, tight shorts or a bright mini. Scrunchies, hoops, and '80s cartoon graphics are great touches to complete the outfit. Add some bright eyeshadow and a pink lip for an even funkier look – and don't forget to tease that hair!
2. Pep Rally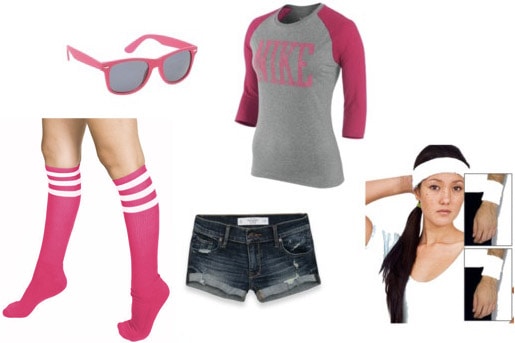 Glasses- Aldo, Top- Nike, Head/Wristbands- American Apparel, Shorts- Abercrombie, Knee Highs- American Apparel
In college, it's common for pep rallies to be all-day affairs, complete with parties before and after. And at these crazy events, you are often expected to wear crazy outfits – that's where this look comes in.
Don't just leave the screaming to the cheerleaders; let your outfit do the talking. Knee socks are the perfect semi-ironic touch to a sporty tee representing your school. Pair your knee-highs with sweatbands, or bandanas (preferably neon – the more obnoxious, the better). This pink-and-gray look is a little subdued for my taste, but will have you looking fun and sporty at your school's next big game.
3. Ridin' Nerdy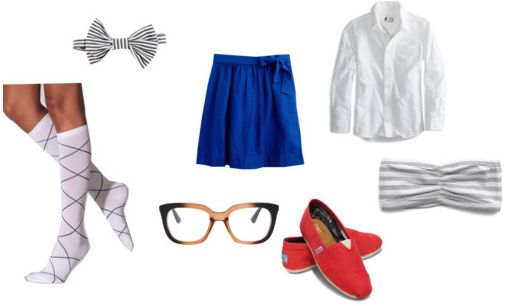 Bow tie- American Apparel, Skirt- J.Crew, Shirt- American Eagle, Bandeau- Modcloth, Shoes- Toms, Glasses- Asos, Knee Highs- American Apparel
They see me rolling on my Segway.. Go from chic to nerdy-chic with this fun schoolgirl-themed outfit. This themed ensemble would be perfect for so many parties: high school stereotype, '90s, and country club immediately spring to mind.
Knee socks, a pleated skirt, and a simple button-down help channel the pre-baby Britney look. Make the look more modern by popping a couple buttons and pairing the top with a bandeau underneath. Wear glasses? Perfect. If not, invest in cheap see-through frames – they're super inexpensive and available everywhere these days.
Need More Theme Party Ideas?
Thoughts?
Do any of you have go-to items for parties and events on campus that you would otherwise not be caught dead in? What are your favorite themes? Do you have a random or crazy item in your closet you want to wear but don't know how or where you would wear it? Leave a comment!