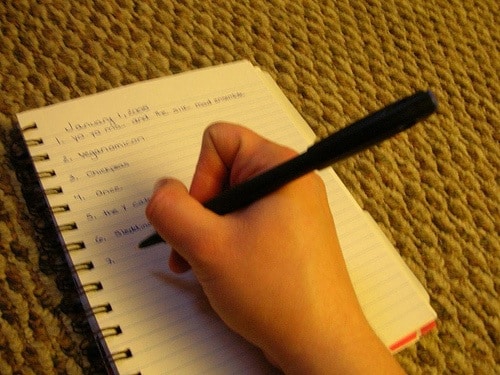 Tomorrow is the first day of August and that means back-to-school is fast approaching. While some of you may be starting school in a week or so, most east coast schools won't start for another month. That means right now is the perfect time to do back to school shopping, and I'm here to help make it easier!
Over the next week or so, I'll be breaking down everything you'll need for back to school, from clothes and accessories to school supplies and more. Start this year off in style by shopping the CF back to school shopping list.
Everything on the list below will get its own article over the next week – this is just a sneak peak of what's to come!
The Ultimate Back to School Shopping List:

Denim, denim, denim. – Jeans in different styles & washes, trendy cuts as well as classics. Dressy & casual denim. So many options. Check back tomorrow for a BIG fall denim article! There's something in there to fit every style.

Plenty of cute tops. – Casual tops for daytime, the hottest sweaters for fall 2009, basic tank picks, and more will all be featured in an article to come this weekend.

Dresses – From trendy dresses perfect for nights out to casual dresses for during the day, dresses are a fall must-have. This weekend I'll be showing you guys some dresses you'll love that won't break your budget.

Skirts – Dressy and casual skirts are such a fall essential. From pencil to mini, which will be your best bet for fall?

Outerwear – Jackets are HUGE for fall and on Monday we'll talk about the hottest jackets for fall '09 as well as how to wear them.

Shoes!! – There are so many shoe trends going on for fall, but which are really wearable? I'll show you a mix of cute and comfortable for walking to class, going out at night, and everything in between.

Dormwear/pajamas – When you're in college, sleeping in a big tee shirt isn't gonna cut it when there's a fire alarm at 3AM and a cute boy down the hall. Look great while you lounge with some of my cute dormwear picks for fall '09.

Underwear – Self-explanatory, usually. Except which types of underwear should you wear with different outfits? It's easier than you think to find the perfect underwear for everything you'll be wearing this fall.

Accessories – A cute bag to hold your books, a wristlet/small bag for a night out, cute jewelry, etc…. there are so many types of accessories to consider getting when you're shopping for back to school. I'll help you make sense of all the different trends going on and figure out what's your best bet.

Beauty and hair products – I'll cover the hottest fall 2009 beauty trends and the newest & most fab beauty products you'll want to stock up on for back-to-school next week.

Dorm decorations – Whether you're going to college for the first time or returning for a second, third, or final year, cute decorations for your dorm or apartment are always fun and worth picking up during your back to school shopping.

Notebooks, planners, and other school supplies – I don't know about you, but I LOVE buying new notebooks, pens, and planners. There's just something exciting about that blank notebook. I'm sure some of you know what I mean. Next week I'll be featuring some cute planners, organizers, and notebooks to make that first day of class a little less painful.

Electronics & accessories – From the best laptops to the cutest computer bags and iPod covers, see this year's most stylish electronics and find out how to dress up your existing gadgets for fall.
So there you have it – a list of all the back to school articles that will be posted here over the next week! Hope you're as excited as I am. Check back tomorrow for the first installment.
Be sure to leave a comment if there's anything else you want to see covered during CF's back to school shopping week! I'll be happy to answer questions, help you find specific items, etc. Let me know what you think!