This post may contain affiliate links, which means we may receive a commission if you purchase through our links. Please
read our full disclosure here
.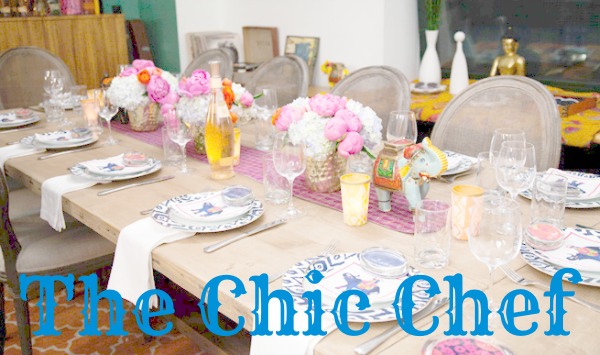 Hey girls! It's Thursday, which means it's time for another easy and tasty meal you can make in your tiny kitchen.
I don't know about you, but I freakin' love chicken wings. I love them when they're spicy and I love them when they're sweet. I love them hot out of the fryer and I love them as leftovers cold from the fridge. I would eat them with a fox, I would eat them in a box. I like to eat them in a chair, I like to eat them anywhere! Okay you get the idea.
The problem is, chicken wings are almost always deep fried, then dunked into a buttery sauce, thus rendering them more of a special occasion food. Not only is deep frying not a very healthy means of cooking food, but it also stinks up your apartment. And I'm sure you (and your roommates!) don't want that.
In this recipe, we'll bake the chicken wings for a healthy alternative that still has a crisp exterior. Also, we swap out the butter-filled buffalo sauce for a tangy tomato chutney. This tomato sauce is very low-fat but has tons of bold flavor.
I made this recipe for the first time about a month ago, and I've already made it twice since then! The sauce is totally addicting – it'll taste awesome on pretty much any meat, vegetable, or starch you have in the house.
If chicken wings aren't your forte, bake some chicken or fish (or whip up some faux chicken if you're vegetarian) and top them with a lovin' spoonful of the tomato sauce. The curry flavor in it is pretty mild, so this is a great recipe to use if you want to slowly introduce new flavors to your palate. My boyfriend is an insanely picky eater, and he loves this sauce – he didn't believe me when I told him it was flavored with a bit of curry!
Let's get cooking, shall we?
Tangy Tomato-y Chicken Wings
Adapted from Big Girls Small Kitchen's Chicken Wings in Tomato Chutney
What You'll Need
1.5-2.5 lbs of chicken wingettes. (For me, two packages was about 2.3 lbs, so a friend and I ate them right out of the oven and I still had plenty left for another two meals for myself. Be sure that you buy wingettes and not chicken wings! Wings are the whole chicken arm, and you'll have to do a lot of prep work to get them to the tradition "hot wing" size).
Olive oil
Salt and pepper
1 can of Italian diced tomatoes
1 can of tomato sauce
2 cloves of garlic (or a generous spoonful of the minced jarred variety)
1 tablespoons of oil or butter
1 inch of fresh ginger, placed in the freezer prior to use. (Alternatively, you could use 2 teaspoons of powdered ginger, but fresh ginger is less expensive and tastes way better.)
1 tablespoon of kosher salt (or 3/4 of a tablespoon of regular table salt)
1 tablespoon of sugar
1 teaspoon of cumin
1 teaspoon of curry powder
2 and 1/2 tablespoons of apple cider vinegar
Optional: a dash of cayenne pepper or a little squirt of Sriracha
Optional: flat-leaf parsley or cilantro for garnish
How To Make It
First things first, preheat the oven at 400 degrees Fahrenheit.
Wash and pat the wingettes dry with paper towels and put them into a large bowl. Toss the wings with a heavy pour of olive oil, several big dashes of salt, and several dashes or cranks of black pepper. Spread wings on a couple of foil-lined roasting pans, making sure that none of the wingettes touch one another. (You will probably need to use two or three baking dishes.)
Roast for 15 minutes, then crank the oven up to 425 degrees Fahrenheit and roast for 15 more minutes.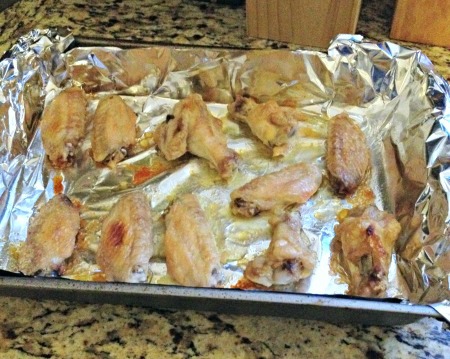 After the chicken has baked for a total of 30 minutes, turn the oven to a broil and let the chicken wing skin brown and sizzle for 2-3 minutes, watching the whole time to make sure they don't blacken too much or burn. Remove them from the oven and let them cool.
Will they taste as crunchy and delicious as fried chicken wings? Not exactly, but this method is still crispy, way healthier, and a pretty darn good substitute.
While the wings are roasting, go ahead and start on the tomato sauce. Dice up the onion, (or if you're lazy like me, chop it into quarters and pulse it in a food processor a few times) then let it cook in a large pot in the olive oil on medium high heat until translucent, around 4-5 minutes.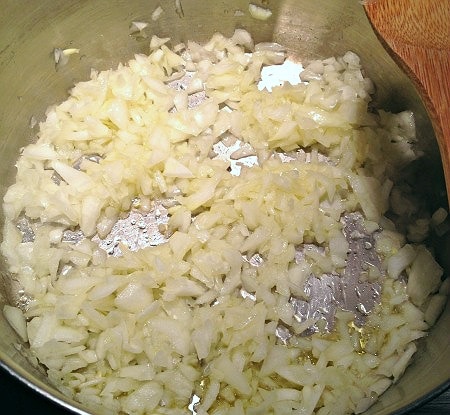 Take the ginger out of the freezer, pick a knob or "finger" of the ginger and use a fine cheese grater or zester to grate off about an inch of the ginger right into the pot.
Room temperature ginger will not grate easily – it becomes a juicy and fibrous mess that's really difficult and frustrating to harvest. Also, don't worry about the skin – it grates finely enough that it pretty much disappears into whatever food you're cooking it with. When you're finished, just toss the ginger back into the freezer and use the rest at a later time.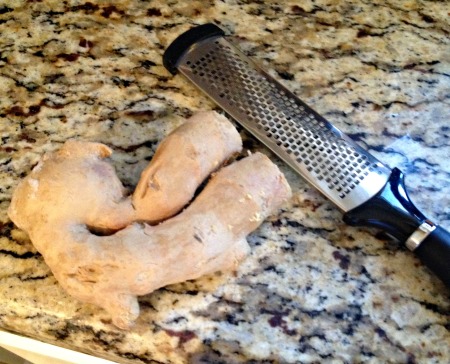 This piece of ginger had 2 "fingers," so I grated them both at the same time.
Mince the garlic (or retrieve your jar of it from the refrigerator) and toss that into the sauce as well. Your kitchen will smell pretty awesome right now. Turn the heat down to medium, and let it cook for about 3 minutes.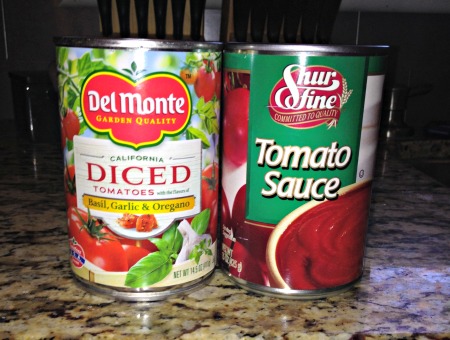 Pour the two cans of tomatoes and tomato sauce into the pot, and turn up your stove to medium high heat. If you didn't have time to run to the grocery store and want to use two cans of diced tomatoes (or two cans of tomato sauce, or crushed tomatoes, or any combination of these) go ahead and do it. We'll blend this up once it's done cooking, so the form the tomatoes are in right now isn't super important. Just stay away from tomato paste – it's too thick!
Mix the sugar, salt, cumin, curry powder, and cayenne into the pot, and let the sauce come to a boil. Once it starts bubbling, turn down on low, and let it simmer for 15-20 minutes. Stir in the apple cider vinegar, taste to see if any seasonings need adjusting, and let cool on the stove for 5-10 minutes. At this point, your kitchen should smell freakin' amazing.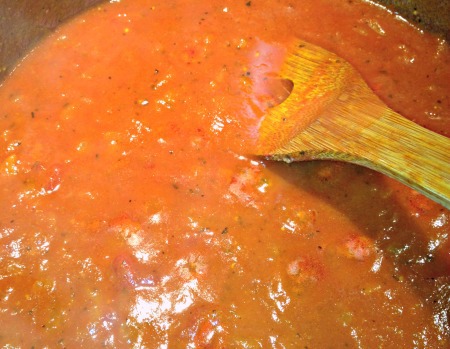 Take the sauce and very carefully pour it into a food processor or a blender. Pulse a few times until it's a smooth or as chunky as you prefer. Of course, if you used all tomato sauce or crushed tomatoes, you can skip this step!
To serve, place chicken wings in a glass baking dish or serving platter with tall sides and toss with half to 2/3rds of the tomato sauce. Finish by sprinkling on some fresh cilantro or parsley. The sauce will be sweet, salty, tangy, and delicious. This sort of dish requires something absorbent to spoon the sauce right on top of–like a bed of fluffy basmati rice pilaf (see below).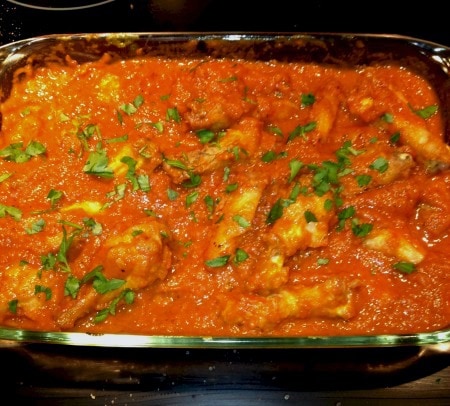 Save the extra sauce – trust me, you'll be glad you did. You'll want to dip everything from bread to grilled cheese in it. You'll want to lick the serving utensils when no one's watching. You'll want to stick a soup spoon in it and slurp it down.
The other day, I had leftover meatballs and they tasted amazing tossed with the sauce. It would also taste awesome spooned over chicken breasts, spaghetti squash, pasta, or quinoa. Pour a little over eggs and toast for a kicky breakfast! The possibilities are endless.
Basmati Rice Pilaf
What You'll Need
1 cup of basmati rice (any long grain rice will work)
1-2 tablespoons of butter (depending how sinful you're feeling)
2 cups of water or chicken broth
How To Make It
The difference between regular rice and a rice pilaf is that in rice pilafs, the grains of rice are sautéed before cooking. This gives the rice a firmer texture and slightly nutty flavor. By sautéing it in butter, it will also be more flavorful than plain rice.
Over medium heat, melt the butter, then toss in the dry rice. Stir constantly with a spatula and let it cook until the rice is translucent in color, careful to not let it scorch or burn. This will take around 3 minutes.
While the rice is being sauteed, bring the water or broth to a boil in a small pot, then stir in the rice once its done toasting. Turn the stove down to low and cover, letting the rice cook for 20-25 minutes. No peeking! Alternatively, you can pour the rice and liquid into a rice cooker and let it work its magic that way.
If you're looking to add more veggies to your diet, pour frozen veggies into the liquid with the rice. They'll cook along with the rice, and absorb a little bit of the buttery/brothy flavor along with it.
The Finished Meal:
When the rice is done cooking, scoop a generous portion on your plate, then cover it with some crispy chicken wings and that luscious sauce.
When your roommates come in the kitchen begging you for a plateful, use it as bartering power and get a ride to class or a free drink out of the deal. Then hide the leftovers at the back of the fridge, behind that box of baking soda, so you'll have them all to yourself.
What Do You Think?
Are you a fan of chicken wings? What about curry sauces? What kind of foods would you like to see easy recipes for? What problems in the kitchen do you encounter?
Leave a comment and let's chit chat!