This post may contain affiliate links, which means we may receive a commission if you purchase through our links. Please
read our full disclosure here
.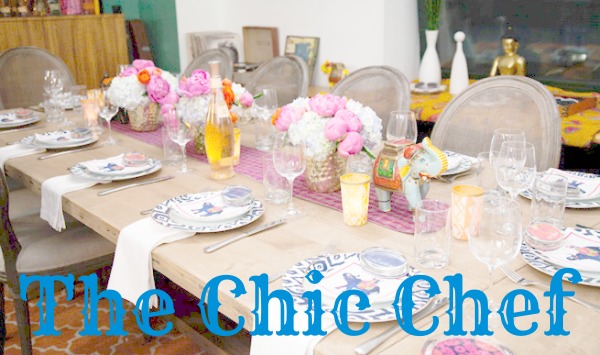 Real talk: I'm a slave for desserts. I know this is a terrible habit, but a meal just doesn't feel complete to me unless I get a little taste of something sweet afterwards, even if it's just a Hershey's Kiss or a peppermint.
Although I love baking cookies, cakes, and pies, we all know that leaving an unattended dessert laying around the house is a death trap (well, that is if you have no self control like yours truly). If I had a dollar for every time I came home after a long day and chowed down on something naughty in my fridge – well, let's just say I'd be able to afford a shiny pair of black Christian Louboutin pumps by now.
To solve this issue one could just skip dessert, but that's not the option I want to take. You could buy those mini chocolate lava cakes they have in the frozen food and baking aisles of the grocery store, but those are a bit pricey. And although I've seen many girls take the mug cake route to single-serve desserts, my attempts at microwaved cakes have always turned out lousy.
Enter your new friend the icebox cake. It's the easiest and prettiest dessert ever.It sounds weird in theory, but once you understand the components of it, your imagination will run wild with all the possibilities.
The amount you have to make is flexible – whip one up for yourself to enjoy after a study session, or fix a pan of it to bring to a potluck. Use whatever ingredients your have in your house, and experiment with different flavor combinations for something uniquely you.
In fact, here's the recipe for any icebox cake (in 10 words):
Layer cookies with filling, and let set for four hours.
Seriously. That's it! You pick a cookie or cookie-esque sweet, and stack them on top of each other using whipped cream, pudding, ice cream, or jam in between each layer. That's it! As the dessert sets in the refrigerator for a few hours, the filling softens the cookies, and the filling firms up into a thick frosting-like consistency.
The end result will not be mushy or too sweet, and it magically melds into a very cake-like dessert that you can actually cut into servable slices. You can add fruit, nuts, or chocolate chips in between layers, or drizzle with chocolate or caramel sauce before serving for an extra special touch.
This concept is why banana pudding with Nilla Wafers in it tastes so good, and why English trifles (yes, the dessert that Rachel accidentally puts ground beef and peas in on Friends season eight's Thanksgiving episode) is awesome. Tiramisu works this way too!
Here's an easy, pretty, and freakin' delicious recipe to get you started:
Strawberries and Cream Icebox Cake
What You'll Need:
Graham crackers
Cool Whip
Strawberries, sliced very thinly
How to Make It:
Take a graham cracker out of its sleeve and spread both sides with a layer of whipped cream. In these pictures I made two mini cakes for me and my boyfriend, so I broke each cracker in half an used squares. But if you're making it for a big group (or, you know, if you're just super hungry) line up full graham crackers to make a cake that fills up your pan or serving platter.
Plop the graham cracker down on the plate – the whipped cream on the underside will help anchor it to you platter and keep it from slipping.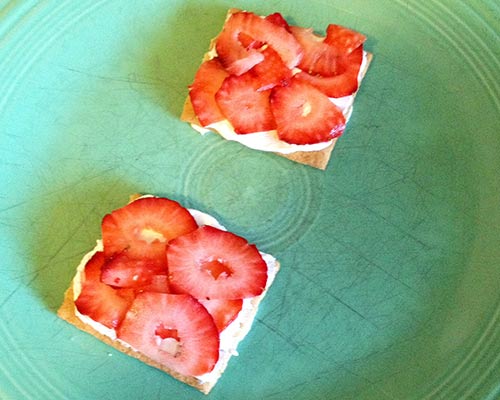 Next, layer some of the strawberries right on top of the whipped cream.
Now, start the process all over again with a graham cracker spread with whipped cream on both sides, strawberries, more whipped cream, and another graham cracker. Repeat this over and over again until you have a cake that's as tall or as short as you want it to be.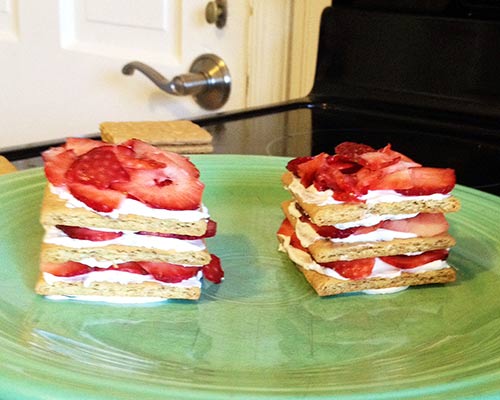 If you ate this immediately, it would taste good for sure, but it would taste like graham crackers, Cool Whip, and strawberries. Not that it wouldn't be delicious, but the key ingredient in this baby is time.
Let this puppy chill in the refrigerator for 4 hours or more. Go to class. Get a study session at the library knocked out. Visit a friend. Take a shift at your part-time job. By the time you get home, it will have melded together into a moist, fresh, and rich (yet light-tasting) treat.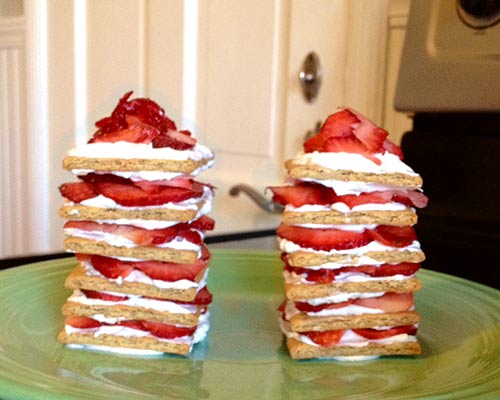 If you're real fancy, drizzle some chocolate sauce on top. NOW we're talkin'.
Ice box cake flavor combinations to try:
For a cute play on pumpkin pie, layer ginger snaps with whipped cream on one side and pumpkin pie filling on the other. Finish with a drizzle of caramel!
Were you a fan of dirt cups as a kid? Make a grown up version of this with Oreos layered with chocolate pudding. Decorate with gummy worms!
For a light and fruity dessert, layer ladyfingers or shortbread with vanilla pudding, strawberry jam, and sliced bananas or kiwi.
The above Strawberries and Cream recipe would taste just as great with peaches substituted for the strawberries.
For a tropical twist, layer vanilla cookies with whipped cream, crushed and drained pineapple, and coconut flakes.
Lemon flavored cookies will taste good with just about any jam or fruit you can think of. Grate up some lemon zest into the filling too if you're feeling fancy!
Smaller, rounded cookies (like Nilla Wafers) don't exactly stack nicely on top of each other. To make an icebox cake with these, use a glass baking dish to keep it contained.
However, thin and flat cookies (like graham crackers) work perfectly as individual cakes.
Greek yogurt is a healthy filling you can use in this application. I would recommend mixing it with honey, agave nectar, jam, or fruit puree first though to keep it sweet and dessert-like.
You can't go wrong with a simple combination of graham crackers or shortbread, jam, and whipped cream.
Pound cake can be used instead of cookies if that's what's in your kitchen.
This awesome thing about this recipe is that you can really use whatever you have at hand. Canned pie fillings, softened ice cream, individual packs of pudding, Milano cookies, Nutter Butters, Girl Scout cookies, frozen fruit, cream cheese, marshmallow fluff, crushed candy bars, ground cinnamon, animal crackers, and dessert syrups are all things you should experiment with.
What Do You Think?
Have you made icebox cakes before? What are you favorite flavor combinations? What are your go-to desserts? Are there any desserts that you have an undying weakness for? What other kitchen problems have you run into? Leave a comment and tell us what you think!