This post may contain affiliate links, which means we may receive a commission if you purchase through our links. Please
read our full disclosure here
.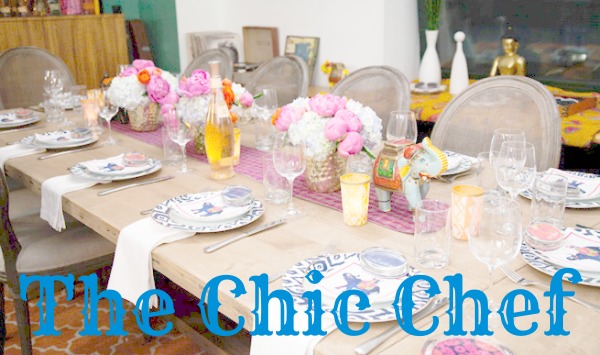 I want to start this post off by saying that this is not a recipe. I repeat, THIS IS NOT A RECIPE.
Rather than listing out specific ingredients needed to make a salad, this post will help you brainstorm and figure out how to assemble the seemingly random items in your house into a cohesive, satisfying, and nutritious meal that you can duplicate over and over again.
Your ingredients will change every time based on what's in your house or what you pick up on sale at the market that week. You can tailor it to fit what you're hungry for, or what flavors you're craving. This anti-recipe "recipe" is called a Kitchen Sink Salad because well, to make it, you can use pretty much everything but the kitchen sink!
Let's get started!
Kitchen Sink Salad
Ingredient Suggestions:
A lettuce or a green. Romaine, spring mix, baby spinach, or kale are all great options. Greens provide a base and make this meal feel like a salad. If you only have a little bit though, it's no big – there are plenty of other add-ins to nom on.
Any fresh veggies you have around the house. Grate carrots, chop celery, or dice red onions or a cucumber. Zucchini, cauliflower, broccoli, sugar snap peas, squash, tomatoes, avocados, or bell peppers would all taste great, too!
Canned veggies. Canned corn, beans, or beets will all taste great – just give them a good rinse before you add them to your salad. Artichokes, hearts of palm, pickled okra, banana peppers, Italian mixed veggies, or olives would all taste nice, too.
Fresh fruits. Apples, grapes, oranges, any kind of berry, or chopped pears are good choices.
Canned or jarred fruits. Grapefruit, mandarin oranges, peaches, pineapple – whatever you're feeling. I'd stay away from frozen fruits though. They turn out too soggy when thawed.
Nuts. Add 'em in, even if all you have is a can of mixed nuts or a tiny pack of airplane peanuts. They add protein, salty goodness, and a nice crunch.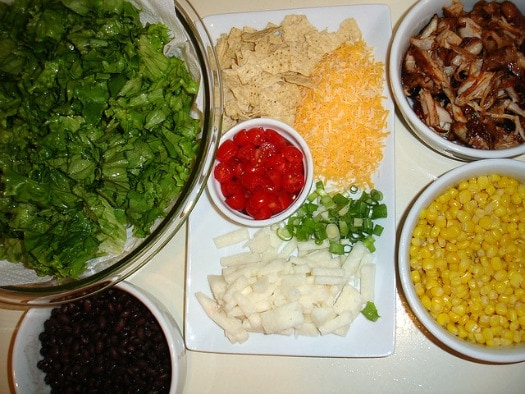 Crunchy topping. I rarely have croutons or chow mien noodles laying around, but I always have french friend onions, corn flakes, uncooked Ramen noodles, and tortilla chips! Get creative, and if it doesn't work – well, just never repeat it!
Cheese. Crumble goat or feta if that's what you have, or sprinkle on some bagged grated cheese. If you're in a pinch, diced up string cheese or Babybels will work, too!
Something starchy. Leftover or fresh quinoa, pasta, couscous, or rice works great in this application. It'll help bulk up the salad, and make it more hearty and satisfying.
Protein. Leftover or fresh cooked chicken, steak, fish, or tofu are good choices. Boiled or poached eggs are great in salads as well, same goes for canned tuna and smoked salmon. Canned beans count, too!
Salad Dressing. Dressing straight from the bottle is great, but there are probably plenty of ingredients around your house to make your own. Check out your spice cabinet for herbs, spices, olive oil, balsamic or red wine vinegar, soy sauce, fruit juice, olive tapenade, salsa, mayonnaise or Vegenaise, mustard, agave nectar, lemon juice, or even jams or jellies!
Anything else you see fit. We're just brainstorming here, so add anything else in your fridge, freezer, or pantry that you see fit. Leftover roasted potatoes or veggies, fruit salad, cottage cheese, that jar of cocktail olives that you bought but never got around to using… the sky's the limit.
How to Make It:
Of course, this will vary depending on what you plan to put in your salad and what flavors you prefer, but I thought it would help jog your creativity if I took you down my thought process of the last Kitchen Sink Salad I made.
A week or so ago, I had just returned from Spring Break. I was feeling pretty lazy and leaving the house for take out or groceries was completely out of the question. I quickly took inventory of what I had in my fridge, and came up with half a bag of spring mix salad, a piece of leftover grilled chicken, and some fresh mozzarella. A solid start.
So off the the pantry I went and here's what I managed to scrounge up: a can of artichokes, a can of whole beets, a jar of roasted red peppers, some tomato-flavored penne pasta and blackberry jam. Okay, I can totally make something work out of this.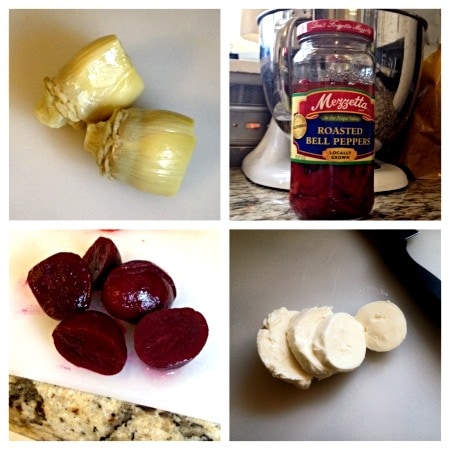 If your starch hasn't already been cooked yet, throw some water on your stove and get that cooking process started. If your meat isn't cooked already, start heating oil in your frying pan or turn on your George Foreman. Season your meats and cook them to your liking, then toss in your pasta/quinoa/rice and let them cook up until they're nice and fluffy.
Meanwhile, tackle your pantry ingredients. I cut the beets and artichokes into quarters, and gave the roasted red peppers a nice rough chop. Feel free to snack on the produce as you're preparing it – that's half the fun! Slice up your cheese, and give any large nuts or fresh veggies a good thwacking as well. The idea is for each bite to have a several different tastes and textures in it, rather than just getting a few big bites of one thing.
Next, I tackled the salad dressing. I was craving something sweet, tangy, and bright, so I whisked up a heaping teaspoon of blackberry jam with some olive oil, red wine vinegar, salt, and pepper. You can make another easy vinaigrette by mixing olive oil, a dash of mustard, agave nectar, vinegar, and salt and pepper. One of my all-time favorite salad dressings with an Asian flair is to throw olive oil, red wine vinegar, soy sauce, and fresh grated ginger into a blender. There's a million combinations to try, but the key is to balance acidity with sweetness, and saltiness with a touch of savory oil. Experiment, taste, and adjust!
After I cooked and drained my pasta, I thought it might taste better with a little bit of its own flavor. I tossed it with some olive oil and a lovin' spoonful of olive tapenade, because the salty tang of olives is something that I pretty much crave all day e'ery day, my friends. Then I ate about half of the noodles right out of the bowl I tossed them in because I have no self control. Good going, Chels.
Here's the cool thing about the starches, though – adding a hot ingredient to the salad wilts the greens just a little bit. Enough that they're extra tasty and absorb vinegar-y dressings just the right way – but not at all soggy or gross. So as long as you're not using a creamy dressing, add warm rice, noodles, or quinoa right into your salad. You'll be glad you did!
At this point, I tossed the chicken I had in the microwave for a minute, and tossed the spring mix with the salad dressing I'd just whisked up. Normally at this point, I'd add all the chopped veggies, starches, cheese, nuts, etc., but I wanted to take a pretty picture of my creation for this post before I scarfed it all down in 37 seconds flat. So I arranged it all pretty and here's what I got: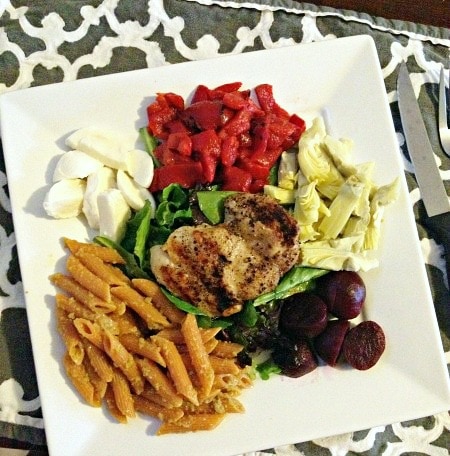 Colorful. Light. Full of various texture, flavors, and tons of nutrition. Sure, it was totally improvised, but that should never mean that you eat a meal that's less awesome that what that hot body of yours deserves. Bon appétit, y'all.
What Do You Think?
What are some of your favorite salad ingredients? Do you even improvise your own dressings? What are some of the ingredients that you always have in your house? What have you been cooking lately? What problems in your college kitchen do you encounter?
Leave a comment and tell us what you think!