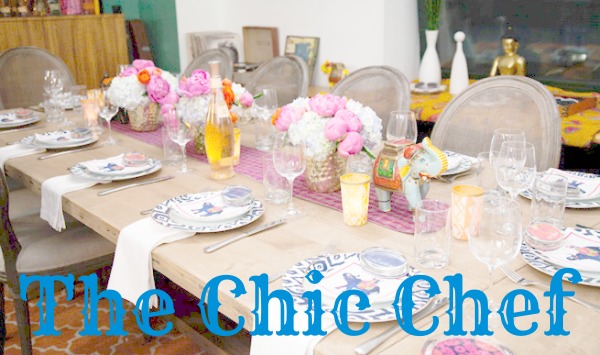 Hey girls! It's Thursday and we're back to cooking. This week, I've got a super easy and delicious dish for you that can be cooked and on your kitchen table in less than 45 minutes!
This roasted chicken and veggie dish is the perfect balance of savory and sweet – my boyfriend told me it tasted like barbecue to him.
The marinade does have a lot of ingredients, but the good news is that they're all pantry staples that most of you will already have on hand. If you do have to buy a few things, don't worry – most of the components are inexpensive and won't spoil, so you can use them in countless other recipes.
Let's get right to it!
Caramelized Chicken and Roasted Veggies
What You'll Need
1-2 lbs of meaty chicken pieces. I used thighs, but you can use breasts, legs, wings, quarters, whatever you want!
1 red onion
1 pint of small tomatoes – cherry tomatoes, grape tomatoes, yellow sunbursts, petite heirlooms, anything that your supermarket has will work in this dish.
2-3 carrots
2 tablespoons of olive oil
2 tablespoons of ketchup
2 tablespoons of balsamic vinegar
2 tablespoons of soy sauce (use take-out packets if you don't have a whole bottle!)
2 tablespoons of brown sugar (you can substitute honey, agave nectar, or white sugar if you'd prefer)
1 tablespoon of Worcestershire Sauce
1/2 tablespoon of dried rosemary, thyme, oregano, or whatever you have at hand
Optional: a squirt of Sriracha or hot sauce
How to Make It
Preheat the oven at 400 degrees Fahrenheit.
In a large mixing bowl, whisk together all of the ingredients, except the chicken, onion, tomatoes, and carrots, to create a marinade. I'm finicky about ketchup and don't usually buy it, so I used leftover fast food packets. You could do the same thing with soy sauce, too!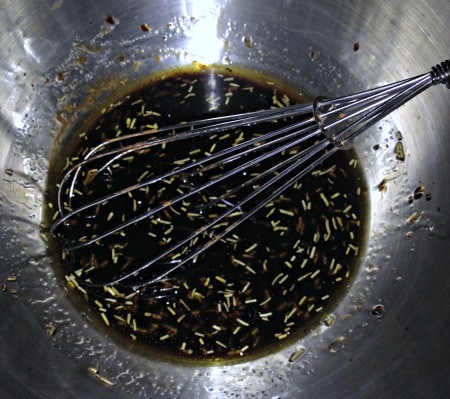 Dry the chicken well with paper towels, and toss them with the marinade. Set aside while you prepare the veggies.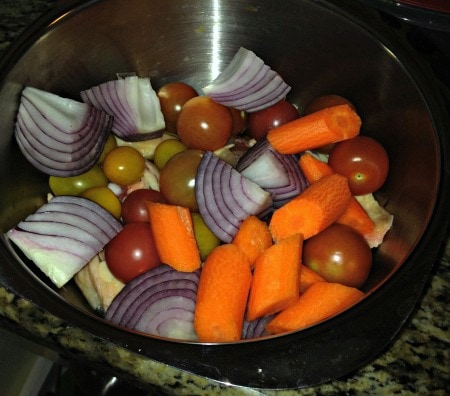 Peel the rough outer layer of the carrots off, and cut diagonally into smallish chunks. Peel the onion, cut in half, then cut those halves into quarters. Rinse the tomatoes, then throw all of the vegetables into the marinade and toss well. I used mini heirloom tomatoes, so my recipe turned out extra colorful!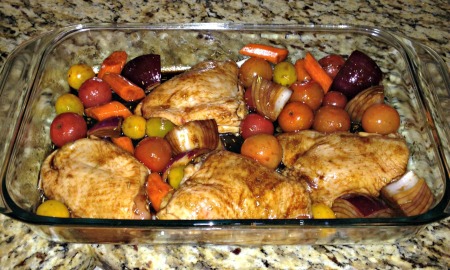 Toss the entire mixture (extra marinade and all) into a glass baking dish and roast for 35 minutes. After the 35 minutes, crank the oven up for a broil, then let it sizzle and get extra brown and delicious for 2-3 minutes.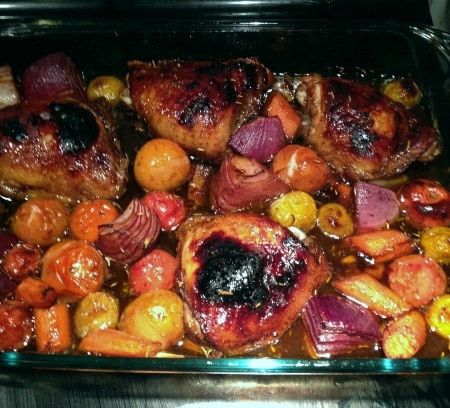 Serve with rice, crusty bread, potatoes, quinoa, or as it is for a great healthy, hearty meal. This marinade is divine – be sure to drizzle it over your chicken and starch before you eat!
Thoughts?
Do you roast chicken or veggies very often? What are some of your favorite marinades? What would you like to see us cook on CF? Leave a comment and tell us what you think!