This post may contain affiliate links, which means we may receive a commission if you purchase through our links. Please
read our full disclosure here
.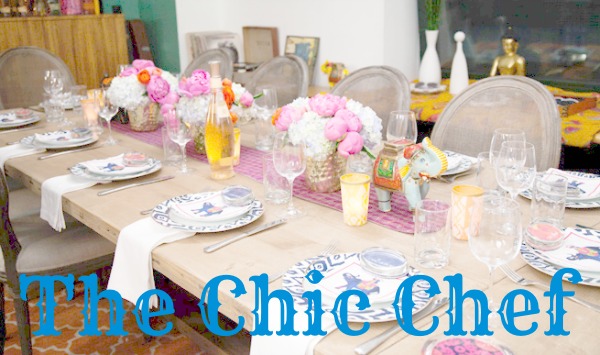 Whether you're going gluten-free, paleo, or just want to up the amount of nutrition in your weekly diet, regular white pasta is usually among the first foods to go. And, indeed, if Pinterest pinning activity is any indication, college girls across the country are looking to replace white pasta with healthier options.
This week, I put several popular pasta swaps to the test to see what tasted good, what worked, and what totally flopped. After you finish reading, be sure to leave a comment to tell us what you think and to share some of the most successful pasta swaps you've come across.
Let's jump right in!
Spaghetti Squash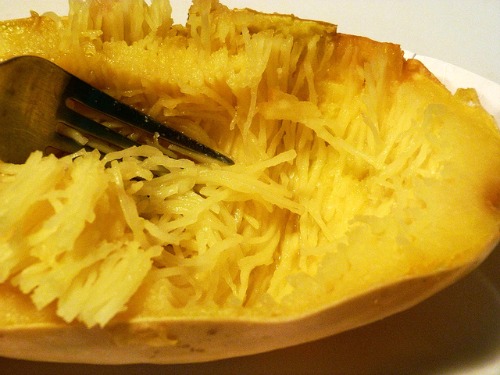 A few years ago, did you even know that spaghetti squash existed? I sure didn't! Spaghetti squash has become insanely popular recently, and Pinterest is loaded with tons of fantastic recipes that utilize this versatile vegetable. Plus, it's gluten free, paleo-friendly, vegan, low-carb, nutritious, and low calorie.
If you've ever cooked one before, you know that cutting it in half (in order to roast) is well – a pain in the butt to say the least. In fact, if you're not careful, cutting a spaghetti squash in half can actually be dangerous. But did you know you can actually roast them whole? This way, when you cut them in half, it'll be soft and less daunting. Just toss the whole thing in a 375 degree Fahrenheit oven for 45 minutes to an hour.

Once the squash is done cooking, use a serrated knife to cut it in half long-ways. Scrape out the seeds and slimy strings out of the middle of the squash, then use a fork to scrape out the lovely, spaghetti-like squash flesh. Top with any sauce you'd like!
Overall Rating
I'd give spaghetti squash as a pasta swap a 6.5 out of 10. Most noodle swaps recipes are geared towards tomato-based sauces, but spaghetti squash tastes just as good with tomato sauces as it does with creamy, cheese or Alfredo-type sauces. It also taste fantastic in casseroles. Out of all of the vegetable substitutes, spaghetti squash is my favorite.
But honestly, I think it tastes so amazing as a vegetable that I'd just rather treat is as well, a vegetable. Toss it with a little butter and parmesan cheese, or olive oil, honey, and shallots and enjoy it as a nutritious yet hearty side dish.
Recipes to check out:Spaghetti Squash Alfredo, Spaghetti Squash and Meatballs, Spaghetti Squash and Shrimp
Whole Wheat Pasta

Whole wheat pasta is a very easy way to add a little extra nutrition to your diet. In fact, I'm sure you've tried this product before! Whole wheat pasta comes in every shape, is widely available, and cooks exactly like regular noodles.
Although this pasta swap is NOT gluten free, low calorie, or paleo-friendly, it IS a healthier option than regular pasta. The whole grains used to make these noodles are complex carbohydrates, which will keep you steadily energized for a long period of time. White flour, which is used in regular pasta, is metabolized very quickly in your body, which is why heavy pasta dishes are known for making you crash soon after you consume them.
The texture is a little different than regular pasta — it's definitely more firm and has a very earthy taste. You can use it as you would regular pasta, but I think ittastes best with tomato-based or olive oil-based sauces and tons of veggies. It tastes particularly great with mushrooms!
Overall Rating
Whole wheat pasta earns a 5 out of 10 on my rating system. It's readily available, easy to make, and a no-fuss swap that will pump some extra nutrition into your diet.
However, since the calories and composition are comparable to regular pasta, it's not my first choice when it comes to a pasta swap. The taste and texture is compromised, and in my opinion, the benefits aren't enough to outweigh that.
Recipes to check out:Whole Wheat Pesto Pasta, Whole Wheat Pasta with Mushrooms, and Whole Wheat Pasta Bolognese
Quinoa Pasta

If you're on a gluten-free diet (or you keep up with my columns here on CF) you're surely heard about quinoa. Quinoa is a supergrain (it's actually considered a seed) with tons of protein and a starchy, hearty mouthfeel. It's no wonder that companies were quick to develop quinoa-based noodle products.
When I made these noodles, the instructions said to boil these noodles for 6-9 minutes, so I left them in the pot for about 7 and a half minutes. Unfortunately, after I drained the pasta and tossed them with sauce, they turned out to be extremely stiff, just like noodles that had only been boiled a few minutes.
It's possible that letting them cook the entire 9 minutes would improve the texture, but the noodles I was left with were close to inedible. I have a hard time believing that a minute and a half more in hot water would improve them much.
Overall Rating
I'd give quinoa pasta a 1 out of 10. Surely someone enjoys eating these noodles — or else they wouldn't be in production and grocery stores would quit carrying them. But bleh, I thought they tasted terrible. This dish tasted like regular pasta that was extremely undercooked. It's too bad, because quinoa pasta is gluten-free and very nutritious.
Recipes to check out:Pumpkin Pad Thai, and Pesto Quinoa Noodles
Zucchini Noodles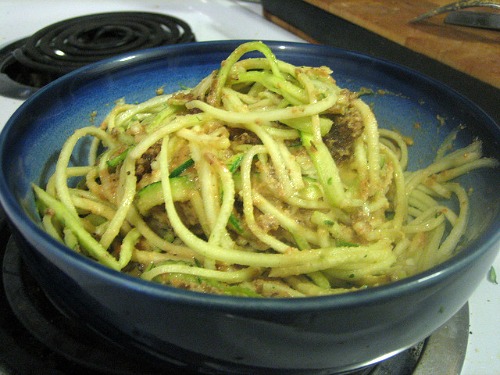 Less popular than substituting spaghetti squash in pasta dishes is slicing up zucchini "zoodles" and using those as a base for noodle dishes.
Although this is an awesome idea and tastes awesome if you like zucchini, creating the zoodles is no easy task – especially if you don't have a julienne slicer or spiralizer in your kitchen. One option is to simply grate the zucchini on a cheese grater, but that reduces the zoodles' overall look and feel of a pasta dish.
However, this is a nutritious, gluten-free, paleo-friendly, low-calorie, vegan, and low-carb pasta swap.
Overall Rating
It'd give zoodles a 5.5 out of 10 rating. Luckily I have a julienne slicer, but if I didn't, I don't think I would enjoy zucchini pasta nearly as much. It's too labor-intensive to slice the zucchini into noodles by hand, and grating them makes it too well, slaw-eqsue.
I'd recommend to embrace the inherent "veggie" taste and texture of this dish and mix zoodles with a tomato sauce or a pesto.
Recipes to try:Zoodles and Meatballs, Cheesy Zoodles and Zoodles Alfredo
Brown Rice Pasta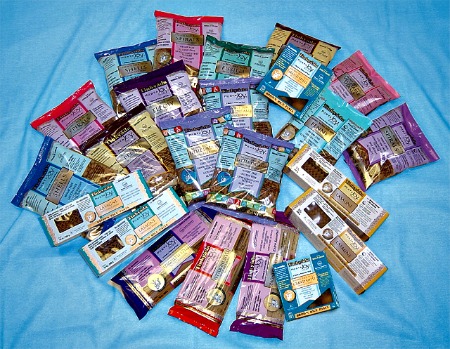 Brown rice noodles are an awesome gluten-free option that is widely available at national grocery stores. Target and Walmart both carry brown rice noodles, usually in the same aisle as the regular kind!
Although Asian-style white rice noodles and some brown rice noodles have a tendency to get too mushy, I've cooked with Tinkyada brand brown rice noodles several times before, and they always turn out great. Unlike many rice noodles, Tinkyada's stay al dente, even if you accidentally boil them a few minutes too long. These noodles stand up well in casseroles and soups, and have a very similar taste and mouthfeel to regular pasta.
Tinkyada's brown rice noodles come in a ton of shapes, so you can easily substitute them in any pasta dish for a healthier option. Seriously – from Italian to Asian dishes, mac and cheese to spaghetti to soups and casseroles and more, Tinkyada brown rice noodles work in everything.
Overall Rating
I'd give brown rice noodles an 8 out of 10. I made chicken Alfredo a few weeks ago for my boyfriend using brown rice fettucine, and he had no idea I didn't use regular pasta. He gobbled the whole thing up, and to this day probably has no idea I sneakily swapped the pastas.
Brown rice noodles also get bonus points because you can pick them up at most grocery stores, and they cook up just as easily as regular pasta.
Recipes to check out:Spicy Peanut Noodles, Asian Noodle Soup, and Brown Rice Pasta Salad
Shirataki Noodles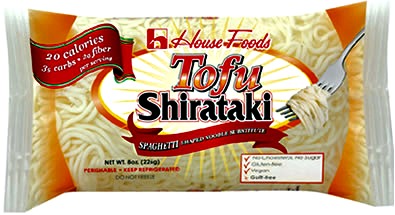 Shirataki noodles are somehow made with yams, and they are a gluten-free, low-carb, and virtually calorie-free noodle substitute. They used to only be available at specialty grocery stores, but they're growing in popularity every day and can now be found at several big-box grocery stores.
There's two kinds of shirataki noodles – regular ones, which are translucent in color, and tofu shirataki, which are cream-colored. Regular shirataki noodles have zero calories, but are also extremely uhh, bouncy. (Yes, that was a nice way of saying rubbery.) I'd recommend these exclusively in Asian soup dishes or stir-fries.
Tofu shirataki's look and texture mimics that of regular noodles, but are extremely low calorie – I'm talking around 40 calories per serving. You can use this as a replacement in any pasta dish, but I recommend using these noodles in dishes with a thick and creamy sauce, since the sauce will will stick to the noodles better.
While preparing shirataki or tofu shirataki noodles, cut them out of their liquid-filled package and rinse them very well in a pasta strainer with very hot water. Just to warn you, the liquid they're stored in smells really funky. Rinsing these noodles in hot water not only gets rid of the weird smell, but it warms them up, too. Once they're rinsed, use as you would regular noodles.
Overall Rating
I'd give these noodles at 7 out of 10. There's more nutritious options out there, but tofu shirataki noodles are a close to calorie-free way to enjoy your favorite pasta dishes.
These noodles come in several different shapes and are increasingly more accessible, plus they're ready to use after a good rinsing. You can't get easier than these babies. They're on the expensive side – $2 to $3 dollars for a single serve package – but they're a great option if crave an option that's low calorie yet very close to regular noodles.
Recipes to check out:Fettucine Hungry Girlfredo, Shirataki Mac and Cheese, Shirataki Kugel
Broccoli Slaw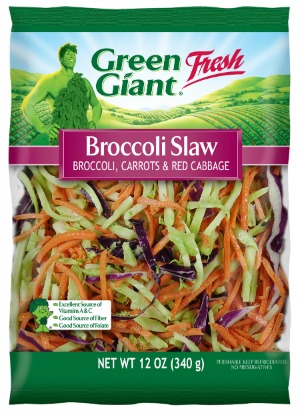 I've seen a handful of recipes that call for swapping out noodles for broccoli slaw, in both cold and hot noodle dishes. Broccoli slaw is gluten-free, paleo-friendly, low-carb, vegan, nutritious, and extremely low calorie, which makes it a great option for people on strict diets. That being said, it's probably the least "noodle-y" pasta swap on this list.
When mixed with hot sauces, the veggies soften a bit, but well, it'll still taste and feel like you're eating raw veggies in a pasta sauce. I wouldn't say it tastes bad per se, but it lacks the hearty, comforting feel of a pasta dish. Many recipes call for cooking the slaw in a pan with a little water so it softens up, but I still thought the texture was strange.
However, its crunchy texture lends itself well to cold pasta salad-like dishes. But um, slaw in a cold dressing is well, slaw. Delicious of course, but not exactly what I'd call pasta.
Overall Rating
I'd give broccoli slaw as a pasta swap a 3 out of 10. Nothing about it mimics noodles, except perhaps its shape. There are several other healthy pasta options out there, so save the broccoli slaw for salads instead. Even if you're on a very strict diet, spaghetti squash, zucchini, or Shirataki have the same benefits and a better taste.
The only advantage it has over spaghetti squash or zucchini is that it requires no prep work – just dump it out of the bag from the grocery store!
Recipes to check out: Rabbit Food for my Bunny Teeth Pasta and Hungry Girl's Slaw and Order
What Do You Think?
What pasta swaps do you love? How many of these have you tried? Did we leave out any great pasta swaps? What are some of your favorite pasta swap recipes?
Leave a comment and keep this discussion going!