This post may contain affiliate links, which means we may receive a commission if you purchase through our links. Please
read our full disclosure here
.
There are so many things to do in summer and so little time to finish them all! Whether you're unsure of where to begin or have already been crossing off list items of your own, use the CF Summer Bucket List style series to plan your days, get inspired, and get dressed! (Catch up on items 1-5 and 6-10 by reading Summer Bucket List Style Series: Week 1 and Summer Bucket List Style Series: Week 2.)
How is it August already?! With a little over four weeks of summer left, now is the time to make the most of your break! From taking photos to primping to shopping, the theme of this installment's list items is lazy summer must-dos. It's all about indulging, relaxing, and having a great time.
11. Have a photo shoot with friends.
Need an excuse to get together with your girls, put on a semi-ridiculous outfit, try out new hair and makeup ideas and indulge your inner America's Next Top Model? Pick a theme, recruit a photog, and dedicate a day to taking pictures!
After your 500 frames, get everyone together for a mini-viewing party and check out your shots in a slideshow. Have everyone pick her favorite image and then get busy with Photoshop, Picnik, or iPhoto for glamorous touches, color tweaks, or special effects. Whether or not you choose to put your photos up for the world to see, you've now got a bunch of new, fabulous photos should you ever need a new profile picture complete with an interesting story!
Tips for Running a Successful Photo Shoot
Coordinate your looks. For shots that look as if they came straight from the pages of your favorite glossy, attempt to choose looks that are cohesive. You and your friends don't need to be dressed identically, however! Deem a member of your crew "stylist" for the day and have her pick out pieces from each of your wardrobes that mesh well together. Whether you choose looks that are include lots of jewelry, pops of color, or are super minimalist, sticking to a theme will help make your photos look professional and put-together.
Pick interesting backgrounds. Obviously personal and well-known backgrounds can make for cheesy photos. Therefore, bedrooms, apartment hallways, and *gasp* bathroom mirrors are strictly off limits! Instead, use your shoot day to go "on-location" in your city! From watersides, to brick walls, to train tracks, to local historical spots, interesting backgrounds make for eye-catching photos. Can't make it to the perfect location? Grab a sheet and do some draping! Never underestimate the power of a plain white background.
Don't be afraid to touch-it-up. Let's face it: There's no way that even the Chanel Imans of the world do photo shoots without touch-ups before, during, and after! From making sure your outfit is perfectly styled to doing on-set hair and makeup updates, to doing some on-screen editing, use every tool you can to make your photos look awesome! Take a minute to do some simple on-shoot touch ups, and remember: Everything seems to look better in black and white.
Make a killer playlist. Nothing sets the mood like great music. Go for tunes that match your theme, have all of your ladies pick a favorite song, or use music from past runway shows! When everyone is loving a playlist and rocking out, it's almost impossible to be self-conscious, so you'll get great, candid shots! If you're feeling extra nice at the end of the day, go old-school and burn your friends a CD with all of your shoot's songs.
12. Have a spa night.
Sneak in some summer pampering…on the cheap! Light some candles, draw up a bath, and prepare to soak in style! Ditch your cell and laptop for a few hours and spend some quality time trying out some fishtail braids, doing at-home mani/pedis, and indulging in a facial masque. Now is also the perfect time to use all of those luxurious LUSH products you've been saving!
Need some treatment ideas to get started? Check out this list of 50 at-home spa treatments or this guide to DIY spa tricks and relax away.
Outfit Inspiration: Comfy Spa & Lounge Essentials!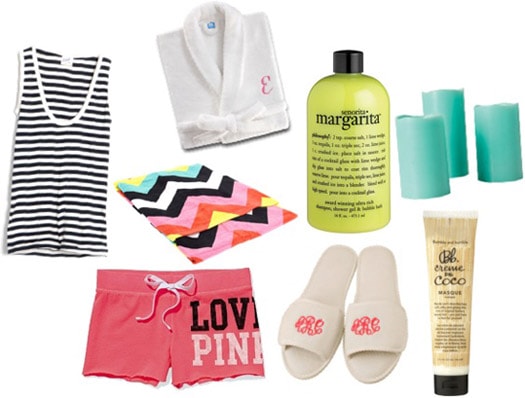 Product Information: Tank, Robe, Towel, Shorts, Shower Gel, Slippers, Candles, Hair Masque.
13. Do some back-to-school shopping.
Aside from seeing our college friends again, the one thing that gets us most excited about going back to campus is back-to-school shopping! With tons of sales, new merchandise, and summer paychecks to blow, spending a day sifting through the racks of your favorite stores can help take the edge off of the sad reality that we'll be sitting in a classroom again in the very near future.
Whether you're picking up decor for your new dorm room or apartment or curating the perfect first-day-of-class look, back-to-school shopping is retail therapy at its finest. Trendy fall wardrobe staples include a great pair of leather boots, flared jeans, and anything '70s-inspired. See below for a look to get you through your day at the mall!
Outfit Inspiration: Back-to-School Shopping
Product Information: Top, Jeans, Flats, Sunglasses, Watch, Shopper.
14. Check out your city's "best" tourist attractions.
…And by "best" we actually mean WORST. Another great opportunity for photos, taking a day trip to your city's worst tourist traps with your friends guarantees a good time complete with lots of laughs.
You've surely already been to the best beaches and danced at the hottest night spots by this point in the summer, but exploring the sites you'd usually deem not worth seeing will provide a whole new (and probably quite ridiculous) adventure. Use guide books, Google, and older family members to determine the worst-of-the-worst spots in your backyard, or check out these lists of tourist traps we found online! Just keep telling yourself that it's so bad it's good.
15. Go stargazing.
One of my favorite memories of summer 2011 includes an open field, new friends, and a 3-am purple sky completely filled with stars.
Sounds like something out of a movie, right? It doesn't have to! Stargazing is the perfect end to a chill summer night: free, fun, and full of natural beauty. Grab blankets, spritz on some bug spray, and put on a layered-up outfit and you'll be good to go.
Outfit Inspiration: The Perfect Summer Stargazing Look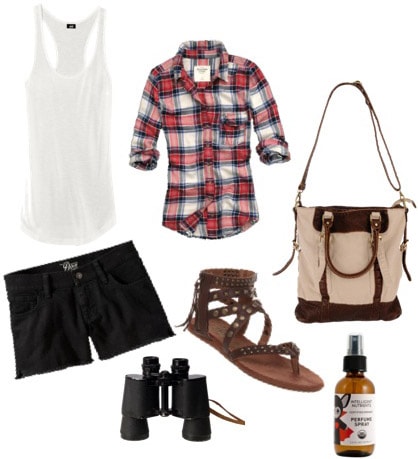 Product Information: Tank, Shorts, Flannel Shirt, Sandals, Bag, Bug Spray.
Share your thoughts!
Have you been following this seasonal series? What's left on your summer bucket list? Any activities that you'd like to see covered here? Leave a comment and let us know!