This post may contain affiliate links, which means we may receive a commission if you purchase through our links. Please
read our full disclosure here
.
Every time finals week rolls around, I still desperately try to be stylish. If I'm going to be cooped up in the library writing one too many papers and cramming for an 8 AM final, I might as well do it fashionably, no?
The thing is, though, I don't know if anyone has time to think about their outfit when they're trying to figure out how much they need to score on their Stats final to get a B in the class.
To help you (and me) get through finals in style, I've created five pull-on-and-go combinations for your 9am Physics exam, your all-nighters, and for every time you wish you were at the beach instead.
1. The 9AM Exam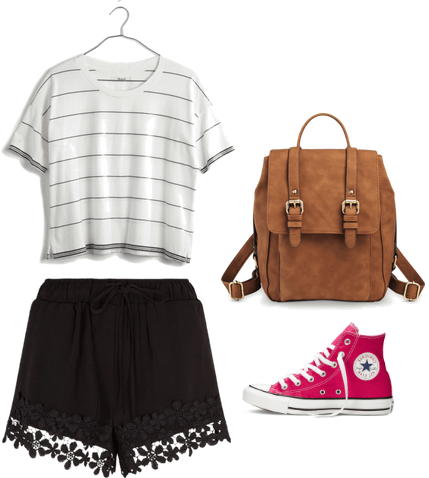 Product Information: Shirt – Madewell, Shorts – New Look, Sneakers – Converse, Bag – Target
I am not a morning person, and nothing sends chills down my spine faster than the thought of an early-morning exam. In an attempt to look stylish when I can barely keep my eyes open, let alone remember the material I went through last night, I've developed an affinity for basic t-shirt-and-shorts combinations.
Crochet shorts are basically my best friend, because they make any outfit look that much fancier. Pair them with colorful Converse and the Breton-striped shirt of every French girl's dreams for foolproof finals armor.
2. "I'd Rather Be on a Beach"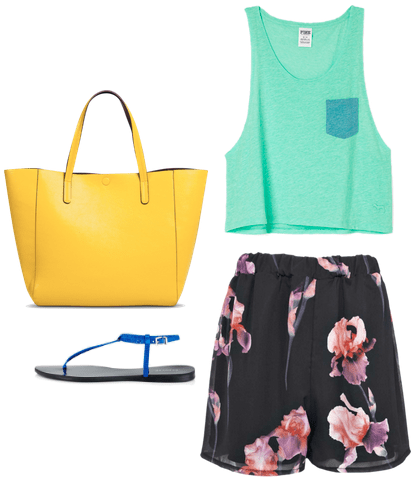 Product Information: Shirt – Victoria's Secret, Shorts – Boohoo, Bag – Target, Shoes – Express
As luck would have it, the two weeks leading up to finals has given me the most sun I've seen all semester. Because I've been cooped up in libraries instead, I use bright colors and floral prints to make myself feel better.
For me, summer is all about colorful beach bags, floral chiffon, and breezy tank tops, so I've put all those pieces together in one look. These floral chiffon shorts are comfortable enough for long nights spent studying, but are also a great reminder that summer is almost within reach!
3. The "Sweats, But Better"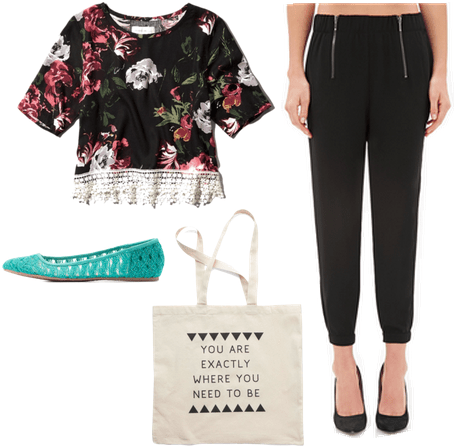 Product Information: Shirt – Abercrombie & Fitch, Joggers – Forever 21, Bag – ModCloth, Flats – Charlotte Russe
Joggers are probably the worst-kept college style secret ever. They're essentially a polished pair of sweats, because the cuffed bottoms and tailored fit means they make any outfit look super put-together. Most joggers also have an elastic waistband – perfect for all that late-night study snacking.
Can you also tell that I'm really loving crochet this season? I love the crochet detail on this otherwise standard floral crop top, and crochet flats are so on-trend for summer. Bonus points if they're colorful!
4. "I Tried"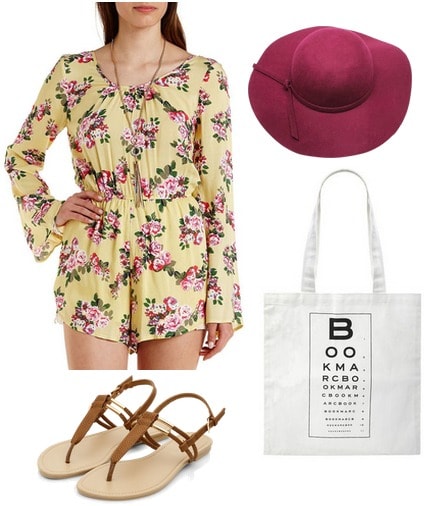 Product Information: Romper – Charlotte Russe, Shoes – New Look, Hat – Black Five, Tote – Marc Jacobs
I love studying in cafés, but I refuse to wear sweats to a brunch establishment with great coffee. A comfortable one-piece, like this romper, is a good compromise – it's cute enough for the chic café circuit, and looks like you put in a ton of effort.
I would sell my soul for the perfect floppy hat, and this one comes pretty close. When paired with this adorable bookish tote that will fit all your notebooks, there's no excuse not to take study breaks in the sun.
5. The All-Nighter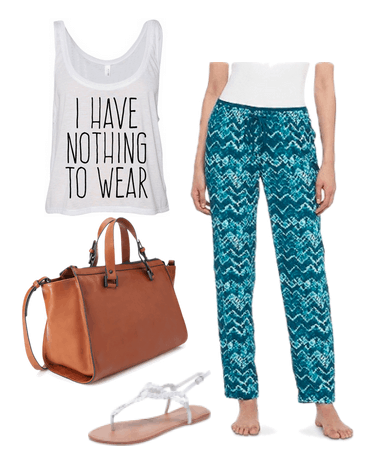 Product Information: Pants – Target, Tank – Etsy, Bag – Forever 21, Sandals – Wet Seal
The secret to disguising your all-nighters lies in a good pair of challis pants and an graphic tank top. They're basically pajamas, except no one will be able to tell you fell asleep on your laptop. You'll look like you put in effort, but the roomy fit of these lounging-around staples means you'll be really comfortable in the library at 3 AM.
I like challis pants in brighter colors, because they basically do the styling work for you. This structured tote looks way pricier and better-made than it actually is, but will fit all your finals essentials in style.
What do you think?
What are some of your go-to outfits for tackling finals? How do you try to look presentable through an all-nighter? What are some of your favorite tips for looking stylish when you're super-stressed? Let me know in the comments!