This post may contain affiliate links, which means we may receive a commission if you purchase through our links. Please
read our full disclosure here
.
Seeing Zephyr's fabulous coverage of NYFW made me a bit nostalgic for home to say the least. Fashion Week in New York City is always an incredible time of year whether you attend the shows or not, as the whole city seems to become enchanted with the promise of the seasons ahead. In addition, there is always the possibility that you could turn the corner and run into Anna Wintour (hey, a girl can dream).
However, I quickly realized that London Fashion Week would easily be able to satiate my appetite for incredible clothes and fashion inspiration. From the more well-known and critically acclaimed designers like Burberry Prorsum and Christopher Kane who certainly did not disappoint to fun finds that were new to me like Amanda Wakeley and PPQ, I found myself extremely impressed with the styles I saw coming up for F/W '10 here in London.
And while I am still torn between which city had a better set of shows (let us know your thoughts in the comments below!), there is one thing about London Fashion Week that I absolutely think should be brought over to New York: London Fashion Weekend.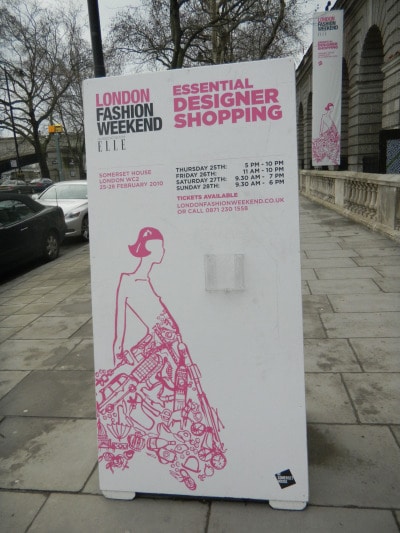 London Fashion Weekend occurs the weekend after the actual runway shows in the gorgeous Somerset House (where the shows are held). London Fashion Weekend offers a runway show that highlights the trends for the season that is actually ahead–S/S '10–which is a nice reminder that we are not in a constant vacuum of fall/winter fashion!
LF Weekend also features plenty of up-and-coming designer talent in its massive discounted shopping area, which–as my wallet and I can say from experience–was absolutely amazing! They had stands of everything from fun printed clutches from "Paparazzi" that were sold 3 for £20 to more expensive but still affordable Gossip Girl-worthy jewel-tone dresses to adorable, impeccably knitted cardigans.
Of course, for those who love their brand names, there were larger-name stands as well with designers such as DKNY and Luella. Vivienne Westwood's "Fashion for Relief" shirt for Haiti (as seen in her runway show) was also available for sale in the venue.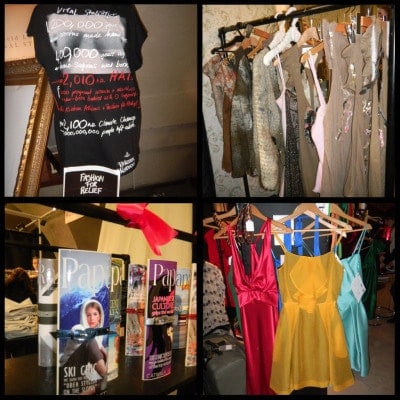 Besides the fashion show and stands, there were also stands to get your hair or nails done, massages, threading, and even free 15 minute style consultations from professional stylists. Every so often there would also be makeup demonstrations by Elizabeth Arden. Once you were done being pampered, you could kick back with some champagne or coffee in the bar and cafe.
The best part of the event? It is completely open to the public with affordable tickets. I was so surprised and excited when I learned about the event, as it seemed like nothing I had ever heard of in New York. While I have been to my share of sample sales and attended "Fashion's Night Out" in NYC last semester, I feel like it is very difficult for us fashionistas without connections or ridiculous amounts of money to participate in fashion events most of the time. That's why London Fashion Weekend is so great – it's an opportunity for those of us interested in fashion who couldn't attend the runway shows to get our own taste of fashion week.
The designers themselves of the smaller name brands mingled around in the crowd as well, so any shopper had the chance to meet not only other stylish shoppers, but actual designers as well! I was lucky enough to meet the designer behind St. Erasmus jewelry, who has designed pieces for our fashionable First Lady, Michelle Obama, as well as countless other big names. I was a huge fan of his work and definitely recommend checking it out for some super-inventive statement pieces.
Overall, I had a wonderful time at London Fashion Weekend and wanted to share the experience with all you in case you ever have the opportunity to go! It also reinforced my belief that as awesome as it is to own major label pieces, there are so many hidden treasures to be found in market-style shopping with smaller designer names. You never know what amazing gems you may find!
What do you think?
Would you be interested in seeing an event like this at your local fashion week? Does it sound like a good way to give the public access to the previously closed-off world of Fashion Week? Have you been to this event or an event like it? Let us know in the comments below!