This post may contain affiliate links, which means we may receive a commission if you purchase through our links. Please
read our full disclosure here
.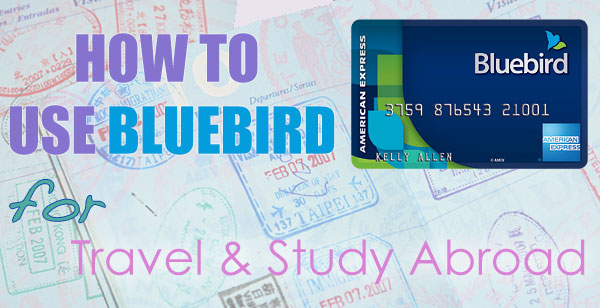 A few weeks ago, I introduced you guys to Bluebird, from American Express and talked about the ways you can use it to plan out your back-to-school budget. (Separate debit cards for fun and necessities, FTW!)
Now that you understand the basics of Bluebird, it's time to get advanced! (If you still need a primer, check out my last post.) With study abroad season coming up fast, I thought now would be the perfect time to show you guys how Bluebird is perfect for traveling abroad.
Why Bluebird is Ideal for Travel
If you're traveling abroad, you might be tempted to just bring your regular debit or credit card. However, you might re-think that once you see all the reasons Bluebird is actually better for traveling:

NO foreign transaction fees!!
This is a game-changer. While most credit and bank cards can charge you foreign currency transaction fees of 3% or more, Bluebird does not charge foreign transaction fees at all. This can translate to major savings, which every student can appreciate!

Free Global Assist Services
If you're traveling more than 100 miles from home, Bluebird offers free Global Assist Services, which include lost passport replacement assistance, translation services, lost luggage assistance, and emergency legal and medical referrals. (Third-party fees for medical and legal services, etc. may obviously apply.)

100% fraud protection
When traveling abroad, you always have to contend with the possibility that your valuables may be stolen. If you're traveling with a traditional debit card, a thief might be able to withdraw your entire balance, leaving you with nothing. However, since Bluebird isn't a traditional debit card, it offers 100% fraud protection and zero liability for purchases made if your card is lost or stolen. Which brings me to the best part…

Bring only as much money as YOU want
Since Bluebird is a debit and checking alternative, you can load your Bluebird card with as much or as little money as you wish, fee-free. Load it with only as much cash as you need for your trip and/or make a special trip sub-account (which you can turn off if your card gets stolen) and you'll keep yourself on-budget AND your money safe from thieves.
Get your own Bluebird account!
If you want to join me on the Bluebird bandwagon, it couldn't be easier to sign up! Just visit Bluebird.com, sign up for free (with no credit check), and your card will be in the mail within a few days. Then just transfer as much or as little money as you wish, and you're on your way to travel bliss.
And remember: Bluebird has extremely minimal fees (see a full rundown on their site), so this isn't some kind of predatory scam. It really is just an awesome tool that's perfect for young adults.
What do you think?
Do you think you'll give Bluebird a shot? How do you keep your money safe when traveling? How do you save on foreign transaction fees when studying abroad? Let me know by leaving a comment.
Disclosure: This post was sponsored by Bluebird. The opinions, as always, are our own. For more information, please see our Disclosure page.