This post may contain affiliate links, which means we may receive a commission if you purchase through our links. Please
read our full disclosure here
.
We've decided to bring back "reading for fun" with our new series Reading Assignment. Every two weeks, we'll be reviewing one of our favorite books in the hope that you, dear CF reader, will consider reading it, too. Then, in the comments, we hope to get a great discussion going. Yep, consider this our version of a book club!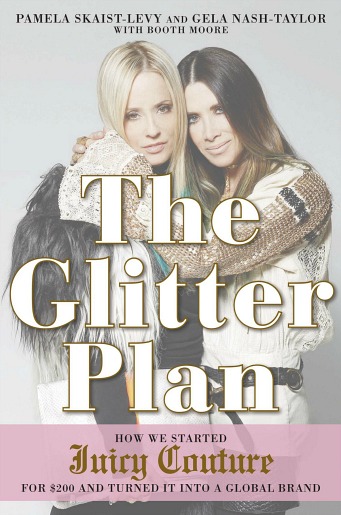 The Glitter Plan: How We Started Juicy Couture for $200 And Turned It Into A Global Brand book cover via Amazon
If you've walked into a Kohl's store recently, you may have noticed that a brand once favored by A-list celebrities is being sold there exclusively at a much more budget-conscious price. Among the more traditional finds and basic wardrobe pieces, there it is in all its glitter and glory: Juicy Couture!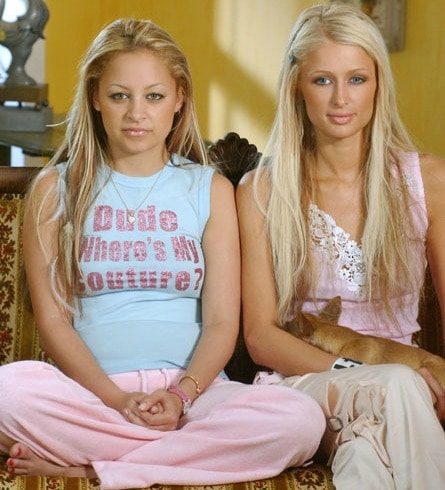 Pay attention, Nicole, I just said it was at Kohl's now! | Photo Credit: Screenshot
The Kohl's line still stands out with the same over-the-top comfiness of the original, but it's hard not to reminisce of the days when Juicy Couture reigned supreme and the entire world – from soccer moms to reality television stars – seemed to worship the brand's California royalty status.
No longer reigning supreme over the land where instead of "long live the queen(s)" it was all about "Viva La Juicy," Juicy Couture's original founders, Pamela Skaist-Levy and Gela Nash-Taylor, are now collaborating together again with a new line, the aptly named Pam and Gela, which is sold at high-end department stores. Obviously, these are two very busy ladies, but they made time to write a memoir-style book that intimately tells the entire story. Get excited: questions are answered that you wouldn't have even thought to ask!
Juicy Couture's story is a lot like the notorious celebrities of the early 2000s that loved to wear those bedazzled and bright tracksuit everywhere; it is complex with all this drama, but is genuinely appealing in all that gaud. Truly, it's like an E! True Hollywood Story and is definitely worth a read.
If you haven't had a chance to pick up a copy already, I'm going to tell you why you should check out The Glitter Plan:
My Review
I read this book over the summer while on vacation in Florida and, as Chicago's temperatures become all the more intensely unpredictable (freezing one day, warm and sunny the next), I long for just one more day in the always sunny Sunshine State. Also, with me cramming to get all my schoolwork done before Autumn Break and preparing for the ensuing midterms upon return, I would enjoy nothing more than an idle day to read on the beach. But alas, I'll just reminiscence about my time spend on the sand.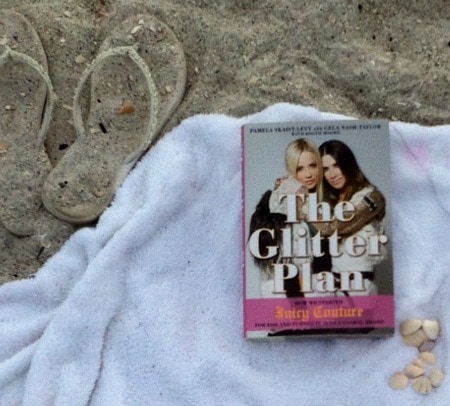 One of summer's hottest reads!
I'll just say it: I loved this book. I loved hearing the actual biographical stories of the two unbelievably intriguing founders, but what I loved most was the story about when and after they met. In their description, it was love at first sight and has been ever since. These two call each other first thing in the morning every single day and are more than soul sisters – they're soul mates. I loved that because, even with all the great advice they give to readers, that is indirectly the best lesson that could be taught: friendship.
Referring to those #tbt(s) from above, lifelong "besties" Nicole Richie and Paris Hilton no longer even speak, but that is not a judgment on their relationship or them as people. That era – the early-to-mid 2000s – was prime time for movies like Mean Girls and shows like Laguna Beach, which reconditioned us to not be good friends with other girls. Instead, it was all about "drama" and gossip, because in the media, sensationalism was more intriguing than actual friendship.
During that same time though, Skaist-Levy and Nash-Taylor remained true and loyal to each other and credit that as a major factor in the success of Juicy Couture.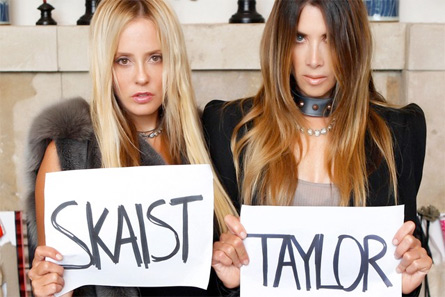 Pamela Skaist-Levy and Gela Nash-Taylor: BFFs for life. | Photo: ELLE
The two share some business savvy and insight into the world of colorful purses for pooches, and there was an indirect calling for honesty, bravery and respect towards others. In the book, they described how "everything was 50/50" and they both needed to agree before moving forward with any project or idea. Neither ever attempted to be the alpha female, and this never led to a blowout with one solely buying the other out for the rights to the company. Nope, friendship was held at a value just as high as the monetary worth they acquired and morals were never compromised.
For that reason alone, this book was novel and inspiring. Carrie Bradshaw once pondered that "maybe girlfriends are our soul mates…" For these two, it is proven true, and it seemed that way for the ladies of Sex and the City, too.
Skaist-Levy and Nash-Taylor reminded me that I cannot just expect my friends to be good to me, but I must strive to be a good friend. Often, we are not in tune with the emotions of others. In friendships, we only perceive how they treat us and never really question whether we treat them with enough respect or show enough love. Sadly, we undervalue our friends and need to remember that working on our personal relationships takes patience and consideration, just like professional relationships.
If nothing else, you should read the book to be in the same awe I was over how down-to-earth the two original founders have remained and think about adopting some of their life philosophies.
Let's Get the Discussion Going:
Did you read The Glitter Plan? If so, what did you think of it? Did you have the same takeaways as me? If you haven't read it, would you consider reading it now? What other books would you like to see featured in this column? Drop a comment below and tell me what you think!