This post may contain affiliate links, which means we may receive a commission if you purchase through our links. Please
read our full disclosure here
.
Thanksgiving is one holiday that most American's celebrate, and all families seem to celebrate it in slightly different ways.
My family celebrates Thanksgiving with a casual lunch at my grandma's house and then we eat leftovers for dinner. For other families, Thanksgiving dinner is a traditional affair involving fine china, expensive cloth napkins, and the expectation that everyone dress up.
To help with getting dressed this Thanksgiving season, we've created a Thanksgiving quiz with multiple style options perfect for any Thanksgiving celebration.
Just take this fun quiz below to find out what your Thanksgiving style is! Once you get your answer, find your letter and corresponding result below for a sample outfit based on your personality type.
Quiz: What's Your Thanksgiving Style?
Quiz Results – No peeking!
Below are the results of the quiz. Don't look if you haven't taken it yet! I've created one outfit for each result to help give you some ideas for what to wear. Enjoy!
Mostly A's: Casual Feast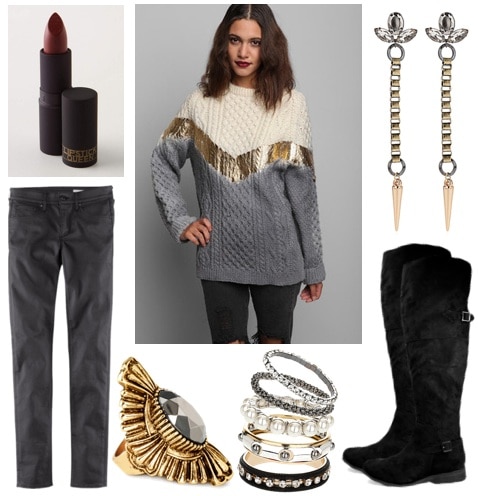 Product Information: Lipstick, Sweater, Earrings, Boots, Stacked Rings, Ring, Pants
If your Thanksgiving is more about eating delicious food and tossing around the ol' pigskin than sitting around the table in your finest dress, try a look like the one above. To create a neutral canvas for this gold-foiled sweater, pair it with some black skinny jeans and knee-high boots. Gold and silver jewelry help glam up the look for dinnertime. Finish the outfit with a slick of burgundy lipstick.
Mostly B's: Formal Thanksgiving Dinner
Product Information: Cardigan, Dress, Bracelet, Tights, Ring, Shoes
For a formal holiday dinner look, pick a dress like the one above with a bright, seasonal color and a pretty embellished neckline. Next, add a cute pair of bow tights and a simple black V-neck cardigan. Some strappy heels, a black cocktail ring, and a dainty bracelet complete this formal look.
Mostly C's: Meet the Family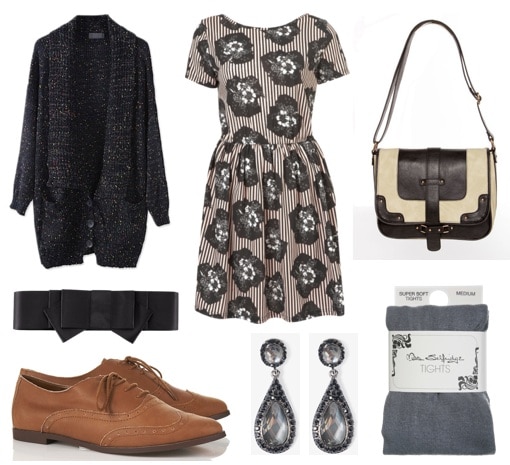 Product Information: Sweater, Dress, Bag, Tights, Earrings, Shoes, Belt
Many times, college students end up being guests at other families' Thanksgiving celebrations. In these cases, you want to make sure you are making a good impression on your friends' or S.O.'s relatives. An easy place to start is with your outfit. For this look, pair a fun printed dress with neutral basics like gray tights and an oversized knit cardigan. Finish the look with accessories like a bow belt, some sparkly drop earrings, a two-tone bag, and classic brogues.
Mostly D's: Black Friday-Ready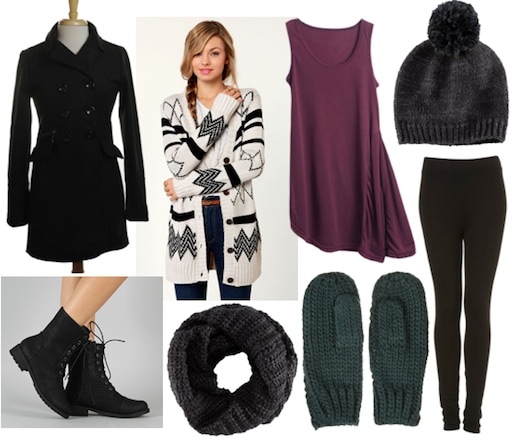 Product Information: Coat, Sweater, Tank, Hat, Leggings, Mittens, Scarf, Boots
For some people, the highlight of Thanksgiving is getting in line for Black Friday shopping. For an outfit fit for waiting in lines outside as well as shopping amongst the masses of people, layer a long tank and oversized cardigan over some black leggings. To stay warm while waiting in line outside, make sure to bring a thick coat, a tube scarf, mittens, and a hat. Finish the look with these moto-booties that are cute and comfortable enough to run in – you can't afford to walk on Black Friday!
What do you think?
What was your result? Did it pinpoint your style well? Did you like the quiz? What are you plans for Thanksgiving? What do you plan on wearing? Please let us know what you think by leaving a comment below!