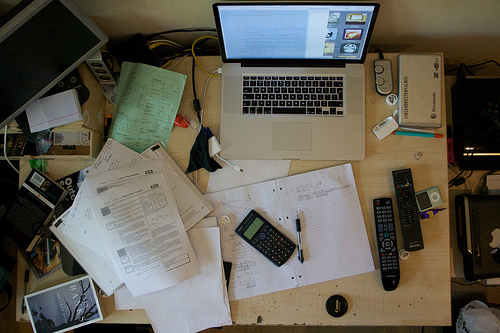 It's that time of the semester again – finals! Now that classes are coming to a close and most students are readying themselves for a fun-filled summer, the stress of final exams is starting to build up. Even though it can be difficult, it's time to put those summer thoughts on hold and really buckle down on your studies.
In the midst of all your studying, however, don't forget that you are human, and you need breaks! Make a good plan, be nice to yourself, and don't turn into a walking zombie around campus with crazy eyes and five different No. 2 pencils. Take the quiz below to see which method of de-stressing you should try during this final exam season.
Quiz Results!
Below, I've created an outfit idea for each finals week unwinding activity. Hopefully this quiz will help you feel a little bit calmer during this stressful time. If you haven't taken the quiz yet, no peeking!
Mostly A's: Exercise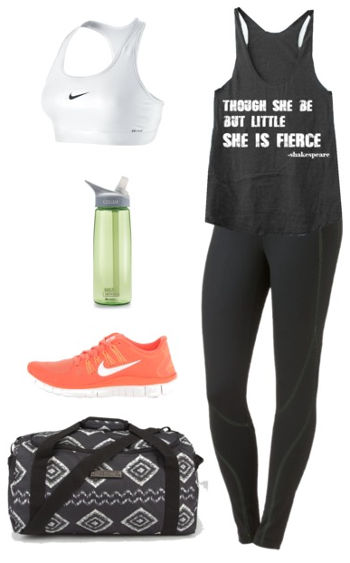 Product Information: Leggings, Sports Bra, Tank Top, Duffle, Shoes, Water Bottle
Exercise is the perfect solution to feeling trapped and confined all day at the library. You can use this gym trip as a break from studying or you can take some notes with you to read while on a machine!
This outfit is a cute yet practical option for the gym. The tote will hold everything you need to carry, while the brightly-colored shoes and water bottle will wake you up after staring at books all day long.
Mostly B's: Relax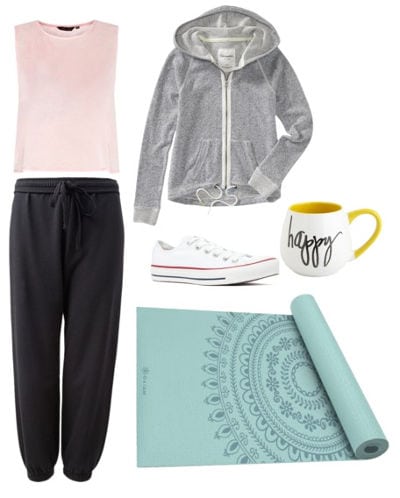 Product Information: Sweatpants, Tank Top, Zip Hoodie, Yoga Mat, Mug
Sometimes all you need to do is sit down and have a few moments to yourself! Try some deep breathing with a nice cup of calming tea or even try some yoga to get your blood flowing. The look pictured above is comfortable and casual – perfect for staying in and reflecting or getting some fresh air at the park.
Mostly C's: Get Some Sleep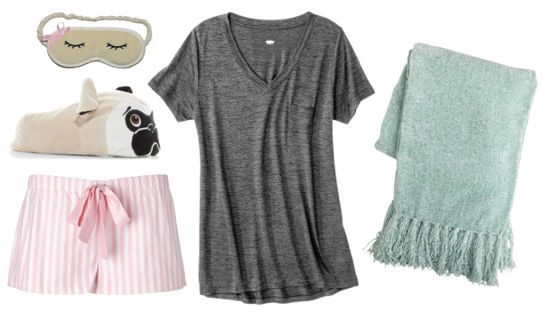 Product Information: Pajama Bottoms, V-Neck, Blanket, Sleep Mask, Slippers
Sleep deprivation is no joke, especially during finals week. If you've been staying up at all hours trying to get work done, then take a few hours to get some shut-eye; your body will thank you.
Clearly, this outfit is adorable because of the sweet pug slippers and the cozy pajamas. Plus, the soft material of this blanket will make it the best nap you've had in a while!
Mostly D's: Eat a Nutritious Snack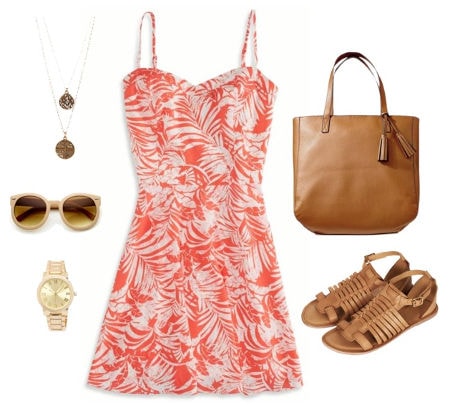 Product Information: Sundress, Shoes, Bag, Watch, Sunglasses, Necklace
It's easy for your immune system to be compromised and for you to feel sluggish when you don't get adequate nutrition. One day after an exam, take a break, go outside, and have a picnic with lots of fruits, veggies, and other healthy goodies.
This outfit is low-key yet super cute. Just slip on a breezy sundress and sandals, grab an oversize tote, then add your favorite accessories.
What do you think?
What do you do to shake the stress away during finals? Would you try any of these methods? What tricks have you developed over your college career to cope with end of the semester craziness? Tell us what you think by leaving a comment!