This post may contain affiliate links, which means we may receive a commission if you purchase through our links. Please
read our full disclosure here
.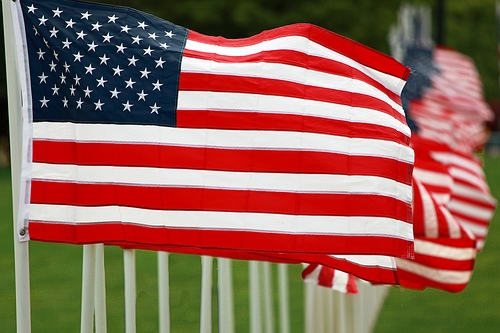 There are so many reasons to celebrate during the summer, and the Fourth of July definitely makes the short list. Especially with all the hype surrounding the U.S.A. in the World Cup Games, our country's patriotism is already through the roof – and it's not even July yet!
Of course, it's not like we need any help getting excited to show love for our country. In fact, we've been celebrating Independence Day since 1777 (even though it wasn't officially declared a national holiday until 1870).
While the holiday officially celebrates independence and freedom, it's become tradition to also celebrate great friends and family, fun barbecues, and awesome firework shows. (Also, about those barbecues: According to TIME Magazine, the Fourth of July is the biggest day for hot dogs out of the whole year – over 155 million eaten on this day alone, so eat up!)
With so much going on, it can be difficult to choose exactly how to spend this awesome day. Take the quiz below for some inspiration on what to do this Independence Day:
Quiz Results!
The results to the quiz are down below (if you haven't taken it yet, don't look!). I've created an outfit that would work for each Fourth of July activity.
Outift #1: Beach Adventure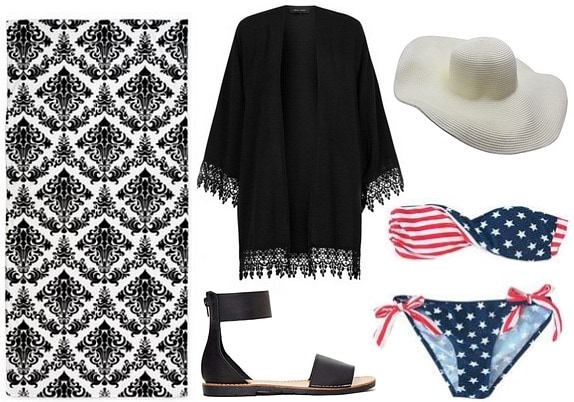 Beach Product Info: Towel, Bathing Suit, Kimono, Shoes, Hat
Grab the essentials and head out to a waterfront near you! Whether that's the pool, the beach, or a lake, the water is a perfect way to cool off on a hot Fourth of July. An American flag bathing suit is literally perfect for this holiday, and when you keep your cover-up and sandals neutral, the colors really pop. Don't forget an oversize beach towel and a chic sun hat!
Outfit #2: Barbecue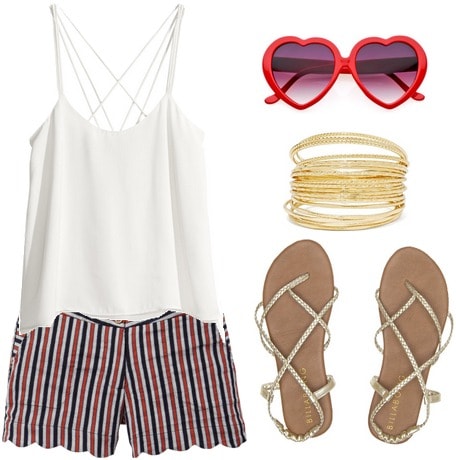 Product Info: Shorts, Tank, Bangles, Sunglasses,Shoes
If you're headed to a family barbecue this Fourth of July, keep it classy with tailored shorts instead of casual cut-offs. The color scheme of these shorts is perfect for the occasion and a strappy top keeps you cool in hot weather. Gold accents pull this look together, while heart-shaped sunglasses are a fun touch.
Outfit #3: Bonfire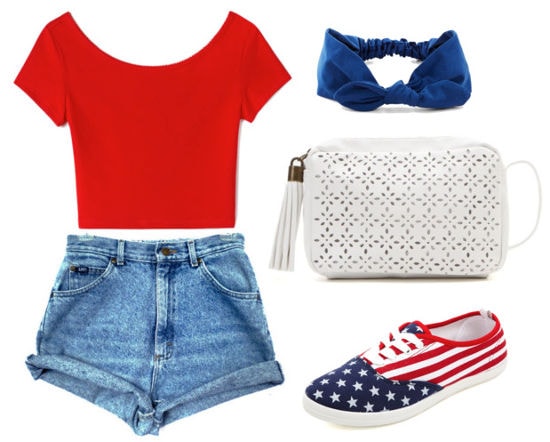 Product Info: Shorts, Top, Bag, Shoes, Headband
Summer bonfires are always fun (not to mention, they keep the bugs away!), and are also a great time to pull out the high-waisted denim shorts. A crop top will keep you cool in the heat, and the American flag canvas sneakers are too cute to pass up! Continue the red, white and blue color scheme with a blue headband and white purse.
Outfit #4: Fireworks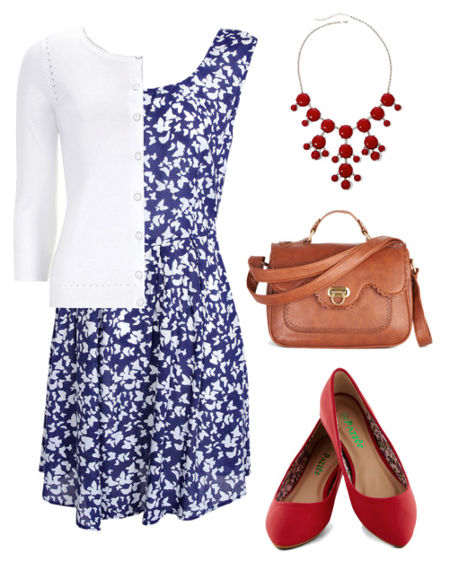 Product Info: Dress, Sweater, Necklace, Shoes, Bag
So far, I've focused on more casual activities, and while fireworks can surely be as casual as you'd like, I threw in this nicer outfit as a Fourth of July date night option. This cute sundress is ideal for the season, while red accessories add to the Americana-inspired vibe. Depending on where you live, add a lightweight sweater if your summer nights get cool!
What do you think?
Do you have Fourth of July plans? Would you wear any of these outfits? Which is your favorite? Let us know what you think in the comments below!