This post may contain affiliate links, which means we may receive a commission if you purchase through our links. Please
read our full disclosure here
.
I know you have one blouse or dress shirt in the back of your closet that you pull out once or twice a year for interviews. And you probably paid a good amount of money for it, too. Today, I'm going to show you how to dress it down so that you can look classy and stay comfortable. And let's face it — blouses are often made of super soft materials, so you'll feel like you're just wearing a soft blanket all day!
I've also re-discovered smoothies, so I'll be sharing quick recipes and tips for smoothie bowls with you, and give you a look into my bullet journal in case ready-made planners aren't your thing. Let's get ready for Monday!
Outfit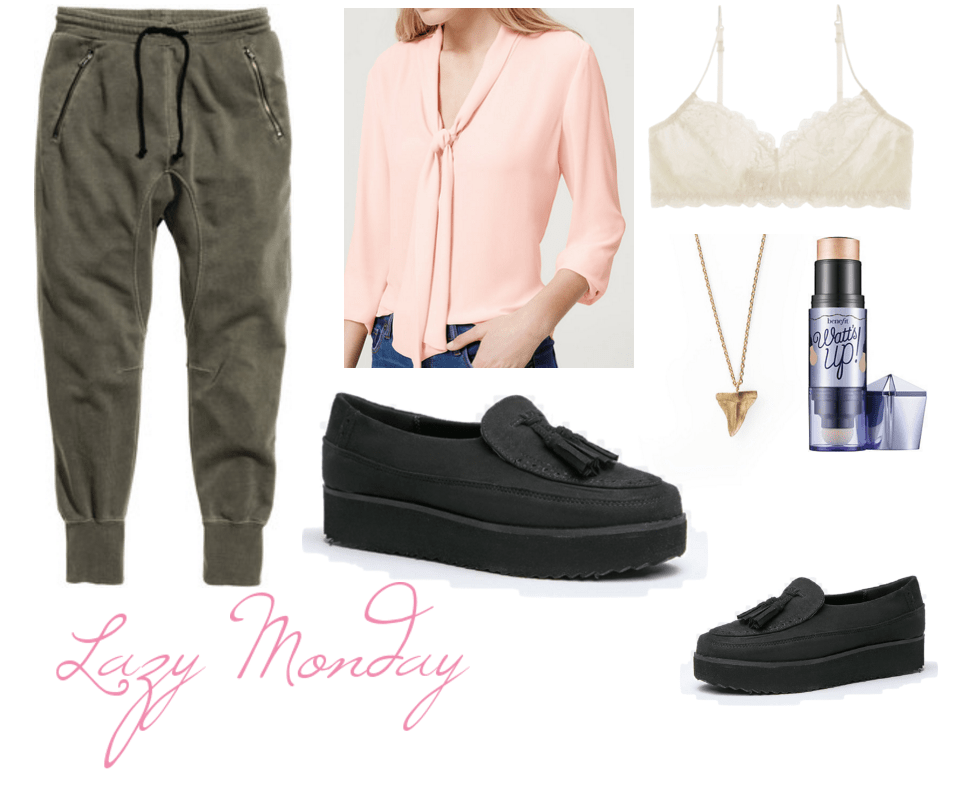 Products: Blouse, Pants, Shoes, Necklace, Bralette, Highlighter
A few weeks ago, I showed you guys how to wear trousers casually. Today, I'm going to flip things around and go casual on the bottom and classy on top.
A blouse or a more formal shirt is a staple in everyone's closet — you never know when you'll have to go for an interview or a party will come up. The one above is great because the tie-neck trend is still around but timeless enough to wear a few years from now, too. And let's take a lesson from the French girls we all envy and pair it with a beautiful bralette that might just peek through the neckline. (Nothing too scandalous, but let's enjoy that we're not wearing this to the office!) If you want to draw even more attention to your neckline, try a simple necklace like this: it adds enough to draw your attention but doesn't overpower the already decorated neckline.
Joggers save me on exam days, cold days, lazy days…but you can only pair them with so many t-shirts before the combo gets old. So tuck the blouse into your joggers for a cool look. And I know flatforms are sort of an iffy thing but trust me, these are super comfortable, so you won't be hobbling around campus. A bonus for us short girls is that they add some much-welcomed height.
If you're looking to add a little glow to your face but you don't have time for a full face of makeup, Benefit's Watts Up is the easiest thing to put on. And it's in stick form! I don't know about you, but this makeup stick trend is really making me happy — it's easy to apply and just as easy to carry around. Really, any highlighter will do — it's the only makeup product I carry around with me.
Breakfast: Smoothie
Who doesn't like a good smoothie, right? The problem is that they just take too much time to prepare…but if you just spend a few minutes on Sunday, you'll be prepared with yummy smoothies for the week.
Get a few fruits and veggies of your choice and slice them up. Make enough for around 3-5 smoothies, depending on how many you want. Done? Now seal each portion in a plastic bag and put it in the freezer, and when you're craving a green monster but don't want to shell out five dollars, reach for one of the bags!
I like to put in peanut butter or almond butter and flax seeds into my smoothies. Honey's also a great alternative for sugar if you need that extra hint of flavor. I know that some of you might not have blenders and I didn't think it was worth investing in one…until I found this. It's perfect for personal smoothies and if you think about it, the cost of six smoothies is the same as the price of the Magic Bullet Mini.
Alternatively, you can put these frozen fruits into a bowl with milk (almond milk, dairy milk, etc.), throw in some cereal and granola, and you have an equally amazing breakfast!
If you're looking for some smoothie inspiration, here are a few beautiful, delicious-looking recipes.
Organization: Bullet Journal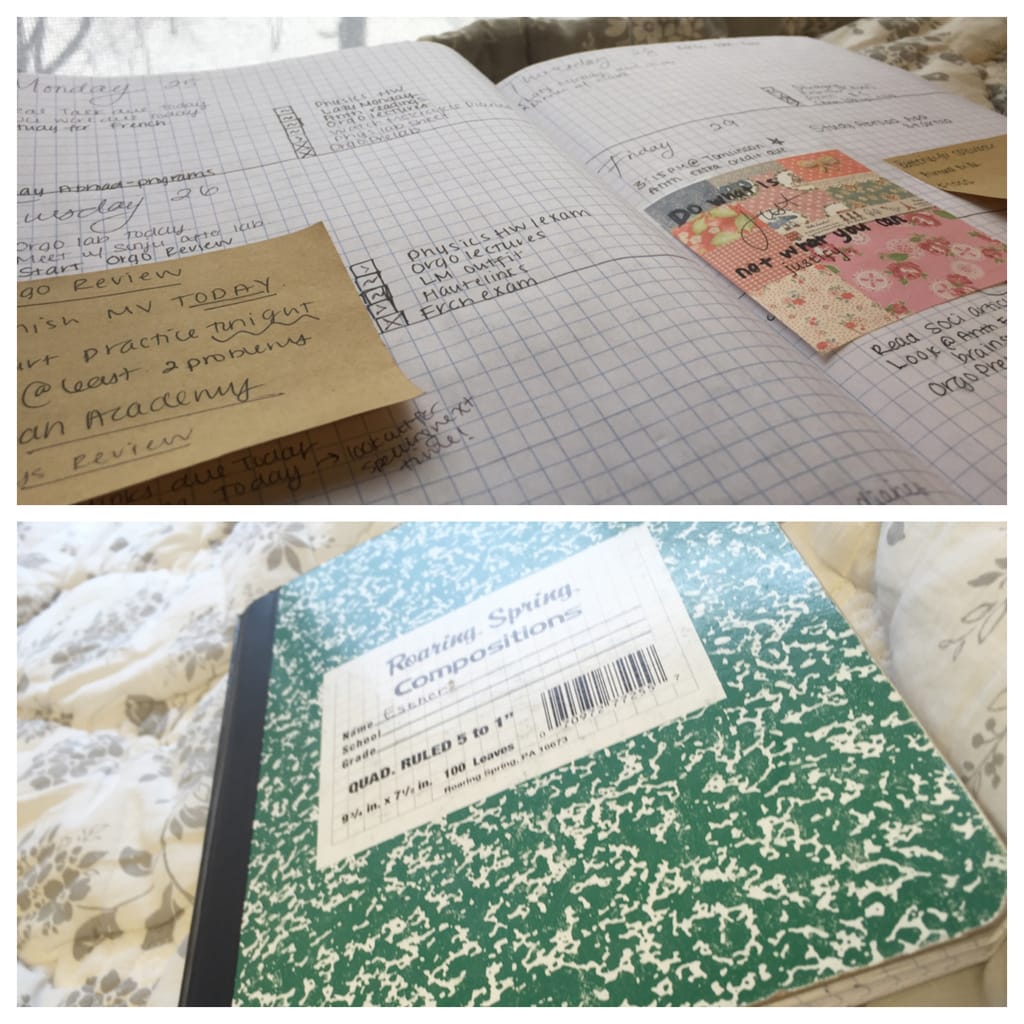 I've tried just about every planner out there, from the coveted Moleskine journals to the cheap ones you pick up at the dollar store. The one thing they had in common I could never finish or use them for more than a week. The problem was that they just didn't have what I needed. If you're having the same problem that I did, the bullet journal might be a great option to look into.
There are whole communities dedicated to the bullet journal and there's a notebook made specifically for this system. But I like to use a plain composition notebook with graph paper.
The best part for me is how customizable it is. Every month, I'll stick in a calendar for more long-term events, and every week, I'll write out the days and what's due. It's easy to update and tweak based on what you need for the week. There are a bunch of other "spreads" that you can make, from monthly goal pages to a page to keep track of spending. You can decorate yours and make it as artsy as you want or keep it plain.
Final Thoughts
So what do you think about mixing formal and casual wear — do you think you'll try this look? And what do you like to put in your smoothies? Do you have any go-to recipes? The bullet journal system's really been working for me…will you give it a try? Let me know in a comment below!