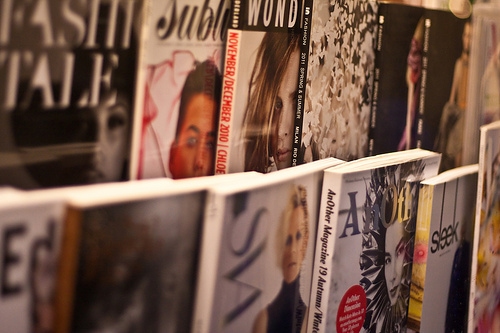 For the second interview in the Interviews with Fashion Insiders series, I knew that Christina Garofalo, who is an Editorial Assistant at Robb Report Magazine, would be the perfect pick.
From styling photo shoots to editing articles, Christina's job brings something new – and fascinating – every day. And like our first interview subject Chrissy Sheahan, Christina also did not study fashion in college – further proof that fashion school isn't a necessity in this business! So without further ado, here are some tips and stories from a true fashion insider.
Our Interview with Christina
1. Tell me about your background: Where are you from, where did you go to school, and what did you major in?
I grew up in Ocean Township, N.J. (by the beach but not like the show Jersey Shore) and I went to Muhlenberg College, a small liberal arts school in Allentown, P.A.
I was originally a Theater major, but after taking a writing-intensive poetry class my first semester (I have always loved poetry and writing), I went down to the registrar and switched my major to English. I went on to take three classes with that same professor, countless courses in poetry and short fiction, and then in my junior year I added an Art minor with a concentration in painting.
I have always been interested in the connection between words and images — the way that visual and verbal elements can enhance one another — which is sort of how I came to love the role that style plays in magazines: turning the visual experience (seeing a picture of a dress you like, for instance) into valuable editorial content.
2. Did you have any internships, during or after college?
Yes; I interned at WWD during the summer between my sophomore and junior years of college. At that point, I had been through two years in the English program at my school and was interested in journalism. I'd actually tried to propose journalism as a create-your-own major (liberal arts schools are good for stuff like that) but it didn't get passed. So I got this internship to try to get a taste of what the magazine world was really like.
At WWD, I worked with five other people in the "accessories closet" (there was also a fashion and a jewelry closet, both of which were filled with interns, too), and I had a blast! I didn't work with the writers; I worked for the marketing editors/stylists, so I handled returns, cataloged accessories, helped organize run-throughs before jewelry and accessories shoots, went on the occasional coffee or cupcake run… It was nothing I thought I would be doing, but I was surrounded by shelves of beautiful shoes, bags, and jewelry, and I worked with a fun group of people who I really bonded with.
In a weird way, I almost feel like my job gave me a more accurate view of the magazine as a structure of moving parts; because I wasn't too close to one area, I was able watch the way everyone worked and interacted from an objective standpoint. Plus, I learned the proper ways to work in a professional environment, how to correspond with PR contacts, and how to do damage control, all of which are vital skills for my job now.
3. What was your first job?
My first job when I was younger was working retail at a shoe store – you can probably guess where all my paychecks went. But my first post-college job was the one I have now!
It was hard to find a job when I first graduated because the economy was bad; hardly any of my friends found jobs at first because there were just so many people applying. But I knew I wanted to write, so I scheduled a lunch date with an editor I had worked with at WWD. Even though I knew Condè Nast wasn't hiring, I asked if I could come in one day when she wasn't too busy and pick her brain a little. I asked how she got to where she is today, and what advice she could offer from her work experience and her experience interviewing people my age for jobs.
From there, I applied to a bunch of jobs, went on a several interviews, and tried to be open to many possibilities. A few months later, the editor reached out to me to say that a friend of hers, who she had started at WWD with years ago, was looking for an editorial assistant. I set up an interview and a few weeks later, I got an offer!
4. Have you always wanted to work in fashion?
No, but I have always loved fashion. I remember getting an issue of Teen People when I was eight or nine years old — I was obsessed. I started to read every issue of that and Teen Vogue from cover to cover, many times over, cutting out pictures from every issue and grouping them by color to post on bulletin boards in my room.
Back then, I was especially inspired by the Candies advertisements. (They were so '90s!) There was one with Dennis Rodman and Carmen Electra applying makeup together in front of a vanity (totally bizarre, but hilarious), and I remember that the ad was filled with colors. Rich blues, purples, and pinks, all playing off of each other… I loved the way they tied Dennis Rodman's crazy hair color to Carmen Electra's eye shadow, and her sultry outfit to the color of the perfume bottle on the counter. That is when I first realized that there was much more to fashion than just clothing. I saw the influence that a great image can have on how fashion in perceived, especially to young girls. Of course, at that age, I didn't completely understand it on all these levels; but I did recognize then that this was art, and it became instantly important to me.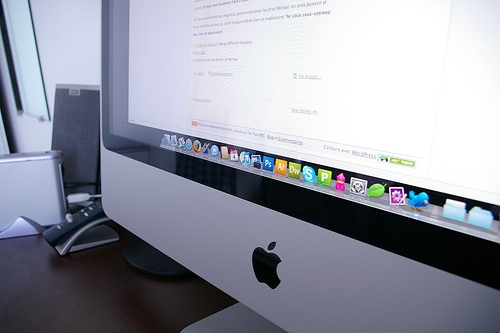 5. Tell me about your job – what is a typical workday like?
I am an editorial assistant at Robb Report, which is a magazine that specializes in the luxury marketplace. I spend a lot of time writing, which is very unique for someone in my position. I write for our two websites (RobbReport.com and NYC.RobbReport.com) and for the print magazine; I am usually working on about 15 articles, all in various stages, at any given time, which requires me to stay organized. I also manage our freelance writers — I issue their contracts and make sure they are paid — and do some fact checking for the magazine. And there are always tons and tons of emails to sort through.
Because the days can get very hectic at times, I almost always make a point to stop and have lunch with my coworkers. When I was interning, no one took lunch. Everyone just stayed at their desks and either worked or went on Facebook. Of course there are some days that I am too busy, but overall in my office we are pretty good about taking time to eat together and, I have to say, the benefits are completely understated. It is really important to pry yourself from the keyboard and computer screen; taking short breaks ultimately helps you be more productive. And forming relationships with your colleagues is equally as important — you will spend most of your time with these people, so if you form good relationships, it makes getting up in the morning and coming to the office something to look forward to.
6. What are your favorite things about your job? Your least favorite?
I have a few favorites. I love working on fashion shoots. When I am there, I am responsible for recording all the captions (the text at the bottom of the page that lists what the models are wearing) and helping the stylist. It is a tedious job, but I love it. There is always good music on, the room feels bright and airy, and there is this incredible energy that is both relaxing and invigorating. Plus, I get to work with extremely talented photographers and a stylist who has an incredible vision. It is amazing to see how they can work together to make the story come to life. And then there are the clothes, of course…
I also really love interviewing people for stories and meeting people in the industry. I am lucky to have a boss who is concerned with being a mentor. She is the fashion, jewelry, and web editor for Robb Report, so she always makes a point to invite me to previews for new collections and helps me develop an understanding of and a voice of authority on what I am seeing. It makes all the difference in the world to see and touch the products you are featuring firsthand, and to put a face to the name of someone you've been corresponding with for months. Also, seeing how she and the other editors work has taught me that you have to always keep the bigger picture in mind; you need to be on the lookout not just for your own stories, but for the other editors, and the sales and marketing people as well. When you are on staff at a magazine, you are part of a team.
My least favorite thing: the moment I realize I have taken on too much. I always want to write all the articles, so sometimes I overbook myself and am spread too thin. And it always hits me all at once. Suddenly I am like, "How will I ever get through this?!" But I always do. As long as I stay focused, organized, and keep lists (I am an obsessive list-maker), I am usually back on track after a day or two.
7. Do you have any tips for a college student who wants to work at a magazine?
I know the job market is tough right now and it is difficult to be picky, but if you can, try to find a place where you are writing about something or selling something that is important to you. If you find yourself spending your free time researching and wanting to learn more about something — whether it is fashion, jewelry, art, whatever — even when you're not required or being paid to do so, that is a good indicator that you're on the right track. That way, even the bad days (even at your dream job, you will have bad days) will still be worth it.
Once you have the job, always watch those people who are really seasoned in the industry. Ask questions, and really make an effort to get to know the people who you are working for and with (even indirectly); find out what they do and how they do it. The better you can understand the many aspects of the business, the better you will be at your job. Everyone sort of depends on each other in a magazine, so a little understanding goes a long way.
Oh, and don't go for a job just because it seems glamorous – it probably won't be. Especially at the intern level, these jobs often come with a lot of grunt work at first. Don't be discouraged or frustrated by this, and don't think you are above it. Yes, you went to college and are capable of a lot, but you will be surprised at what you will learn just by maintaining a positive outlook and showing that you want to learn. People will remember that about you, and you want to be memorable.
8. What is one thing that you wish you had known during your first job or internship?
Everyone makes mistakes. Even the people at the top-of-the-top mess up.
Doing something wrong is really hard — when you've made a mistake, missed your deadline, let your boss or coworkers down, it does feel awful. But everyone has been there; mistakes are inevitable. It is what you do after the mistake, the "damage control" that matters: always own up, don't make excuses (no one likes excuses), and definitely do not lie. Just take responsibility for your actions, apologize, and move forward.
As long as you always put forth your best effort, show that you care and that what you do is really important to you, and that you make sure you are always, always honest, then no matter how bad the mistake, people will respect you.
Your thoughts?
Now that you've read Christina's story, we want to hear from you! Do you want to work for a magazine one day? Did you find Christina's tips helpful? Any questions? Let us know in a comment.