This post may contain affiliate links, which means we may receive a commission if you purchase through our links. Please
read our full disclosure here
.
While the start of a new school year is always exciting, the hustle and bustle of move-in day can be pretty stressful. Whether you're an incoming freshman looking forward to your very first night in the dorms or a seasoned veteran ready to get move-in over with so you can catch up with your friends, try out our tips for staying cool, calm, collected, and chic through the whole day.
Things to Keep in Mind
With everybody moving in at the same time, it can get hectic and difficult to navigate hallways and elevators, especially when pushing a huge cart. If possible, try to move in early, especially if you'll be living in a large freshman dorm. You can contact your school's housing office to see what's the earliest date available for move-in.
Avoid making purchases until you've already moved in what you brought with you. Unless you're flying in with a single suitcase and need to purchase all the essentials, heed not the siren call of Target and Bed Bath & Beyond: wait until you're done unpacking to evaluate what you really need to buy.
Coordinate with your roommates beforehand to decide who will bring what and to avoid duplicate items. Make sure what you plan to bring matches up with the style of your housing. For instance, you probably won't need any serious kitchen appliances unless you're in an apartment.
Outfit Tips and Ideas for Move-In Day
Let me begin by saying that there is absolutely no shame in breaking out the sweatpants and ratty gym tees for move-in day, as you're likely to get grimy and sweaty.
Nevertheless, if you'd prefer to look a bit more put-together for your debut to dorm life, check out the following tips and suggested outfits!
What to Wear
Comfort is key. Since you'll likely be crouching and raising your arms, make sure your clothing allows for a full range of motion.
For the aforementioned reason, skirts and dresses are a no-no for move-in day. Instead, go for shorts, jeans, or leggings.
Carry your ID and keys either in your pockets or in a hands-free bag, like a crossbody or a backpack.
Nobody likes hair stuck to their cheeks, so keep those sweaty strands out of your face with a cute hair tie or headband.
Close-toed shoes are a must. Don't risk chipping your pedicure (or, you know, breaking your toes)– those boxes can be heavy!
Outfit Idea 1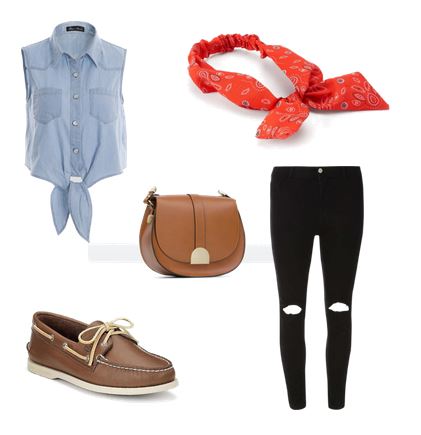 Product Information: Top, Jeans, Shoes, Bandana, Bag
Outfit Idea 2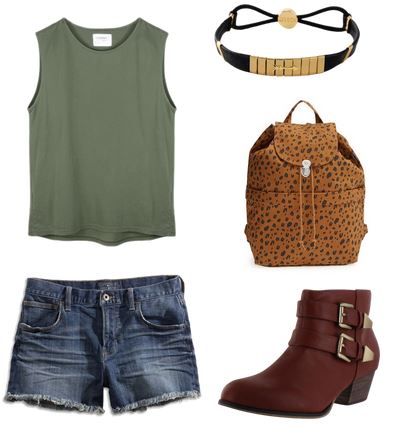 Product Information: Tank, Shorts, Boots, Backpack, Hair Tie
What did you think?
Are you moving into a dorm this year? What do you plan to wear on move-in day? Upperclassmen, what tips can you share with incoming freshmen? Let us know in the comments!