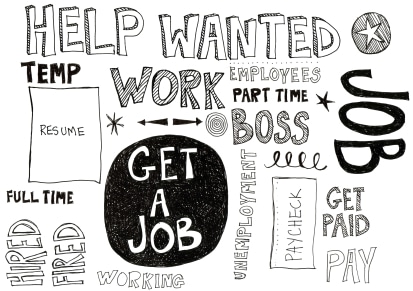 This is the third part in our series on getting the internship of your dreams. If you missed the first two articles, learn how to clean up your internet identity and how to create a killer cover letter and resume, then come back and read this article.
If you have been following this series, in this post, I'll show you where to find internships listed on the internet (mostly fashion-related), and other great ways to get your resume out to anyone who can help you find an internship.
Where is the first place I should look for an internship?
There are so many great places to find internship listings. But the first place to look is within your "network." By network, I don't mean all of your Facebook friends; I mean your friends and family. Reach out to anyone and everyone who could help you find an internship. Have a friend who has a friend who works for a magazine? Ask her if she could get in touch with her friend and maybe even introduce you two! Recently, I threw out the fact that I was looking for a fashion internship to my group of friends at lunch, and immediately, each girl racked her brain for anyone she knew who could help me.
Send your resume to your family members and close friends. That doesn't mean you should send a mass e-mail to all of your contacts in your Gmail address book; carefully pick out certain people you can trust to forward your resume to anyone they think could help you. If you have a family member or close friend (i.e. this won't be the first time you're getting in touch with them since you last saw them six months ago) with a lot of connections, shoot them a nice e-mail that says something to the effect of:
"I'm searching for a [industry]-related internship for Summer 2010, and since you are always making new friends, would it be possible for you to maybe forward my attached resume to anyone you know in the [industry]-world?"
If you know someone with a connection, but haven't been in contact with them recently… call them. Catch up with them. Don't just send an e-mail that says, "Hey, how are you, help me out!" If you want someone to forward your resume, they are doing you a favor. So, be nice, grateful and courteous, and don't demand anything. Let them know how appreciative you are if they do decide to help you. Maybe even consider sending them a card for their effort.
I sent my resume around to my friends and family, now what?
There are so many great resources to use on the internet to find an internship. Here are the sites I've used and loved the most:
What's next?
So, you've found the internships/jobs you want to apply for. You've written some sweet and to-the-point e-mails with your cover letter and resume attached securely. You've shaken as you pressed the "Send" button. Now what do you do?
Firstly, read through our tips for landing an internship.
Then, if you haven't heard back from your employer in a few weeks, send a follow-up e-mail. Let them know how much you appreciate them looking over your resume. Let them know you just wanted to touch base. Sound sincere and sweet. Thank them.
Got back a reply that says something like, "Thanks for applying, but try again some other time"? I have, you probably have or will at some point in your life, and everyone around you probably has, too! Don't pout and feel like you did something wrong. Instead, send a thank you e-mail. I know you're bitter right now, but employers will often keep your resume on file in case another position that they feel could suit you becomes available. Plus, it looks extremely courteous of you to send a thank you e-mail, and people remember when you make them feel special.
Example? My friend turned down a job offer over the phone, then sent out this amazingly sweet e-mail to the contact he had at the company. In return? The potential employer let him and his co-op advisor (he goes to a school with a co-op job program) know that he had sent the nicest e-mail they had received and that they would love for him to interview again the following year. Basically, he made an incredible impression on them.
If you get asked to interview, then CELEBRATE! You are one step closer to the internship of your dreams! Congratulations! In my next post, I will be discussing interviews, from what to wear, to what questions to be prepared for.
What do you think?
Did you check out any of the sites listed above? Did you find them useful? Have you started to apply for specific internships? What type of internship do you want? Let us know in a comment!