This post may contain affiliate links, which means we may receive a commission if you purchase through our links. Please
read our full disclosure here
.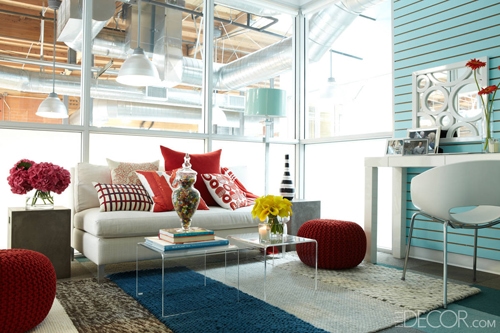 Photo Credit: ELLE
Let's face it: college housing doesn't exactly have a reputation for being the most colorful or homey. In fact, it's usually downright drab.
Whether you have a dorm on campus or you live in an apartment off campus, chances are your home sweet home could use a little sprucing up. That's where I come in! I've rounded up twelve DIY decor projects that are easy to complete on a college budget. With just a few projects completed, your space will be bursting with color and charm!
Wall Art
One of the easiest ways to add some color without painting the walls is through wall decor. Unfortunately, buying prints can be expensive and it takes time to build up a collection you really love. Here are a few works of art that you can create yourself!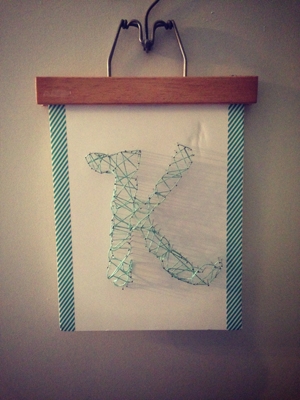 A graphic typography print, a unique matting idea for a photo, and a personalized three dimensional print are three simple ways to showcase your unique style.
An inexpensive geometric art print that you can make with things you probably already have laying around? Score!
Although this isn't technically wall art, a garland is a great way to decorate your walls and you can even customize it in whatever color scheme you want.
Organization
A clean home is a happy home! Although organizing your home can sometimes be a chore, these quick DIYs perform double duty by keeping your space organized and chic.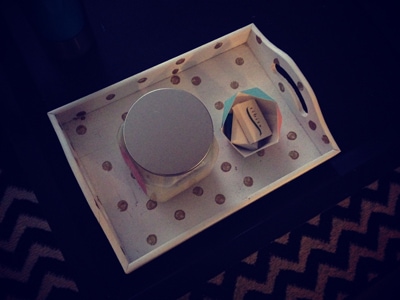 With just a few materials that you can purchase from any craft store, you can quickly transform a frame into a beautiful tray to display your jewelry, desk accessories, or even barware.
If you're anything like me, you probably have various images and clippings from magazines strewn all over your room to save for later inspiration. Manage your inspirations by creating a mood board to elegantly display them all for future projects.
The best kinds of DIYs are the ones involving glitter. And better yet, this one provides a practical way to display and organize your jewelry!
Kitchen Accessories
Whether or not you like to cook, the kitchen is probably one of the most lived in spaces in your apartment. And if you have a dorm then you probably know how creative you have to get when it comes to cooking without an actual kitchen. Whether you have a cooking space or not, these DIY's will definitely come in handy.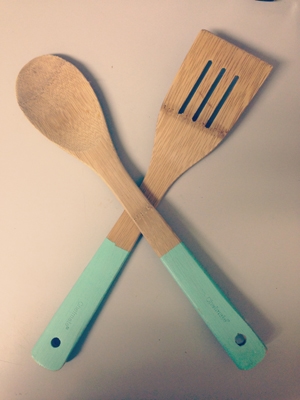 This DIY is crazy easy and the finished product is so functional for cleaning and wiping dishes. They would also make great gifts!
Regardless of whether or not you are a coaster-user, you have no excuse not to start using them with this quick DIY.
These days it seems like most kitchen utensils are pretty boring, and the ones that aren't are usually expensive. This DIY makes it easy to take your existing kitchen utensils and step them up a notch with a dose of color.
Decorations
Decorations are the most fun part of sprucing up your dorm or apartment! They are so important when it comes to making your space feel warm and inviting. There's nothing better than coming home to a beautifully decorated house after a long a day.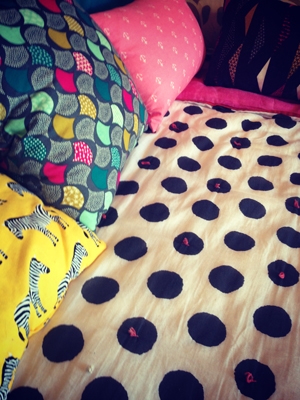 Although this might seem like a small detail, having a pop of color on your door will make you smile every time you see it.
If you're at a loss for creative ways to display your photos then this is the perfect DIY for you! In addition, these photos are also functional.
You can never have too many throw pillows! They're easy to make, and they're also a great way to brighten up a lackluster couch or bed.
What do you think?
What are your favorite decor DIYs? Have you spruced up your room with any easy projects? Have you tried any of these? (If so, how did they go?) Let us know in the comments below. Looking forward to hearing your DIY decor tips!