This post may contain affiliate links, which means we may receive a commission if you purchase through our links. Please
read our full disclosure here
.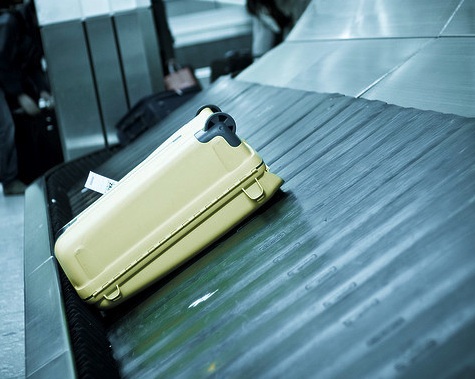 So far in this series, I've talked about the elements of your perfect travel outfit and given tips on how to pack your suitcase. This week, it's all about your carry-on.
Unlike traveling by bus or by car, when you fly, you have no control over what happens to your luggage. When you check your bag, you are surrendering it to the airline, and all you can do is pray that your bag will be at your destination when you arrive.
But what if it isn't? What happens if the airline loses your luggage? What are you supposed to do without any of your belongings miles away from home? This is where your carry-on bag comes into play. In an instant, this bag could become your lifeline on trip – so you'd better pack it right! Read on to learn how to do that.
Carry-On Bag Essentials
In an effort to make sure your prepared, here are the items you must put into your carry-on bag:
1. An extra set of clothes.
When you lose your suitcase, you lose any and all clothing items you brought along with you – therefore, it's essential to have back ups.
Always pack an extra outfit, including undergarments and socks, in your carry-on bag. This way, you'll have a fresh set of clothes to hold you over until you can purchase new ones or have some sent to you.
2. A bag of travel-size toiletries.
Travel-size toiletries are a must when flying. Sets are even better, because they include all your essentials, come in great scents and follow the airline 3 oz. rule.
Since these kits usually only come with shampoo, body wash and lotion, make sure to throw in a travel-size toothbrush, toothpaste and your must-have cosmetics.
3. Photocopies of all important papers.
While you should always carry any important paperwork like passports, insurance cards and photo identification on your person, it's always good to carry extra copies just in case something gets misplaced.
Put photocopies of all your paperwork in a plastic sandwich bag. (Put a second set of copies in your suitcase too.) Slide the bag into a secure area of your bag where you know they will be safe and you have easy access to them. Also, if you're on doctor-prescribed medication, always store your medication in the same secure area of your bag.
4. Your jewelry/valuable items.
While there are many ways to store jewelry or higher-end items in your suitcase, I like to keep important pieces of jewelry and other expensive items in my carry-on, especially when traveling internationally.
Invest in a jewelry roll and fill it with a pieces that are expensive or in any way special or sentimental. After all, these pieces could be lost forever if the airline misplaces your bag. Ditto for your favorite pair of designer heels or a small investment handbag – if it's too important to lose, either don't bring it, or fit it in your carry-on.
5. Things to keep you entertained on your flight.
Hey, while it's your flying lifeline, your carry-on bag should still have a few fun things in it. Whether your flight is 5 hours or 20, it's good to have some things on hand to keep yourself entertained.
Load up on copies of your favorite magazines, a new book or an eReader, your iPod, etc. – anything you need to help make the time fly as you anxiously await arriving at your destination.
What do you think?
What do you think of our carry-on bag essentials? Do you have anything to add to the list? Comment below and let us know!