This post may contain affiliate links, which means we may receive a commission if you purchase through our links. Please
read our full disclosure here
.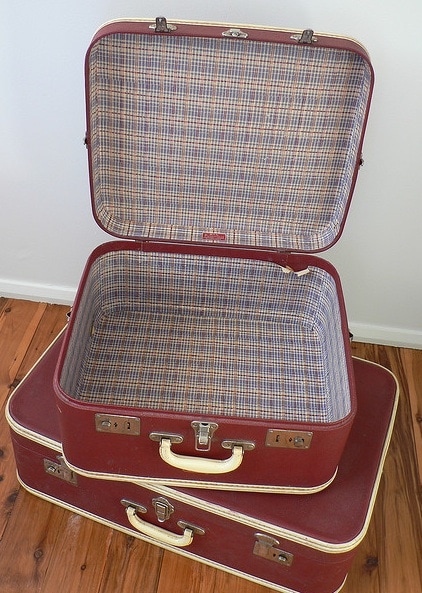 Last week, I broke down the elements of your perfect getting there look, for those of you traveling this summer. This week, I'm going to tackle that dreaded pre-travel task we all struggle with: packing.
Whether you're going away for a weekend or a week, packing for a trip can be a confusing and nerve-wracking experience for any traveler. However, with a few simple tricks, I've figured out how ease the stress of preparing for a getaway.
Here are five tips to help you pack your suitcase for your next vacation.
1. Don't wait until the night before to pack.
When I went to Ireland last year, I waited until the night before my flight to pack my suitcase for the two week trip. Predictably, I ended up rushing around trying to get everything done, which led me to fight with my mom and ultimately left me with a serious headache – and some forgotten items. Therefore, I do not recommend this strategy.
Avoid making my mistake by setting out the items you want to bring a few days before you leave. This will give you time to make sure everything is accounted for. You'll also have time to iron your garments or pick up any last-minute items you need. Then, start your actual packing process two nights before or the morning of the day before you leave.
2. Roll. Don't fold.
This is my favorite trick for squeezing a dresser's worth of clothes into my suitcase at the end of the semester: Roll jeans, T-shirts, pajamas tanks and camisoles instead of folding them. It's a great way to save space and lessen the creases in your clothing. Plus, you can tuck in any fragile items to keep them safe and sound. For items too delicate to roll, lay them flat on top of your other items.
3. Double bag all shower and beauty products.
There is nothing worse than arriving at your destination only to discover that the lid on your shampoo wasn't screwed on tight enough and its contents have leaked all over your clothes – this is the stuff nightmares are made of!
So provide your clothes with extra protection by putting your shampoo, shave gel and makeup into plastic sandwich or snack bags before slipping them into your cosmetic bag. You'll prevent leaks and spills and keep your clothes safe.
4. Wrap your heels.
It's always good to have a pair of heels on hand for going out or for pairing with a killer new dress you picked up. However, the spikes on your heels can catch on clothing and rip through fabric, while the bottoms can get your clothes dirty. To prevent this from happening, wrap heels in a old T-shirt or a clean rag. Then, slip them into a plastic shopping bag for extra security.
5. For flyers: Weigh your suitcase!
If you are flying, avoid going over those weight limits and paying extra fees by weighing your suitcase once you have everything inside. After all, the last thing you want to do is spend tons of money at the airport for an overweight suitcase.
In addition, look up the airline to get their exact suitcase weight requirements. You want to make sure your suitcase is underweight, preferably with enough wiggle room for souvenirs.
Your thoughts?
What are your best packing tips? Do you have any strategies for packing a suitcase? Let us know and comment below!