This post may contain affiliate links, which means we may receive a commission if you purchase through our links. Please
read our full disclosure here
.
Photo: ELLE
As the year comes to a close and "Best of 2014" listicles begin to dominate my newsfeed, I can't help but think about all of the ways my life has changed this year: I've graduated from college, moved to the big city, and somehow scored a sweet fashion PR job. And though graduating comes with a whole new set of challenges, here are four lessons I've learned since I started writing this column (and one thing I'm still figuring out in 2015!)
1. Think "What would Anna Wintour do?"
Confession: I once saw Anna Wintour while waiting for an elevator and took a million iPhone creeper pics for posterity. I idolize Anna because she's a powerful woman never doubts herself – something that I struggle with. When I'm unsure whether I should tackle a big assignment at work, I think, how would Anna [or insert your own role model here] handle this? Thinking like a powerful woman would reminds me that I'm capable of being the next… Anna.
2. Take a hike.
On days when my to-do list is miles long and there's no chance I'll be home for dinner, I back away from my desk and take a walk around the block. Sometimes, getting out of my physical space changes my mental space – so as long as nothing needs to be done this second, I make a point to get out of my office and de-stress for a few minutes. And after I do, I'm ready to bring my A-game to anything my boss might throw at me.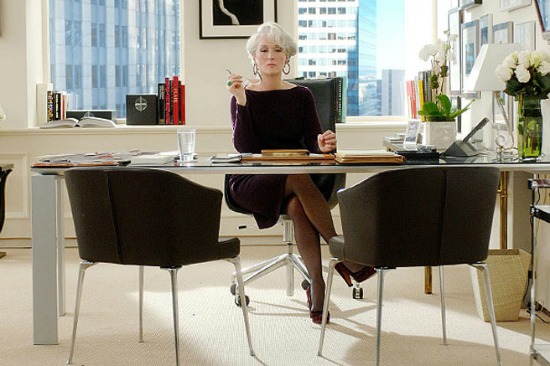 Photo: ELLE
3. Shake it off.
As the lowest person on the totem pole at work, it can be tough when your team is trying to make a deadline and your boss snaps at you when you ask a question that you should know the answer to. You're not stupid – you're learning. And it's not you – it's the situation that you're in. To paraphrase the esteemed philosopher Taylor Swift, shake it off and don't be afraid to keep trying.
4. Everyone is just one coffee away from being your connection.
I became really interested in fashion branding over the summer, so I cold emailed people whose work I loved and asked them to get coffee with me. Though I realized branding isn't for me, I met someone I consider to be one of my mentors, so it was so worth it. People love to talk about how they got to where they are, so don't be afraid to reach out!
Your Thoughts?
Since I'm out of the classroom and on to the catwalk, this will be my last College Fashion post. It means so much to me that you've been reading my column for the past year and a half.
What have you learned from your fashion job or internship? Tell me in the comments section or tweet me @devinissima!