This post may contain affiliate links, which means we may receive a commission if you purchase through our links. Please
read our full disclosure here
.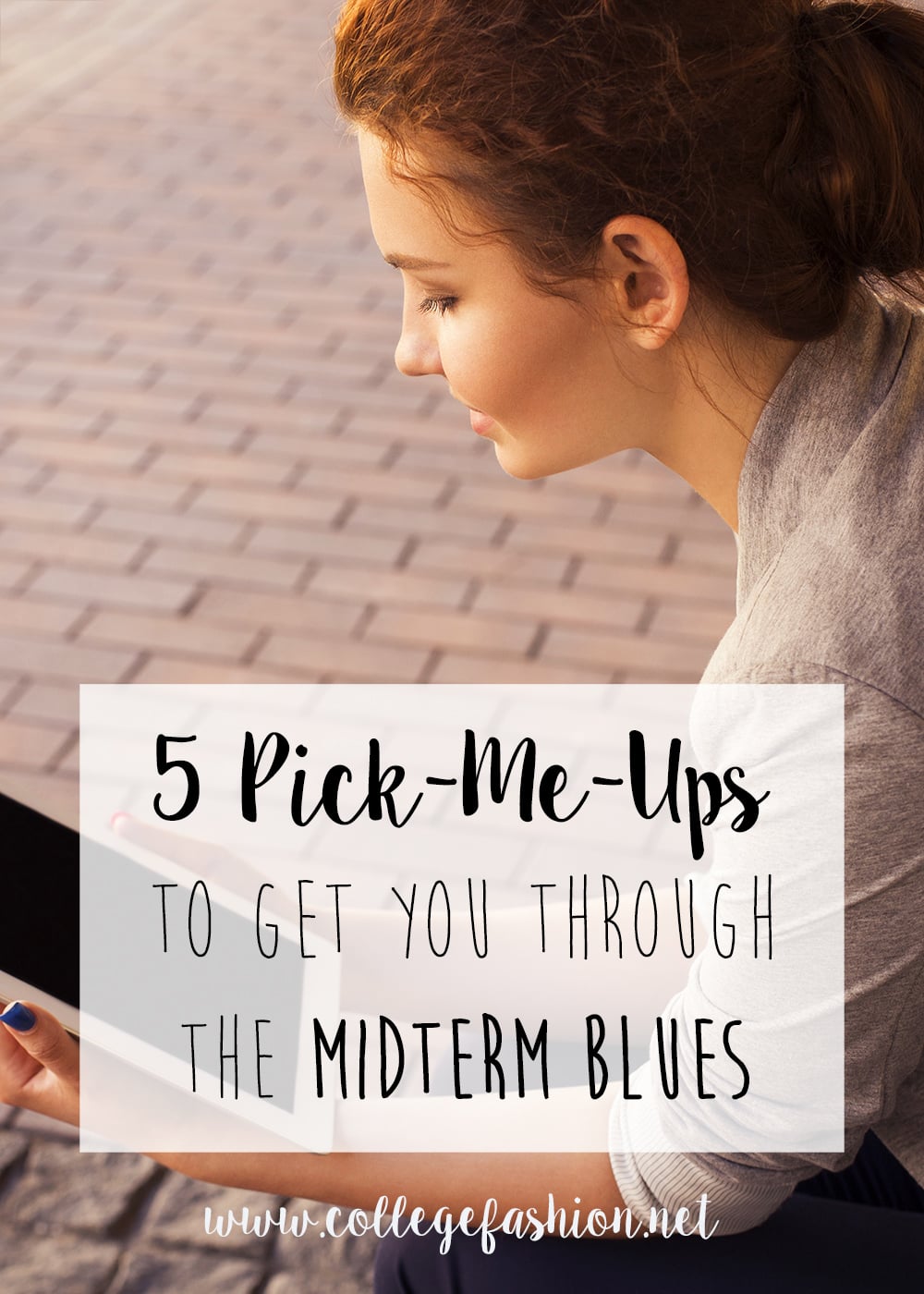 Midterms and finals week are possibly the most stressful times in a college student's life; is there any word more shudder-inducing than "cumulative"?
During the first few years of undergrad, my procrastinating tendencies typically led to all-nighters, gallons of coffee, and taking up a second residence in the library. While I've gotten better at keeping up with material instead of cramming, exam weeks still take a big physical and mental toll on me.
Since I've signed myself up for four more years of constant exams, I've been trying out some new ways to keep myself sane, healthy, and ready to ace my tests! Here are five ways to keep yourself going during midterm week.
1. Eat Right
I can't stress how important it is to eat balanced meals during exam week! It's so easy to live off of pizza and fries, especially if you have a dorm meal plan, or to binge on library vending machine snacks.
But that whole "you are what you eat" thing really does hold true: while sugary or sodium-loaded food will give you a brief burst of energy, the resulting sugar crash and/or bloating will ultimately distract you from focusing on your schoolwork. (This isn't to say that you shouldn't deny yourself that overly-processed snack if you're hungry and you really want it: I'm a glutton for those Snyder's of Hanover flavored pretzel pieces!)
A week or so before your exams, stock up on nutritious snacks that will leave your belly satisfied and your brain ready to go. One of my favorites is Trader Joe's Honey Greek Yogurt sprinkled with raw almonds. I also like to cook a big pot of chili or pasta that will keep for several days so that I don't have to think about planning meals while I'm in full library-ninja mode.
2. Mini Makeover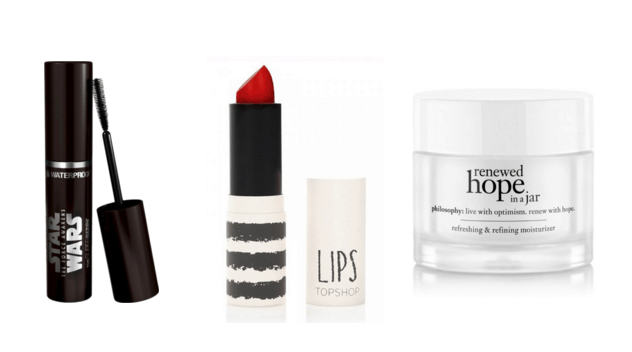 Products: Mascara, Lipstick, Moisturizer
Okay, I'm not saying that you should blow precious study time to go on a major spree at Sephora, but taking a few minutes to make yourself feel pretty and pampered won't hurt and might even help your mental state!
I like to rock a bold red lip while I study; not only does it make me feel more put-together, it also makes me feel like I can take on the world! (Which is exactly how you want to feel when you're sitting down to write three term papers, no?) Treating myself to a small drugstore makeup purchase is often just the motivation I need to get through a long day of studying. (I just got the CoverGirl Star Wars mascara the other day during a very cathartic CVS run and I looove it!)
The stress of exams and sleep deprivation makes it prime time for breakouts, so take care of your skin! Even though you might be locked away all day in the library basement and not see the light of day all week, don't neglect the SPF, cleanser, and moisturizer.
3. Cute Undies
This might be a personal preference, but I actually wear cuter underwear and make more of an effort to match during exam time!
I've recently started wearing lacy bralets, which are amazing for small-chested ladies like myself. They're sweet and pretty but the lack of an underwire makes them so comfortable for long hours hunched over my textbooks at the library. These ones from Amazon are inexpensive (most colors are under $10) and so pretty!
4. Get Physical
I'm not much of an exercise fiend, but the change in my energy levels when I neglect all forms of physical activity is pretty significant. It doesn't take a lot of exercise to boost your energy: even a ten-minute circuit of jumping jacks, crunches, squats, and lunges will make a huge difference.
I keep a yoga mat in my locker at school so that I can stretch while I study. Not only does this help me get closer to achieving my longtime dream of doing the splits (I'm only an inch off of the ground now!), but I'm also more alert and focused post-stretching.
5. Talk It Out
School can definitely feel overwhelming when you have a dozen deadlines and midterms looming overhead. Since you're probably spending a lot of time with other people in the same classes or the same major, it can be frustrating when even social conversations end up revolving around academics. Sometimes you just want to discuss last night's episode of The Voice instead of biochemistry, you know?
When that happened in undergrad, I would try to spend time with friends who had completely unrelated majors or call my friends at home. Giving your mind a break from all the learning you're forcing it to do can often be the trick to making all that information actually stick!
What did you think?
How do you de-stress when you're neck-deep in exams? Let us know in the comments!