We all have women in real life we look up to, from the women we interact with to the celebrities. But sometimes our greatest inspirations don't actually exist (except in our imagination).
So without further ado, I offer my favorite four fictional female role models for college women. With very different careers, personalities, and styles, these women give invaluable lessons in how to be the best woman (and fashionista) we can be.
1. Leslie Knope
The main character of the sitcom Parks and Recreation (2009-2015), Leslie Knope is a city government employee who never gives up.
Leslie Knope is a modern female hero not only because she's a prominent figure in politics, a traditionally masculine arena. She's also fiercely loyal, kind, inventive, strong, and she fights till the end for what she believes in.
She's also the founder of the Pawnee Goddesses, a Girl Scouts-type troupe dedicated to empowering young girls.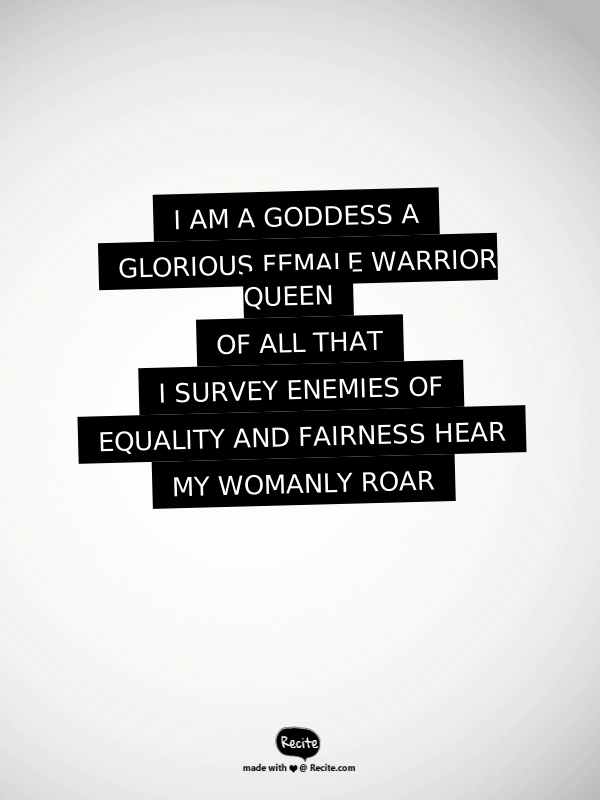 Leslie's power is rooted not just in her abilities, but in how much she legitimately cares about everything she does, which is something all of us should try to emulate. Being truly great is not just about being good at your job, or at school, it's also about how you treat other people.
Outfit Inspired by Leslie Knope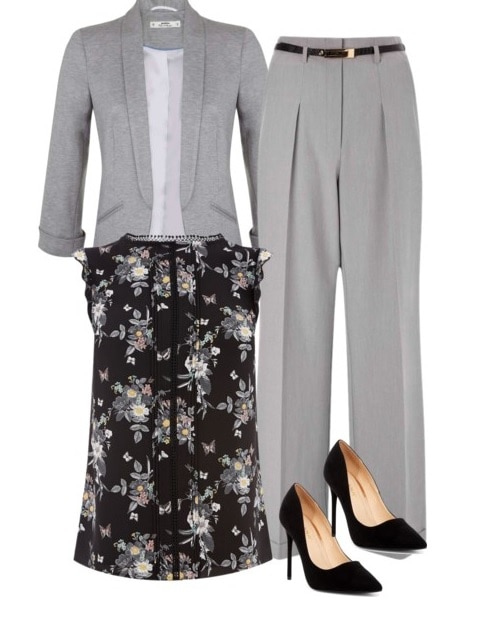 Products: Jacket – Miss Selfridge; Pants – Miss Selfridge; Shirt – Oasis; Shoes – Nordstrom Rack
Leslie dresses in ways that beg comparison to Hillary Clinton (she even gets a haircut like Hillary in an early episode). The general formula, though, offers a lot of wiggle room.
When dressing like Leslie, ask yourself: Do I look like I'm ready to give a stump speech at any second? If yes, then your look is complete.
A pantsuit is a good place to start in emulating Leslie's style, like the one above from Miss Selfridge (though the shop is international, shipping is cheap, and the site shows US sizes). Simple black shoes and a floral top that can easily be layered with a blazer complete the outfit, but the blazer could be dropped for a more elaborate shirt, or flats could be worn instead of heels.
As I said, the formula offers flexibility.
While Leslie does not often wear jewelry, simple necklaces, watches, and earrings would pair well with this outfit for jewelry lovers (like me).
Whether you channel Leslie in your style or your life, always remember that Leslie doesn't do anything without good old-fashioned confidence. When in doubt, ask yourself: What would Leslie Knope do? (#WWLKD)
2. Diana of Themyscira (Wonder Woman)
With the recent release of the 2017 Patty Jenkins movie, Wonder Woman has returned once more to role model status for a whole new generation of women.
Diana of Themyscira is wildly fierce and seriously awesome with a sword and lasso, but what makes her such a strong role model for me is the way she treats other people. Her trek across No Man's Land brings me chills, but what makes me want to be a better person is the way she makes everyone feel needed and important.
For Diana, everyone deserves respect.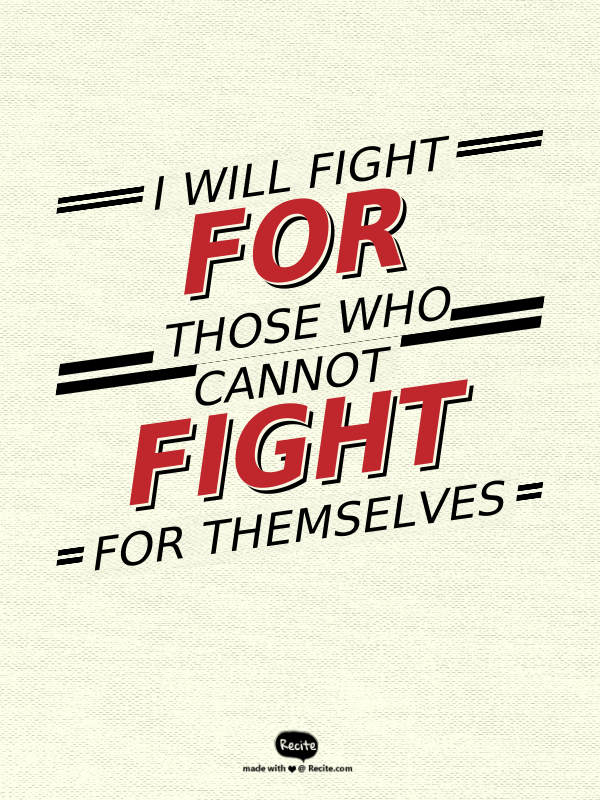 Obviously dressing just like Diana would mean wearing the Wonder Woman costume. Which might not fly in most real-life situations.
So when dressing like Diana, ask yourself the question: could I be mistaken for a warrior princess? The outfit below attempts to answer that question with a resounding "yes."
Diana of Themyscira / Wonder Woman Outfit: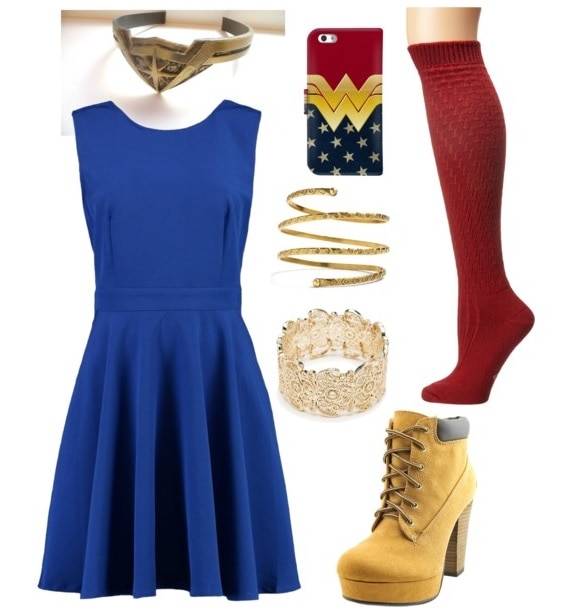 Products: Dress – Boohoo; Socks – Wigwam; Boots – Bluefly; Cuff – Sole Society; Arm Band – Venus; Tiara – Etsy; Phone case – Amazon
Here, I made an outfit with the colors in Wonder Woman's costume: blue, red, and gold. The dress makes the look feminine, while the heeled work boot introduces a bit of a masculinity that suggests fierceness. The socks are a fun way of introducing a contrasting color without over-complicating the outfit.
The jewelry hearkens back to Diana's Amazonian heritage, with a cuff and arm-band that can be worn on opposite arms to remind yourself (and everyone else) that you could secretly be a warrior princess.
The last two accessories are maybe a little more literal, but I will take any and every chance to wear a tiara.
Just as Leslie Knope gives off confidence, Diana gives off nobility and kindness. She's the girl to inspire us to rise above our struggles and take the high road, especially when times get tough.
Mindy Lahiri
The star of Mindy Kaling's show The Mindy Project (2012-), Mindy Lahiri is an ob-gyn and (spoiler!) mother, and head of her own fertility practice. She does it all, she does it imperfectly, and she does it while looking fabulous.
Mindy is very honest, kinda selfish, and a little bit crazy, which I love because if I'm being honest, a lot of people that I know are that way too. My favorite thing about Mindy, though, is that she owns all of it.
Unlike too many female characters in movies and television today (though by no means all), Mindy is totally okay with who she is. And that is so refreshing.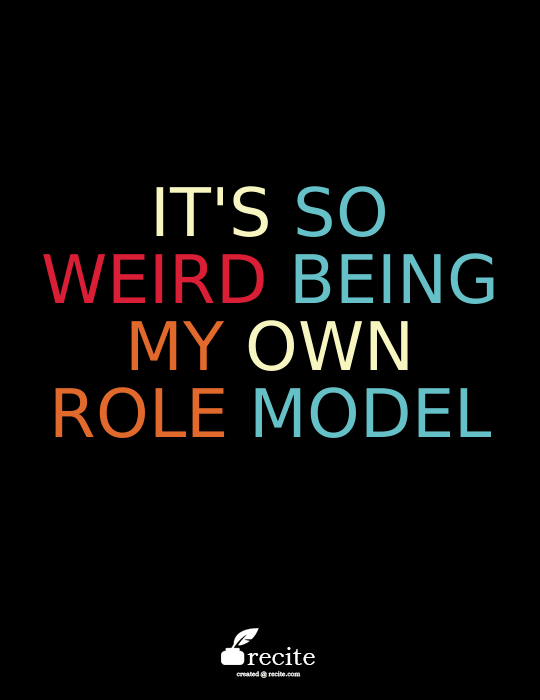 Mindy is also well-known for wearing extremely bright colors. She loves to dress bright and bold, usually in dresses or skirts.
Outfit Inspired by Mindy Lahiri: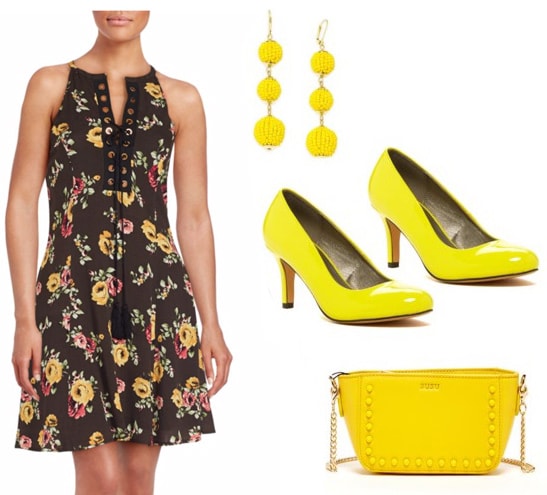 Products: Dress – Saks Off Fifth; Earrings – Macy's; Heels – Nordstrom Rack; Bag – Bluefly
To dress like Mindy, ask yourself one simple question: could someone instantly spot me in a crowd? If the answer is yes, then add one more brightly-colored accessory, and you're good to go. Here, I chose yellow everything because it's a sunny, fun color that reminds me of Mindy's personality.
Finally, Mindy's defining characteristic is her sense of entitlement. Entitlement, contrary to popular belief, is not just a blind belief that you deserve something. As Mindy Kaling, Lahiri's creator, wrote in her autobiography, "Why Not Me?"
Entitlement is simply the belief that you deserve something. Which is great. The hard part is, you'd better make sure you deserve it.
So to truly emulate Mindy Lahiri, embrace who you are, be the best you can be, and then feel entitled.
Veronica Mars
While perhaps the least well-known of the bunch, no list of my fictional role models could be complete without Veronica Mars on it, star of the mid-2000s TV show of the same name (2004-2007).
(I even have a mug that says "My patronus is Veronica Mars").
Veronica is smart, witty, strong, and just about everything I wish I could be. She's a teenage private investigator with trust issues and the perfect response to every situation.
What I love most about Veronica, though, is her tenacity. Her life gets pretty messy, but she keeps moving forward. Quitting is never an option.
Plus, she's fierce.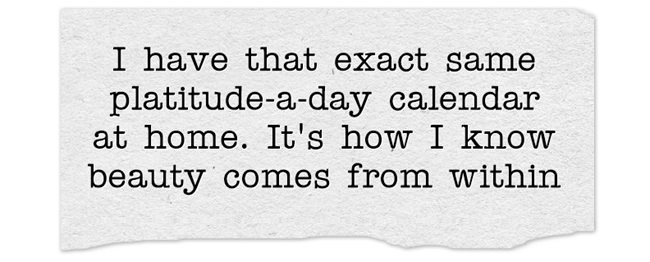 To dress like Veronica Mars, the best question to ask is: does this outfit seem at home in the mid-2000s?
(For Veronica Mars-inspired fashion based on the 2014 movie, see this article.)
Outfit Inspired by Veronica Mars: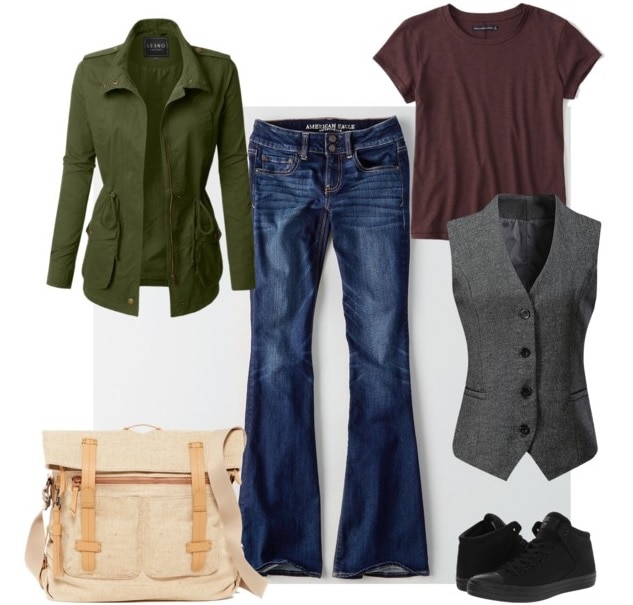 Products: Jeans – American Eagle Outfitters; T-shirt – Abercrombie & Fitch; Vest – Vocni; Jacket – LE3NO; Shoes – Zappos; Messenger bag – Nordstrom Rack
Alternatively, if you want to dress in current styles, the key to Veronica's style is layers, military aesthetic, and mixing casual with semi-dressy styles, like the vest/t-shirt combo above.
And, of course, no outfit of Veronica's would be complete without a messenger bag, perfect for holding everything you could possibly need while working a case.
Emulating Veronica means never forgetting where you came from and never giving up or giving in, lessons we can all take with us to college and beyond.
—
Whether you love pantsuits or t-shirts, these four fictional women serve as fashion icons, and remind us to be confident, kind, entitled, and tenacious — to be ourselves and fight for others, and look fabulous while doing it.
Let us know in the comments!!
Who are your fictional role models? Are there TV characters whose style you steal? Which of these women are you most like? Least like?