This post may contain affiliate links, which means we may receive a commission if you purchase through our links. Please
read our full disclosure here
.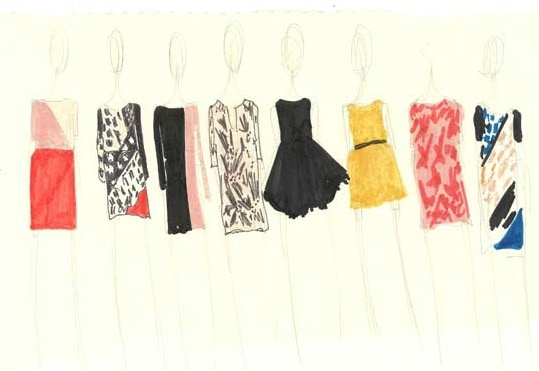 Photo: ELLE
Since my post 24 Hours as a Sophomore Fashion Major got so much positive feedback, for this article I decided to go more in-depth and tell you all about specific courses I took this semester at Parsons.
Before we get started though, here's a brief overview of the classes I took during the spring semester:
As a fashion major, each semester we are required to take Integrated Studios and Visual Communications. Since it's my second semester, the four courses are Integrated Studio 2: 2D, Integrated Studio 2: 3D, Visual Communications 2: Drawing, and Visual Communications 2: Digital.
Additionally, sophomores are required to take a History of Fashion lecture and recitation. For the rest of the credits (we normally take 18-19 credits each semester) we are required to fill a certain amount of liberal arts, history, university lecture, and studio elective credits to graduate. This semester I decided to take a studio elective (Zero Waste Garment) and a history course (Women, Film, and Fashion).
Read on to learn more about each of these courses and get a sneak peek at a week's worth of classes at Parsons:
Monday
3:50-6:30 PM History of Fashion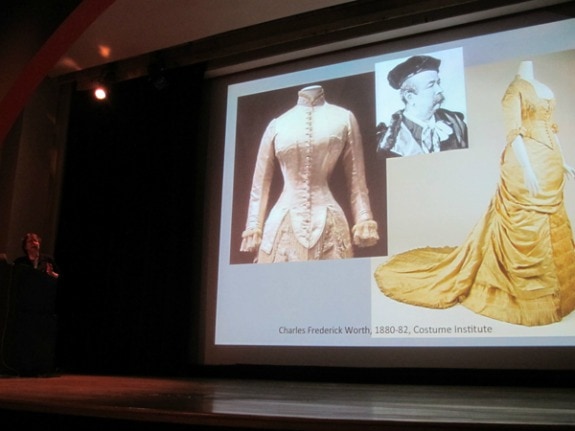 This class is divided into two parts, both taking place at one of the downtown buildings. The first section is the lecture, which begins with a weekly fifteen minute quiz on the readings we did. Each week we cover an era/decade, mainly focusing on the 20th century. The lecture consists of a slideshow displaying key garments and designers of the time period with the lecturer elaborating on each one.
For the second half of the course, people part ways and head to other buildings along 5th Avenue where the lecture of about 100+ people gets reduced to 20. In the recitation class we go over the readings in depth and review the era. The teacher also provides supplemental information about the era through images and videos.
7:00-9:40 PM Visual Communications 2: Digital
I have to immediately take the subway from my downtown recitation class to one of the uptown buildings where my digital class takes place. In this class we elaborate on the skills we had acquired during the first semester using Adobe Photoshop and Illustrator to create flats, illustrations, patterns, trim brushes, and logos.
This whole semester we have been working with creating digital products for both our ego (our aesthetic) and our alter ego (the complete opposite). For me, my ego is often inspired by nature, so I worked on a more handmade, organic, drapey, and colorful brand/ collection. I therefore looked into opposing art styles for my alter ego and decided to take inspirations from Russian Constructivism, focusing on simple geometric shapes and mainly the grayscale.
We create three digital process journals during the semester to compile what we've learned in the class as well as record the work from the other three core classes (Visual Communications 2: Drawing, Integrated Studio 2: 2D, and Integrated Studio 2: 3D). Through the layouts we are able to learn about typography and the placement of images with text in order to create magazine ready formats.
Tuesday
3:50-9:40 PM Integrated Studio 2: Shared Space and Integrated Studio 2: 3D
The first half of the class, Shared Space, is taught by the 2D and 3D teacher. During these three hours we also drape and look at archival pieces as research for our 3D and 2D projects. Here was an archival piece from the '20s: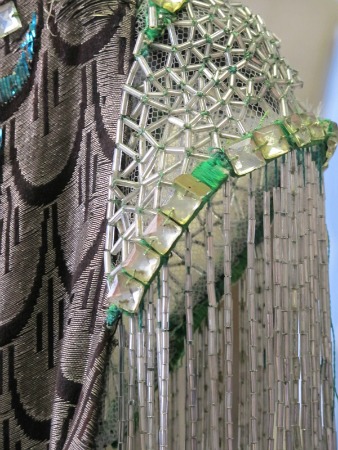 The beading was extremely detailed and delicate!
We get a 30 minute dinner break in-between. After that, we spend 3D either getting demos on the patterns/ muslins we'll hand in the next Tuesday or working on our creative design project (which this semester was pants and a princess seam dress).
Here my teacher is going over how to properly drape a high-waisted skirt on the mannequin. This project involved using a heavier weight (thicker) muslin where the weave of the fabric was more evident. This was necessary since we had to pull threads from the length grain (at the center front and center back) and cross grain (for the hip, back, and bust). We then had to mark these by stitching in red threads for the length grain and blue for the cross grain.
For our final project, we had to make the high-waisted dress pattern, drape it, and sew it. However, this time we used a knit for the skirt in order to practice how to use the serging, overlocking, and cover stitch machines. The serging machine finishes the edge of the fabric, the overlocking stitch combines two parts together, and the cover stitch hems the knit. We also had to create a designed dress with princess seams.
Wednesday
I don't have class until 7 PM, and I like this midweek break in my course schedule since I get some time to begin my 3D work while the demos and notes are still fresh in my head. I also work as an office assistant in my dorm on Mondays, Wednesdays, and Fridays. Another plus about having such a late class on Wednesdays is that it allows me to sleep in – I typically stay up late on Tuesday nights to finish what I was working on for 3D class.
7:00-9:40 PM Women, Film, and Fashion.
During this class, we discuss films and readings we were assigned for homework (like Far From Heaven, Siren of the Tropics, and Victor, Victoria) as well as watch films from the past where costume has played a significant role such as Mildred Pierce starring Joan Crawford, Sunset Boulevard, and Sabrina.
The films were chosen based on the major themes we covered during the course: Fashion, Crime, and Violence; Comebacks from the Grave; African American Women in Film; Female Masculinity; and Glamour and Fantasy. The films are interspersed with lectures about the period's dress, major costume designers, and actors/ actresses.
Thursday
9:00-11:40 AM Zero Waste Garment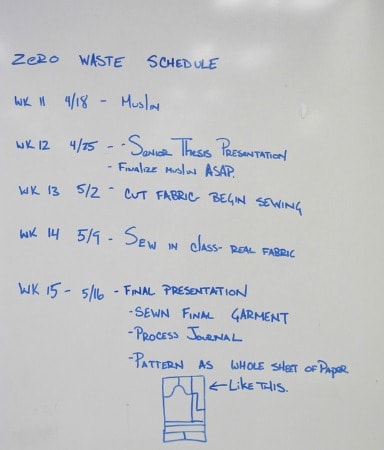 My earliest class this semester- it has been the only thing preventing me from completely transforming into a night owl! As I said in my 24 Hours as a Sophomore Fashion Major post, it's one of my favorites.
For the final we had to develop a zero waste pattern and garment. In order to do so, we created an initial pattern after a few weeks of draping, made a muslin of it, revised, adjusted the pattern, then began to experiment with the leftover material. In order to figure out what to do with the remaining fabric we maneuvered the pattern pieces on muslin the size of our fabric to try to get the best fit with the least amount of tiny leftovers.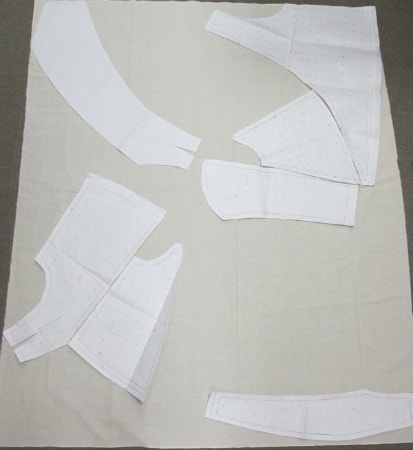 After about 30 different layouts I finally picked one which left me with scraps like this: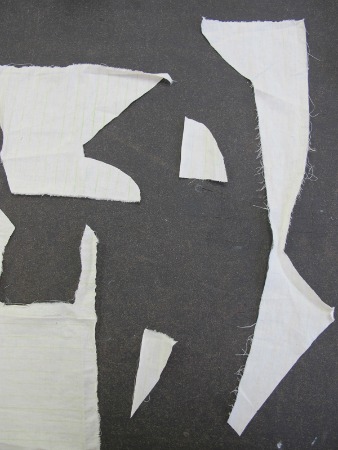 From the leftovers (there were larger pieces too), I made pockets, sleeves, facings, and a draped neck collar.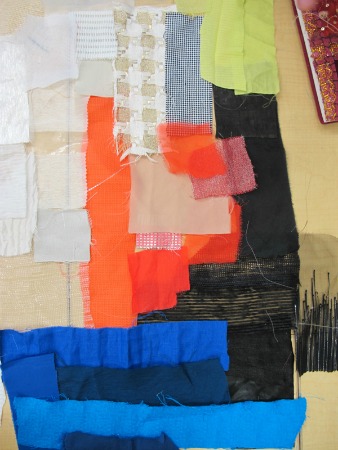 3:50-6:30 PM Integrated Studio 2: 2D
In this class, we go over the croquis for the week, if we did not do so during Shared Space on Tuesday or if we have made adjustments we would like our teacher's opinion on. We also edit our collection, begin on the next set of croquising, discuss fabric and conceptual choices with peers and our teacher. Lastly, during a week when a project is due, if we do not finish presenting and critiquing in the Tuesday class, we continue in this one.
7:00-9:30 PM Visual Communications 2: Drawing
During this class, we alternate between drawing models one week and then rendering and designing garments and figures we had drawn from the previous week. While the models take their breaks, we critique our homework assignments, which are based on the various fabrics, patterns, and poses we cover in the previous week's class. The class is also interspersed with demos based on questions we have and lessons our teacher has planned.
Our teacher also likes to assign us certain designers to look at and render from in order to determine our illustration's accuracy compared to reference photos we bring in. In this semester we reviewed female fashion proportions and then covered male fashion proportions, patterns (plaid, houndstooth, herringbone, lace, paisley, etc), and specific fabrics (sequined, knit, etc).
Friday
None! This semester my schedule worked out so that have a free day where I work and also continue on the assignments for the week to come!
Your Thoughts?
Would you like to know more about any specific class/ project? What courses do you take? What do you do during your classes?