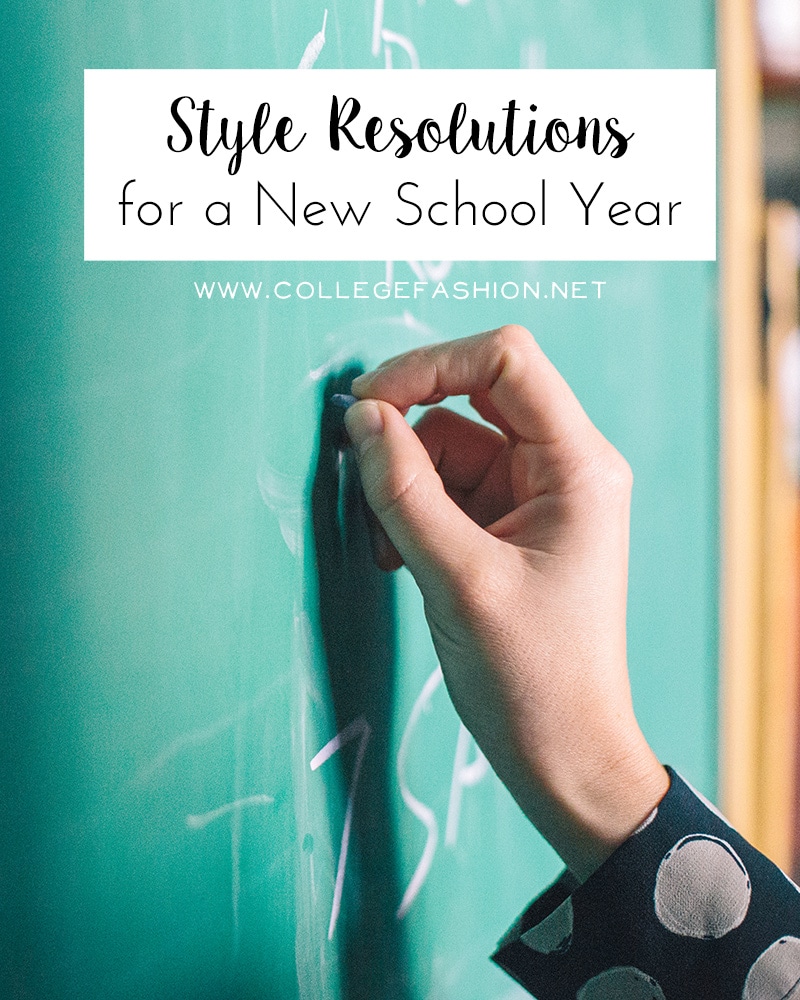 Most of us are headed back to school this week or next, and of course, the smell of new beginnings is in the air – new classes, new friends, new… wardrobe!
Even though we're nowhere near January and the start of the new year, back to school is a perfect time to make some new resolutions. All the new fall clothes are just starting to hit the stores and chances are that money from your summer job is burning a hole in your pocket, screaming that wonderful phrase, "Back to school shopping!"
Because it's the start of a new school year (and a new you), I put together some style resolutions for fall to kick off a great semester for you and your wardrobe.
I encourage you all to print this out and sign it – hang it on the wall in your room to inspire you when you're struggling with your wardrobe!
My Back to School Style Resolutions
1. I hereby vow, for two days out of every week, to not wear jeans.
This resolution is key to one of my main wardrobe goals this season: to encourage myself to think outside the box with my clothes and develop a reputation for versatility.
I need to break out of the jeans-and-a-shirt mentality that runs rampant across campus. I'm rocking some of my denim-free outfit ideas. The goal is to stand out, not blend in!
2. To keep myself from straying from rule #1, I hereby vow to plan and set aside my outfits the night before, with the exception of Saturday and Sunday.
The truth is, real fashion magic takes work. Celebrities may have a stylist to make the magic happen for them, but most of us don't, which means we need to put in some effort when thinking outside the box.
How to do this? Play around in your own closet! Try out new combinations of clothing at night when you have the time, not in the morning before your 8AM class. Picking out your clothes last-minute will only result in you scrambling about for the aforementioned jeans and t-shirt you'd previously sworn off.
3. I will never, ever, ever, wear sweatpants to class.
The activity of wearing sweatpants will be confined to going to/from the gym and doing homework in my apartment.
Aside from the fashion viewpoint of sweatpants as generally unflattering, from a professional standpoint, sweatpants are just a big no-no. Does your professor show up to class wearing his or her pajamas? You should show the same type of courtesy to them – it can't hurt to let them know you care about the class.
4. I will never wear the same rainy day outfit twice.
Let's face it, when it rains, being a girl is a huge disadvantage. It's admittedly tough to look cute when your hair is frizzing every which way and your jeans are sopping wet up to your knees. But instead of letting the weather get you down, why not take the time to rise to the challenge?
Cute rainy day gear is easy to find now, and the best part is that functionality is FINALLY a part of the equation. Everything from patterned rain boots to clever umbrellas and even stylish ponchos are available in stores. That means there is no excuse to look frumpy on a rainy day when you can brighten the skies with your outfit and keep dry at the same time.
5. I will do my best to differentiate myself while in "uniform".
Being a college student often means spending a lot of time being part of the crowd – whether this means wearing a work uniform, blending in with a typical college outfit (think ugg boots and north face) or even fitting in with the general dress at a party. One thing I have learned, however, is that it almost never benefits you to blend in.
Whether you want that cute guy to notice you or you need to be remembered in a group interview for an internship, you must take measures to stand out in people's minds. Add a pop of color to your outfit, put a bow or unique headband in your hair, try an unexpected pair of shoes or wear some distinctive jewelry – whatever you can do to stand out is almost always going to benefit you in the end.
6. I will try at least one trend that has caught my eye.
Whether it's bandeau bras, shredded v-neck tees, vintage inspired sundresses or even colorful doc martens, I guarantee there is at least one fashion trend you've been admiring lately. I encourage you to try it!
Fashion is about having fun and being original, and trying out new trends is how you discover more about your own personal style. In all honesty, after college, you'll never probably never have this much freedom with your day to day style choices again, so take advantage now! Be bold and try new things!
7. Finally, I will do my best within my financial and personal constraints to be fun, original, and enthusiastic with my wardrobe.
It's easy to feel bad about your wardrobe as a college student – believe me, I've been there. Monetary constraints can get you down when you feel like you have nothing to wear, but again, be creative!
D.I.Y.'s, though daunting at first, can add a whole new dimension to your wardrobe for very little money. A box of dye from your local craft store can turn that dingy old blouse into a bright new show-stopper, while a two-dollar seam ripper and a cup of bleach can do amazing things to an old t-shirt, a la Alexander Wang. Trust me, you'll be amazed at what you can DIY with less than ten dollars!
Sincerely,
X________________________
What do you think?
Hopefully this list has inspired you to create your own set of style resolutions for fall.
What do you think of my list? Are you going to make a list of style resolutions? If so, what will be on your list? Leave a comment and let us know!