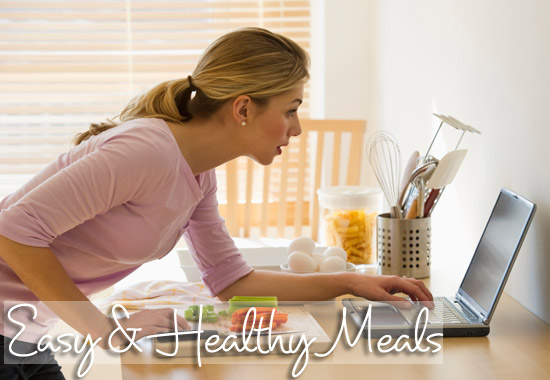 You are probably still full from Thanksgiving dinner, so I put together a healthy and light meal using some leftovers you can probably find in your fridge! It doesn't require any real cooking, because all of the work is pretty much done for you.
Read on to see how to turn your Thanksgiving leftovers into a light, healthy meal or snack.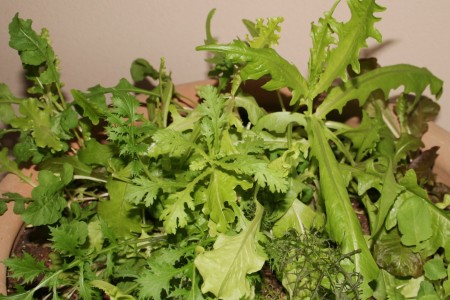 Pretty pretty fresh lettuce growing on my parents' front porch!
What you'll need:
Leftover turkey
Tortillas
Cranberries
Lettuce
Optional – fruit for dessert/to make a well-rounded snack:
Procedure:
Since your turkey is already cooked, all you have to do is zap it in the microwave for a few seconds to warm it up! You could also eat it cold like fresh deli meat. It's up to you!
Now, a little bit about tortillas: Every time I make my own soft tacos or quesadillas, I fry my tortilla in a black iron skillet on the stove. I'm a tortilla snob and only eat the flour ones that you can only find at the Mexican grocery stores around town. Sue me, but I like to feel like I am in the middle of the market in Piedras Negras, Mexico, watching the shoe shiners, listening to a live band, and drinking the freshest limeade you can get!
Here's the deal with flour tortillas… when you heat them up on the stove or a grill, they should bubble up and rise a little. If they don't rise, they are not up to par. But if you don't have a picky palate like me, for healthier alternatives to flour tortillas, try wheat, whole grain, or corn tortillas. You don't have to heat up your tortilla, but it gives it a little crunch and makes it taste more homemade.
Finally, all you need to do to the cranberries is put a small handful into a food processor and chop until they are as small as you want! Easy, right? Plus, their tart flavor means they almost taste like a vinaigrette.
Now that your tortilla is ready, your turkey is zapped, and your cranberries are chopped, place your turkey and cranberries on a bed of lettuce on your tortilla. After I had my wraps made, I wanted some fruit, so I grabbed a satsuma orange and peeled it. Then I sliced up an apple for a healthy dessert!
The result: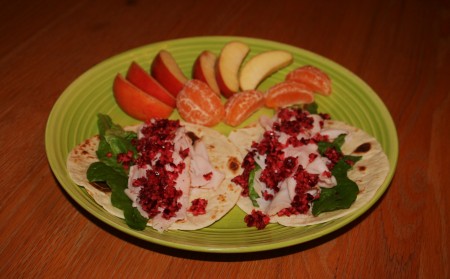 There you have it; a beautiful, colorful meal that was beyond easy and tasted so good!
Benefits of this meal:
Turkey is high in protein and vitamins. It's also a lean meat, so it has less saturated fat than beef.
Cranberries are high, high, high in antioxidants, they can help prevent breast cancer (!!!), and are high in fiber. You can eat them fresh or dried, or even just drink cranberry juice.
Tortillas help you get some of your daily grains in. So many people skip their grains because they don't like carbs, but carbohydrates help keep your energy level up so you don't crash by 5 PM.
The lettuce is low in calories but gives you some fiber and some of the water you need every day.
Satsumas (oranges) give you too many vitamins to name, taste really really delicious, and keep you, ahem, regular.
Apples help lower cholesterol (for future reference) and are very high in antioxidants and vitamins. Plus they're scrumptious any way you serve them.
Thoughts?
What do you usually do with leftovers? How did your turkey wraps turn out? Let me know in the comments!