Looking for an easy, inexpensive Halloween costume idea this year? College Fashion is your one stop shop–we'll be running lots of articles over the next two weeks talking about costumes, hair, and makeup to perfect your Halloween look.
Today, it's all about pop stars – channel your inner diva and go as a singer this Halloween! Two singers with iconic styles are Madonna and Gwen Stefani. Both will be instantly recognizable, fun, and easy to do!
Madonna Halloween Costume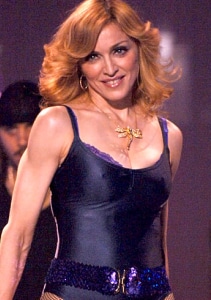 Madonna Costume:
This lady has had quite the range of looks over her lifetime, so you have tons of costume options if you choose to dress up as Madonna!
If there's something specific you're trying to replicate, use Google as your guide. For a more general Madonna look from the past decade, you'll need to visit an American Apparel. Grab a leotard, fishnets, knee-high (or higher) boots, and an accessory to put it over the top: a satin bomber jacket, a faux-fur vest, tons of chain necklaces, a top hat, or anything that sparkles. I would personally put on some American Apparel hot shorts, to feel a bit less exposed. This look is not for the faint of heart!
Madonna's Hair:
Her hairstyles vary: anything from glam blowouts to boho waves.
Your weapon of choice is the curling iron – spritz sections of hair with a heat protectant hairspray, then curl according to which look you want to replicate.
If you're going for her satiny locks with a flip at the bottom, concentrate the iron on the bottom 3-4 inches of hair, holding for about 10-20 seconds per piece.
If you're going for piecey, curly hair from root to tip, start your curling iron wrapped around the hair at the root, and slowly run the iron down the length of the hair by releasing the clamp every few seconds.
Looking for something more messy? Tousle up the curls with your fingers, and work a little pomade into the roots to get it to look a bit more slept-in. Since you'll probably be party-hopping and outside for the majority of the evening, hairspray will be your friend.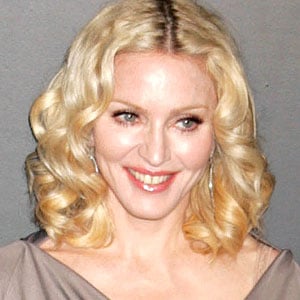 Get Madonna's Makeup Look:
4 Simple Steps:
1. Lots of black liquid liner on your upper lid
2. Lash-lengthening mascara (I like Blinc Kiss Me or Imju Fiberwig) and/or false lashes on top and bottom.
3. Either red lipstick or a pink lipstick with a shiny gloss layered on top
4. A light brown brow pencil to define brows, making them longer and winged out at the end.
Gwen Stefani Halloween Costume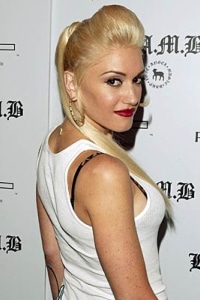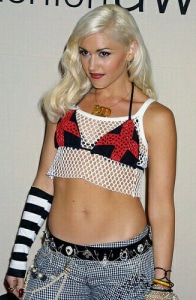 Gwen Stefani Costume:
Since Gwen has her own fashion line, you can check out the L.A.M.B. line to get some inspiration.
A typical Gwen outfit would consist of a white muscle shirt, light blue denim (probably skinnies that are cuffed/rolled up to show off some fabulous heels), and a chunky black belt.
Gwen's signature colors are black and white, so you could also rock a black and white striped shirt. If you aren't planning on rocking one of her signature gravity-defying hairdos, grab a fedora, too.
Gwen Stefani Hair:
This woman is on top of all the hair trends! I think that the most "iconic" Gwen hairstyle these days is platinum blonde hair pulled into a ponytail with a huge pouf of volume in the front.
There are two ways to attack this style, which both start the same way: pull all of your hair up into where you want the ponytail to sit, and clip it there with a claw clip. Grab the section you want to poof up.
Option 1: Take that section, twist it, and then pin it halfway back on your scalp. The twist will create the volume in the front.
Option 2: Take that section, backcomb it with a volumizing teasing comb (they have uneven teeth, like this one from Ace), and put some spray in it. This is the option to try if you want volume to the sky!
Gently tuck the ends of the teased part back into the rest of your hair, and take the clip out so you can secure your ponytail with a ponytail holder. Give your hair a spritz of shine spray (or even glitter spray), and you're good to go!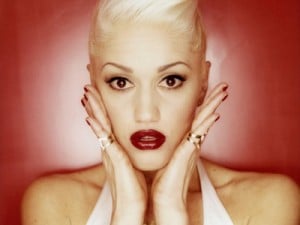 Gwen Stefani Makeup:
Gwen is famous for her ruby red lips, so break out the brightest lipstick you own. She keeps a very clean face otherwise–no need for blush/bronzer. All you need is a layer of foundation and some seriously heavy black eyeliner on top and bottom and you're good to go.
What are you wearing for Halloween?
Have you ever dressed up as a celeb for Halloween? Tell us who, and tell us about your favorite costume ever in the comments!