This post may contain affiliate links, which means we may receive a commission if you purchase through our links. Please
read our full disclosure here
.
Editor's Note: The following is Part 3 of Sarah's series on her experiences interning for a PR firm in (you guessed it) New York City for the summer. In case you missed the first parts, see: Diary of a PR Intern in NYC – Week One, and Diary of a PR Intern in NYC – Weeks Two and Three.
So my first month as an intern at a PR firm in NYC has come to an end! I missed work on Friday to attend a conference for my sorority in Georgia, so this week really flew!
Responding to Your Comments
After reading some of the comments on my last post, I'd like to make a few quick points before I get to what I did this week:
My outfits are more conservative because not every sidewalk is a runway for me right now! My job has a dress code that isn't too "stylish," although I do my best to spice up my outfits (and I get complimented on them, too!). Now that I've finished my first month, I'm starting to incorporate a little more flair into my looks, as you'll see below, because I know exactly what will work and what will, well, put me out of work!
On that note, I do have to agree with one of the comments I received: when you're working for a non-fashion company (i.e. an office job) that could help you in the future, it's not the time to experiment with your style. Stick to dressing the way you're expected to, and add touches that are still you, but aren't going to call attention to you in a negative light!
Unfortunately, sometimes you are asked to dress a specific way for specific jobs. As I stated in the post, the reason for last week's all-black outfit was because I was asked to wear all black and to dress comfortably over fashionably for the event. Leggings are one of my favorite pieces, even if some say they're out of style or not classy enough to wear to a work event. (BTW, no one minded that I wore them to the event, and many girls were dressed similarly.) I choose the outfits I choose because they flatter me and make me feel great! The best part of style is the fact that each individual has their own, and while everyone is entitled to their opinions (keep them coming!), at the end of the day, you should wear what makes you happy, not anyone else!
About the lack of shoes in the outfits from my last post – in my rush to get the post done, I completely forgot to include them! (This internship is taking a lot out of me!) Rest assured: I definitely wasn't going barefoot to work! (Although, by the end of the day, my shoes do tend to be slipped off under my desk due to the amount of pain my feet are in…)
Now that I've put all of that out there…
What I Did During Week 4
Although my first three weeks were extremely exciting, and my 4th week was still great, but there were no big events or perks to brag about! That said, I've been weighing the good and bad points of having this internship, and thought I would share them with you:
Pros:
Did I mention it is insanely cool to be able to e-mail blogs I read on a regular basis pitching products? And do you know what's even cooler? Hearing responses back and communicating with them first-hand, and not through a comment box on a post!
Not only did I hear back from the coolest girls in the beauty and fashion blogosphere, I got to send them products they requested so that they could sample them! Beauty bloggers tend to call this "beauty swag." I can't wait to read the blog posts they write!
Oh, and did I also mention that I've gotten to try a facial mask, bronzer, and two lipsticks… and keep them!? Another big job perk.
I'm in the midst of writing my first press release for a new product the company I'm working with will be releasing this fall. Formatting, re-wording, organizing, the whole sha-bang: it's mine!
Constructive criticism. It's so great to hear what your superiors have to say about your work, whether it's good or bad! For me, hearing criticism from a loved one is sometimes harder than hearing it from someone I'm not attached to. In this case, the criticism is helping me get better at my job.
My suggestions (that's right, me, the little 19 year old intern) were used! Although I'm not running the firm yet, my little suggestions have made a difference in the presentations of our pitches and press releases! I've learned it is important to speak up! This shows you're taking initiative and are interested in what you're doing, and not just taking orders like a robot! Worst case scenario: your ideas are politely rejected. No biggie.
Cons:
Inventory. It's definitely fun to pull out the products to send to celebs, makeup artists, magazines, and bloggers, but counting an entire closet's worth is definitely not, especially when you're a klutz like me and find yourself tripping and dropping 30 lipsticks everywhere…
I still miss my train every day. Sigh.
Although I do have an hour lunch break, I normally feel bad for having a long to-do list and taking the full hour to leave. Although I don't mind ordering food in from all over Manhattan (new fav: Oxford Cafe), it would be nice to see the light of day between 9am and 6pm sometimes!
My social life is pretty much nonexistent. After a 6:30am – 7:40pm day, I can hardly make it from my train to my car, much less out with my friends. Weekends are often either crammed with plans to get things done, or reserved for sleeping late and long naps. If my friends are reading this: Hi friends! I miss you!
Sometimes, I am jealous of my friends who aren't interning. Sure, my resume is going to be jam packed and I'm going to be able to talk about the unreal experiences I've had, but sometimes, knowing I could be on a beach instead of in an office on an 85 degree day is just… depressing.
What I Wore to My Internship This Week
This week, I began adding more color to my wardrobe since it's clear summer is totally upon us! (And I included shoes this time!)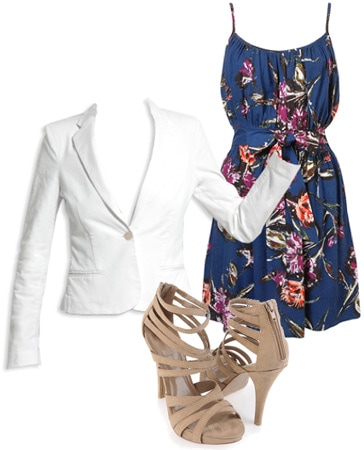 Blazer – 7 Trends, Dress – Forever21, Shoes – Forever21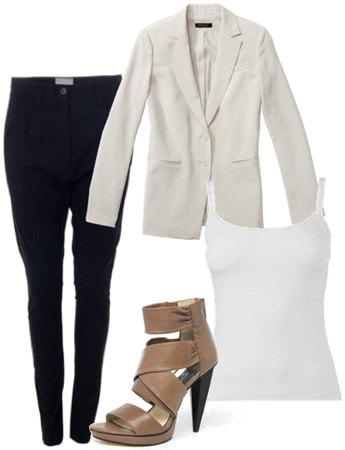 Pants – Far Fetch, Shoes – Michael Kors, Blazer – Ann Taylor, Camisole – Debenhams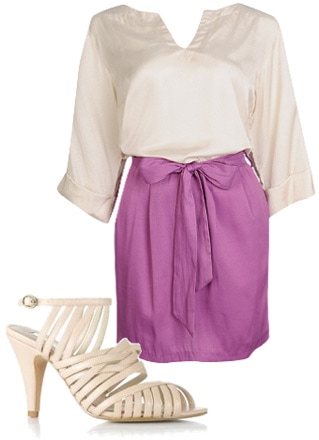 Dress – Forever 21, Shoes – 3 Suisses
Overall, I still love my internship!
I'm always so busy, and each day has flown by so fast, but I'm loving the experience. I know everyone has been wanting to hear more negatives about this internship, but besides the lack of sleep and lack of social life, I could not be happier! It's going to be a huge boost on my resume and has been an amazing way to meet people who are interested in this field. I'm already SO glad I decided to do it and can't wait for the weeks ahead!
What do you think?
How far into your internship are you? Are you enjoying it? What is your staple wardrobe piece for your job (as you can see, mine was a white blazer this week!)? Let me know in a comment!