This post may contain affiliate links, which means we may receive a commission if you purchase through our links. Please
read our full disclosure here
.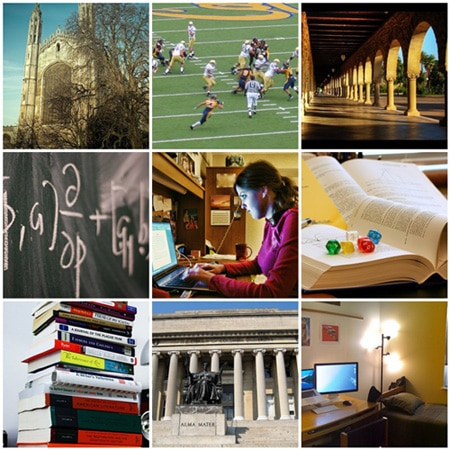 Photo credits: 1, 2, 3, 4, 5, 6, 7, 8, 9
We're all fashionistas here at CF- but most importantly, we're college students first. So to all of you high school seniors currently deciding on a college, (we know you read the site, too!), we feel your pain.
Maybe it was last year, maybe it was four years ago, but we all remember how hard it was to decide on what school to go to. There's so much pressure- after all, how can anyone be sure that they've made the right decision after a quick campus tour or by leafing through a well-designed brochure?
Since we've all been there, we CF writers thought we'd offer you some advice on choosing a school based on our own experiences. Here is a rundown on how we each decided on a school to call our home for 4 years:
Just a warning: this post is long, so you might want to grab a drink or a snack before reading!
Who We Were:
We were all very different in high school. In a nutshell:
Kristina (University of Arizona) was an over-achiever, while Zephyr (University of Massachusetts Amherst) was artsy. Audrey (The Ohio State University) was a self-proclaimed "kinda nerdy" student-athlete, Ashley (Flagler College- St Augustine, Fl.) was part of her school's yearbook, Rachel (Northeastern University-Boston) was an honors student, Amber(Old Dominion- Norfolk, Va.) was well rounded- captain of her cheerleading squad, secretary and a good student. Tiffany (University of Pennsylvania) was a competitive pianist, Liza(University of Minnesota) went through many different phases, Colleen(New York University) was super-involved and I (Elizabeth, University of Missouri Columbia) was more of a rebel.
How we handled the application process: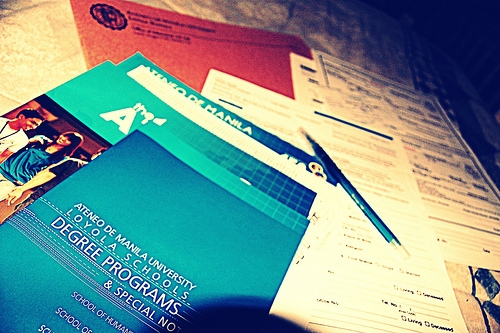 Kristina – University of Arizona: I did lots of research- I looked at websites, books, and got feedback from as many places as possible! Then, I narrowed the list down to around 5 schools and went from there.
Zephyr – University of Massachusetts Amherst: I only applied to two schools, UCF (University of Central Florida) and my safety school, UMass, because I knew I could get in to both easily, and was certain (at the time) that I wanted to go to UCF.
Audrey – The Ohio State University: I thought the process was completely overwhelming. I applied to four schools, and would advise selecting a wide range of schools to apply to.
Ashley – Flagler College: I applied to Flagler early-decision, and as a safety I applied to a state school that waived the application fee.
Rachel – Northeastern University: I applied to six schools- all early action, so I knew by December. I was set on FIT in New York City and Northeastern in Boston, and the rest were safety and state schools around New England.
Amber – Old Dominion University: I had labeled folders with everything I needed inside. And I applied to four schools- one I really wanted, as well as my second choice, and two safety schools.
Tiffany – University of Pennsylvania: I applied to 11 universities- 5 research schools and 6 liberal arts colleges. I used the Common App and had an Excel spreadIet to keep everything organized.
Liza – University of Minnesota: I actually only applied to one school, and I did so early decision, so I was done with college stuff in mid December of my senior year.
Colleen – New York University: I visited as many schools as I could- then applied Early Decision to NYU and Early Action to my safety school.
Elizabeth – University of Missouri: I applied to 14 schools- all over the map in terms of location, size, competitiveness and everything else. I had no idea where I wanted to go, so I filled out as many applications as I could. Surprisingly, I kept everything really organized with minimal help from my parents!
Most important factors in our decisions:
Kristina – University of Arizona: Money, weather and school activities. I wanted a large school that was big on athletics and was a residential campus.
Zephyr – UMass Amherst: For me, it was all about location. I wanted to go to school somewhere warm, and I knew the Orlando area well, and had some friends there, so that's why I was set on UCF. I also wanted a big school, as I graduated in a class of 25. (Yes, 25!! Not a typo.)
Audrey – Ohio State: My top criteria for a school was: a large school, somewhere with plenty of cultural diversity, and it had to be somewhat affordable.
Ashley – Flagler College: I knew I wanted to go to Flagler since my junior year of high school, because it had the major I loved, small class size and a gorgeous campus.
Rachel – Northeastern: I really wanted to be in a city, but money was another deciding factor.
Amber – Old Dominion: I received a sizable scholarship, so money was not the biggest factor- although I did take state vs. out-of-state tuition into consideration. Distance from home and areas of study offered were also important!
Tiffany – UPenn: Academic prestige and opportunities after graduation definitely mattered the most to me, and to my parents as well. Location was really important to me personally — I grew up in Arizona and really wanted to be on the East Coast for college. Overall, I was looking for a good holistic fit — a school where I could get a really good education, a fun campus experience, and also meet great people who were similar to me but who could also challenge me to grow as a person.
Liza – University of Minnesota: I transferred, but at the time, the most important factor was location, and the people who came with it.
Colleen – NYU: I knew I wanted a school in an urban area. Also, it was important for me to find a school that had a great Communications program, offered Study Abroad opportunities, and would help me find internships.
Elizabeth – University of Missouri: The only thing I cared about was being far away from home. Money also played a big part as I didn't want to be a huge financial burden on my parents. Basically, I found Mizzou by typing "best journalism school" into Google and applied to the least academically rigorous one.
What we would change in the way we handled the application process: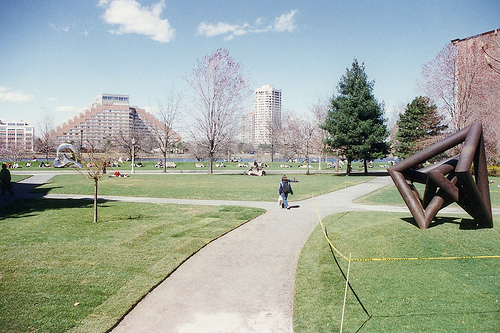 Kristina – University of Arizona: I wish I would have visited more schools in person and maybe applied to a few more…you never know!
Zephyr – UMass Amherst: In hindsight, I wish I would have applied to more schools- especially small, liberal arts ones. Also, I regret doubting myself at the time and not pushing myself to apply to schools that were more difficult to get into.
Audrey – Ohio State: I definitely would have visited more schools. I also would have looked at some smaller schools.
Ashley – Flagler College: The only thing I procrastinated on was the essay– I ended up not turning in my application online until an hour before it was due!
Rachel – Northeastern: I'm not sure I'd change anything. I was so glad I made that early application deadline and didn't drag the stress of not knowing where I was accepted until the Spring. Visiting schools is also a huge factor!
Amber – Old Dominion: One thing in the application process that I would change is my level of stress. If you handle everything in a timely manner, then there is no need to stress, and that's one thing I realized after the entire application process was over.
Tiffany – UPenn: Although I'm happy with how everything worked out, in hindsight I should have done more campus visits –actually visiting a school really helps you get a better feel for the campus.
Liza – University of Minnesota: Waiting was the hardest part! If anything, I would have applied to transfer sooner.
Colleen – NYU: Submit your application as early as possible! I left mine till the last minute, the website craId, I missed Halloween festivities, and was up all night trying to get the website to work, terrified I would miss the deadline.
Elizabeth – University of Missouri: I would have thought it through and not applied to so many places- many that I knew I'd never go to! Also, I would have done more research.
How we decided on our particular school… and did we make the right decision?
Kristina – University of Arizona: The University of Arizona gave me the most scholarships, met all of my criteria, and was less than 5 hours away from home- close, but not too close! I love the U of A and do not regret my decision!
Zephyr – UMass Amherst: To make a long story short, my housing fell through at UCF, and I didn't feel comfortable getting an off-campus apartment as a freshman in a new state. So at the very last minute, I decided to go to UMass instead. And though I made the most of my time there, I do regret the decision to attend. UMass was too much of a party school for me (and I'm not the "let's stay in and study on a Friday night" type), and Amherst was way too isolated and rural for my tastes. It just wasn't a good fit.
Audrey – Ohio State: Academically, Ohio State was the best decision I could have made. However, if I could do it all over again, I would have taken my personality and needs into account and gone smaller.
Ashley – Flagler College: As I said before, I knew I wanted to go to Flagler since my junior year! However, I do sometimes hate the lack of nightlife here (although less so now that I'm 21).
Rachel – Northeastern: I got into every school I applied to- but decided on Northeastern because I loved the 'real college experience'. I wanted to major in Business, something that I could still apply to fashion. Even better, I received a scholarship. Northeastern was absolutely the right choice and I still love the school!
Amber – Old Dominion: Old Dominion was close enough to where I lived and was the strongest choice academically and for my future. I don't regret the decision and I love the family environment here.
Tiffany – UPenn: Although my choices were between Penn and a small, liberal arts school, I picked Penn because it was a risk, and college is all about trying new things. To this day, I love Penn and am happy I chose to go here.
Liza – University of Minnesota: I decided on my original school because my sister and boyfriend were there, but I transferred this year to the University of Minnesota and couldn't love it more!
Colleen – NYU: NYU was everything I wanted in a school. Furthermore, visiting schools really helped me make this choice, as I was able to really get a feeling of what place seemed right for me.
Elizabeth: I had my heart set on a small school in the Pacific Northwest that I thought I loved until my mom took me to visit Mizzou over spring break. I really liked the campus and got a scholarship that made it very affordable. I absolutely love it now and couldn't see myself anywhere else, but had I visited it when campus was full, I probably would have thought it too big.
Our advice for high school seniors: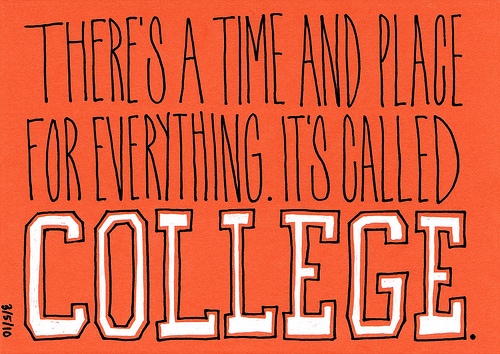 Kristina – University of Arizona: Definitely try and visit as many campuses as you can. You really can only learn so much from a website or other people's advice.
Zephyr – UMass Amherst: Apply to lots of schools, and don't just apply to schools you know you'll get into – shoot a little higher! In hindsight, I think it's better to apply to a couple of reach schools and get rejected than to only apply to safeties and wonder what could have been.
Audrey – Ohio State: Don't listen to all the "experts" that want to give you advice. It could be your mom, your guidance counselor, or your best friend, and they all mean well, butyou know you best." Also, aim high! If you don't even try, you will forever wonder "what if".
Ashley – Flagler College: My advice to HS seniors would be to write an amazing essay and ask someone who really knows you to write your recommendation- but don't forget the thank-you letter!
Rachel – Northeastern: Do your homework- research schools! Don't be afraid to apply places thinking that you won't get in. Only you know what fits you. Think of it like wedding dress shopping – when you're there, you'll know it.
Amber – Old Dominion: Complete plenty of research, and overall, just relax!
Tiffany – UPenn: I really want to emphasize this — talk to people who are in college, especially people who you know are similar to you in background, interests, and goals, and ask them what factors you should consider. As far as the application process — sit down and think about what you want. Remember that in the end it's your decision, so make sure you're happy with it.
Liza – University of Minnesota: Just remember that you aren't locked in and that there's no reason for you to stay at a school that you don't want to be at!
Colleen – NYU: It can be intimidating how many voices weigh into your decision–from parents to friends to counselors to teachers to the internet, it's a lot to take in! Remember that this is your choice and to go with what feels right for YOU, not what other people say you should want!
Elizabeth – University of Missouri: Breathe. You will end up somewhere! Visit as many places as you can and do research- but don't apply somewhere just because they offer you a free application. Also, be reasonable and don't apply to a ridiculous amount of schools (like 14!)
Questions, comments?
That's it – our best advice on choosing a school. If you have any questions about a specific school or about the college application/decision process, don't be afraid to ask us anything in the comments! We're happy to help and answer your questions!
Now we want to know what you think – if you're a current college student, how did you choose a school? What advice do you have for HS seniors? Let us know with a comment!
And if you're a HS student going through this process right now, we all wish you good luck on deciding where to go- it's a daunting task, but you just have to trust that you'll make the right decision for yourself!