EDIT: Due to a copyright claim from ASCAP, we are no longer allowed to let you guys listen to our playlists here on CF. If you want to listen to the playlist, from now on, you have to click over to Playlist.com to do so! Sorry for the inconvenience – we're bummed as you are about it.
As much as I love vintage fashion, I am always thrilled when I find a new item in one of my favorite stores with the charm and uniqueness of a vintage piece, minus the wear and tear! The music artists in this week's playlist are also inspired by years gone by- they all have a retro sound with a modern edge that makes their songs instantly catchy and fun. And this playlist also features some country-tinged tunes for all you country fans out there!
As always, you can listen to the songs on the popup player or click on the links below to download or listen to individual songs on YouTube. Enjoy!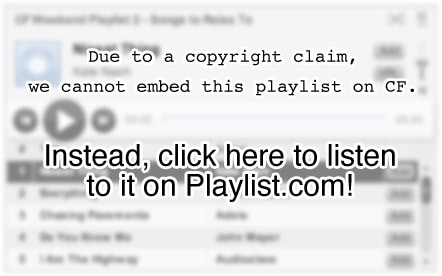 This Week's Playlist Includes:
Previous Playlists:
What do you think?
Do you like the retro sound of this week's bands? What other modern vintage bands inspire you? Let me know in the comments!