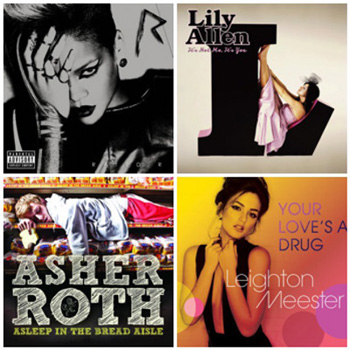 I've wanted to do this feature for a while, and now that my posts appear on Fridays, I can! Every week, I'll be giving you song recommendations for your weekend ahead. So whether it's for a pre-game, party, road trip, trip to the gym, or library study session, you'll always have music to rock out to!
Each week, I'll include a playlist that you can directly listen to right here, as well as a list of the songs featured and a link to iTunes, where you can download each song to your computer if you want.
Be warned: some of these songs have explicit lyrics, so listen with caution!
This week's Weekend Playlist includes:
This week's CF Weekend Playlist has no theme beside the fact that it's a list of songs I'm currently addicted to! They put me in the best mood, whether I'm listening to them as I walk to class or before I go out for a night with my friends.
These songs are also the perfect transition from dull, dreary weather to sunny days. So put on your most fashionable outfit, a pair of trendy sunglasses, and grab your iPod with this playlist on loud, and you'll immediately be in a great mood and looking stylish as you strut through campus!
What do you think?
What do you think of this new feature? Is there a specific theme you'd like to see for the next playlist? What songs are you listening to like crazy right now? Let us know in a comment!