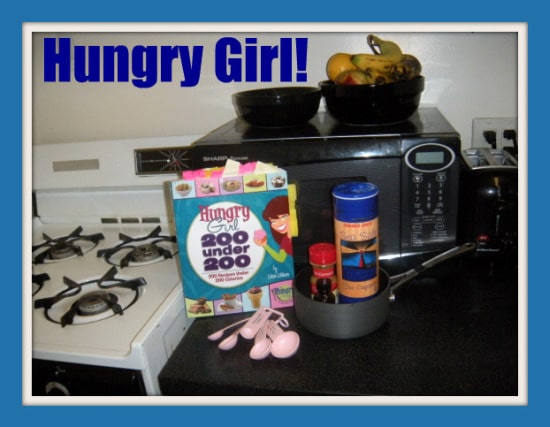 We all have it–that perfect dress that we keep hanging in our closet, lovingly gazing at as we reach in to grab our daily garb. And there is nothing better than finding that perfect occasion to wear said dress out… unless, that is, you have indulged in a few too many late night cookies and pizza and chips and said dress no longer fits like a glove.
Unfortunately, one of the well-documented dangers of college life is veering into an unhealthy lifestyle filled with fast food and sleepless nights. This sort of lifestyle is conducive not only to putting on pounds, but also to getting sick (which hard enough to avoid in college)!
Of course, that leads us to the problem many of us are facing–we want to be healthy, and we don't want to gain the "Freshman 15", but we don't have time (or space and tools) to cook ourselves good meals. Plus, let's face it–a late night study sesh is much more enjoyable when it is fueled with chocolate than celery!
That is where my food savior and idol, Hungry Girl, comes in. I first heard about the Hungry Girl website from a friend and after one visit, I was hooked. And here's why:
The Hungry Girl brand has recipes for literally every occasion, ranging from special holiday ideas to food for everyday life.
There are recipes for people with all different levels of experience, from simple recipes that only require a refrigerator or microwave to recipes that require whisks and ovens and a bit more time. However, it is important to note that all of the recipes are detailed, so it is totally possible for someone who is not necessarily a star chef to try them out!
You can sign up for daily e-mails on the website that include new recipes, as well as the answers to readers' questions and great new product finds (the product finds are super helpful for girls who do not want to cook but just want to get some smart snacks).
The recipes are delicious, the food is healthier, and you will be shocked at how low the calories are per generous serving!
Hungry Girl even does fun "food swaps" for popular restaurant items that are high in fat and calories, allowing you to make your favorite food items at home (without all the unnecessary and fattening additives restaurants often add and charge extra for)!
Now, I expect you to be skeptical at this point. For the most part, low-fat and diet food tend to be a bit lackluster and unsatisfying. But as a Hungry Girl-practicer (who also happens to be a terribly picky eater and a junk food addict), I can assure you that these recipes are truly easy and do not taste "diet" at all! My friends have been continuously impressed by the pies, brownies, and chicken I have cooked from Hungry Girl recipes, and I have already converted all of my roommates.
In fact, I loved the Hungry Girl e-mails so much that I bought the latest Hungry Girl cookbook, Hungry Girl 200 Under 200 (pictured above covered in the post-it notes my roommates and I could not help but mark all of our favorite recipes with). This book actually includes 200 easy and yummy recipes under 200 calories eachand even has a seemingly too-good-to-be-true section devoted entirely to cupcakes!
While I know this product is not exactly "fashion related," I think it is an essential for any stylish college girl. In order to look your best you need to FEEL your best, which I can promise you Hungry Girl will help you do. And once you have your health in check, you can go back to focusing all of your new found extra energy on going on a power-shopping trip (after all, the holidays are quickly approaching)!
What Do You Think?
Do you often make food for yourself at school or do you rely on restaurants and dining halls? Do you have any other healthy food options you have discovered? Have you tried any of the Hungry Girl recipes? Let us know in the comments!