This post may contain affiliate links, which means we may receive a commission if you purchase through our links. Please
read our full disclosure here
.
As every CF reader knows, us college fashionistas have unique challenges when it comes to getting dressed: Our outfits have to transition constantly during the day to fit our hectic lifestyles. From business attire to our LBDs, we have to have it all. Chameleon or peacock, this article will help you transition flawlessly throughout your busy day (with style, of course).
8am: Chemistry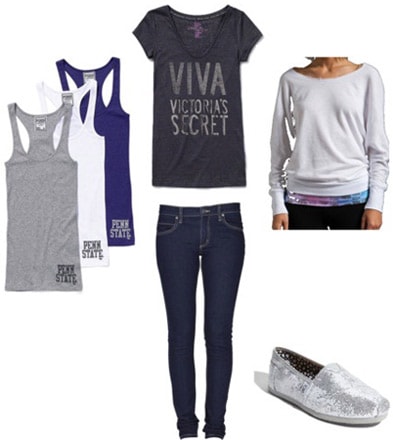 Products: Tanks – Victorias Secret, Tee- Victorias Secret, Crew Neck- So Low, Shoes- TOMS, Jeans- Cheap Monday
As much as we here at CF believe in dressing your best at all times, sometimes, the clock flashing above your head says otherwise. For those days when you have 5 minutes to get ready, it's best to dress stylish, cute, and most importantly, comfy.
The Victoria's Secret Pink collection is targeted towards sleepy college students such as ourselves – we love their tanks and tees for easy, comfy layering. For AM, do a slouchy v-neck tee (this one has words, but a simple one would work just as well) or multiple tanks, and a stretch jean. If your campus is like mine and fall weather sets in a week after move-in day, add a cute off-shoulder sweatshirt. Finish with some comfy-cute slip ons.
9:30am: Pick-Me-Up
After chem drags on for what seems like hours, you're going to need a morning pick-me-up. Grab your favorite beverage at the corner cafe. (We love CollegeCandy's list of low-cal (high-caff) treats.)
Waking up early was so worth it. After my first class, I usually have a little lull in the day which is the perfect time for planning and organizing my thoughts. Invest in a trusty planner, like this Lilly Pulitzer one, that is both functional and pretty. I love writing my to-do lists and posting them on my wall using post-its, but some friends use apps on their computers and phones. Do whatever works for you!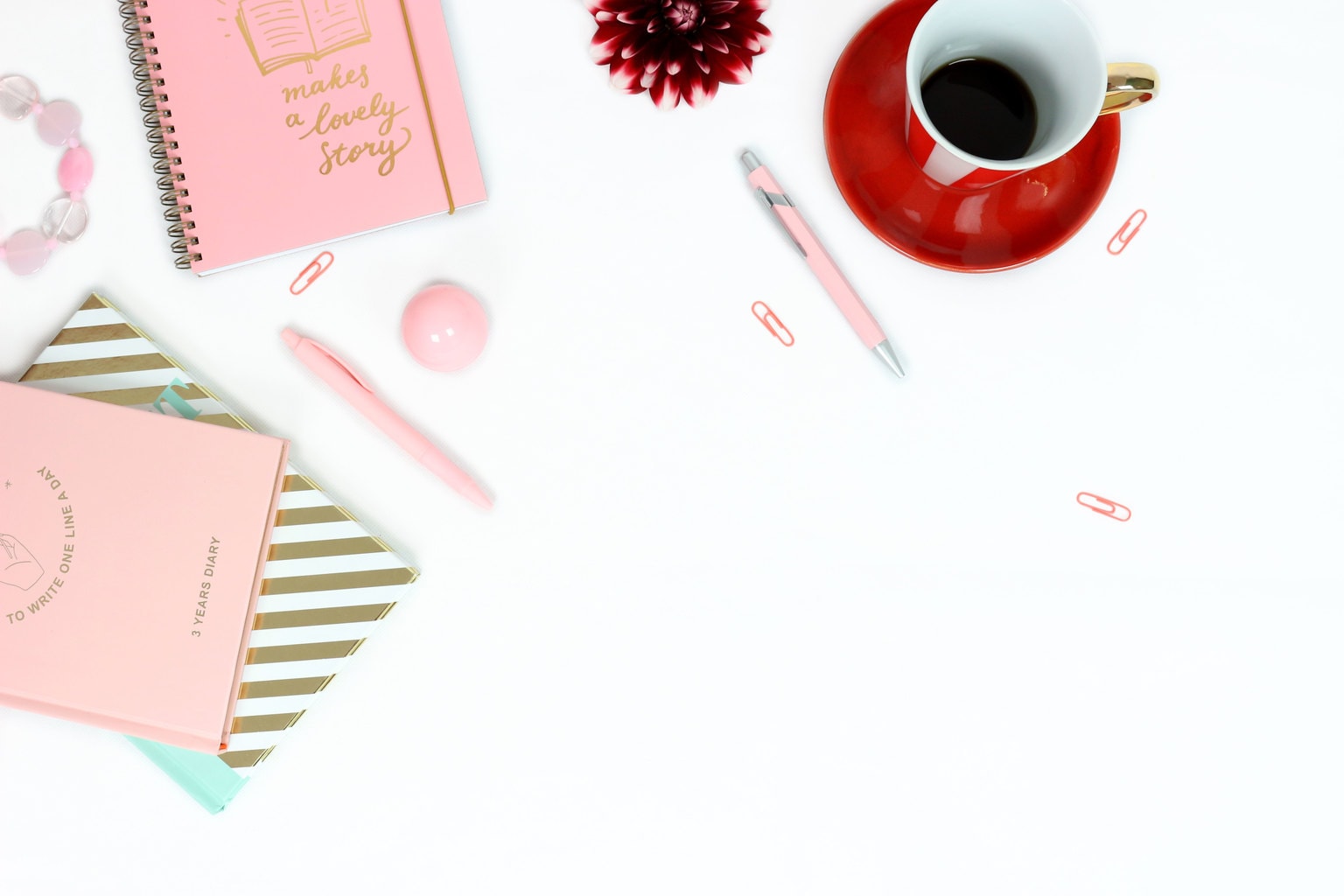 Products: Notebooks- Lilly Pulitzer, Pen- Muji, Post-it Notes- Dollar Tree
11am: English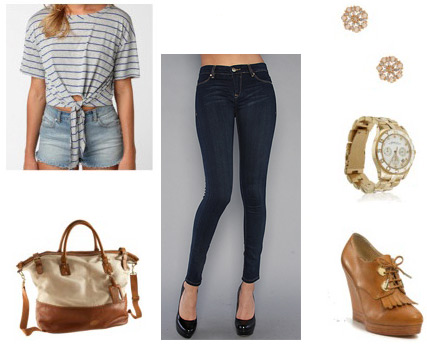 Products: Top- UrbanOutfitters, Earrings- Forever21, Bag- H&M, Shoes- Bloomingdales, Jeans- Karmaloop, Watch- Marc Jacobs
After planning out your day accordingly, get yourself ready the right way! For classes during normal hours of the college day, you'll usually have time to get a little dressier and show off your style. My go-to class wear usually involves a pair of dark skinnies and a loose-fitting, casual top. Keep your base outfit simple, but be sure to accessorize your little heart out.
I normally have a "style theme" or goal every season. My summer theme was different nail polish colors and nail art. During spring season, I tried to incorporate bohemian jewelry into a lot of my daily outfits. Having your "style theme" helps you express yourself through fashion without looking like you're trying too hard. It makes outfits uniquely you.
Fall Theme: Wild Child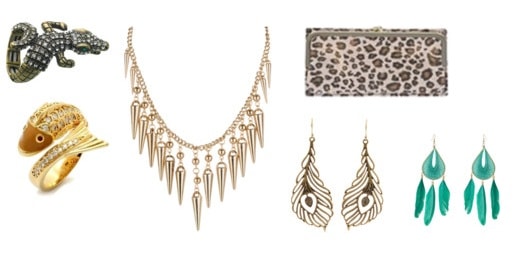 Products: Lizard Ring- Guess, Fish Ring- Fantasy Jewelry Box, Necklace- Forever21, Clutch- Forever21, Gold Earrings- Lucky Brand, Feather Earrings- Zara
1:30pm: Break Time
After a couple hours worth of taking notes and playing Words with Friends, your schedule has cleared up. This is the perfect time to grab a healthy meal at the closest dining hall. Call up a couple friends to meet up, or throw a to-go salad into your bag and head for the nearest library. Group study sessions are the best for midday conversations to catch up with your friends.
If you are just itching to get some studying done, try sitting alone in a private cubby in the quiet section of the library. While you're at it, why not try out a few new study tips?
6:30pm: GGG – Gym, Gym, Gym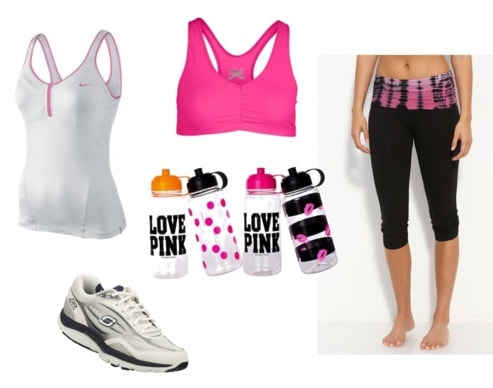 Products: Tank- Nike, Sports Bra- Lady Foot Locker, Leggings- Hard Tail, Water Bottles- Victorias Secret, Sneakers- Macys
After a few more classes (and maybe a few more lattes) you're ready to get those endorphins pumping for a second wind of energy as the day moves on. I usually pick early evening as the perfect time to go to the gym. My only fashion rule for "gyming it" is attempting to match my outfit and not look sloppy.
Go for yogas, capri leggings or comfy shorts. Pair these with a cute running top or college tee, with sports bra underneath. I take advantage of this opportunity and wear t-shirts that promote something I care about: my sorority, my school, local charities. Don't forget to equip your gym bag with all the necessary items!
9pm: Night Out, Girl Scout
After your strenuous hour of elliptical reps and jamming out to Britney Spears' latest and greatest, shower up! After your shower, your phone will have 27 texts from your midday study group relaying this evening's plans. When you're getting ready for a night out with the girls, make sure to play your favorite pump up songs to get you in the mood for fun.
Also, try eating a few snacks beforehand with your friends, or grab a little something from your dorm room stash. You don't know where the night will take you or whether or not (edible) food will be around.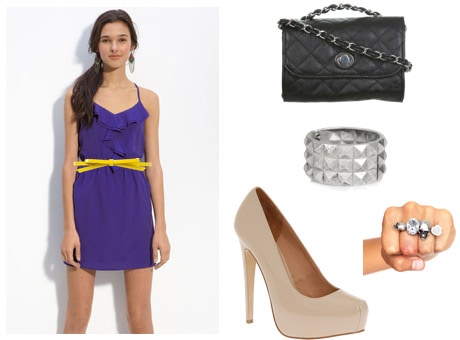 Product Info: Dress – Nordstrom, Belt – House of Fraser, Purse – Miss Selfridge, Bracelet – WeLikeFashion, Heels – Aldo, Ring – NastyGal
Depending on the location of where you're going, your outfit can vary. A more casual place would warrant a dark pair of skinnies. Pair these with your best party top. I usually choose crop tops, loose fitting tunics, or something with a little something special like an asymmetrical hem, unique print, or fitted bodice. For this night, though, the attire expected is a little more dressy. You could wear this outfit combination to a frat mixer, to a restaurant with the girls, or your local bar (if you're of age).
Here are some key elements of a "going out" outfit:
A jacket : Because even early fall nights can get chilly!
Mini bottle of mouthwash : Hey, you never know who you're going to meet. 😉
These flats that fold to fit in your purse for your tired feet. Genius.
Phone : It stays in the bag. You're welcome.
Extra black hair ties, bobby pins, and mini clips.
Leave the credit card at home but make sure to carry a student id.
Carry enough cash for a happy meal at McD's or a cab ride to wherever the night takes you.
For more on this, see our list of things every college girl needs in her night out bag.
Goodnight, gorgeous!
Thoughts, Ladies?
Do you have a certain regimen that you adhere to during the day? Any suggestions for transitioning your style throughout the day? Do you go out with certain items and leave ones at home? Is the dress code different at your university or in certain classes? Thoughts, please!