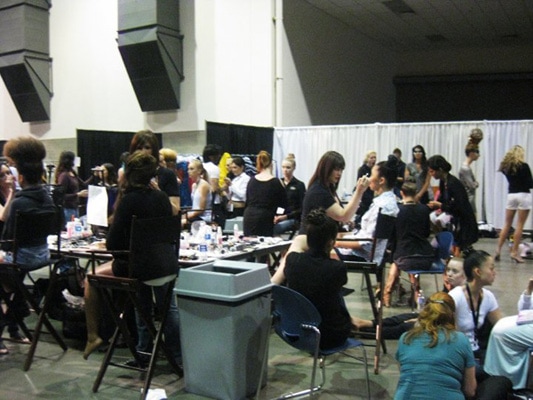 Backstage at Seattle Fashion Week
After reading Our Biggest College Accomplishments a few weeks back, I reflected on my own university life as a freshman this year. Undoubtedly, interning with the Seattle Fashion Week team was definitely one of my favorite experiences.
Before, "Fashion Week" seemed so far away and too glamorous for a normal college student like me, but luckily, I got the opportunity to see the fashion week process from start to finish in my first year of university! I don't want to bore you with details, but I'd like to share my Seattle Fashion Week experience with you guys, especially about what I have learned, in hopes that it will be informative for you, whether you want to work in the fashion industry or just see what things are like behind the scenes.
5 Things I Learned Interning at Seattle Fashion Week
1. Take the Initiative!
Many people have asked me how I got this fabulous opportunity. Facebook is the word. All it takes is some simple research (e.g. keywords: Seattle, Fashion,) a short email, the will to learn, and who knows? You may be just as lucky! It never hurts to give it a try. The truth is, many companies would love to have interns or volunteers, and you never know what opportunity you'll run into if you ask!
2. Start with the Basics.
Don't expect to do something glamorous in the beginning. My first task was researching buyers, media people, and boutique owners…etc, and then putting their contact information into a database. It did seem quite dry at first, but through this experience, I found a lot more fashion-related businesses in Seattle that I could potentially work with in the future. Every task will pay off, and after you show how responsible you are, you are more likely to get "bigger" tasks later on. Also, remember that you are not here to just look pretty. Try to be active and helpful instead of simply waiting for a task (especially during a fashion show because it's usually chaotic backstage and the managers won't have time to talk with you!); it makes you more valuable as an employee.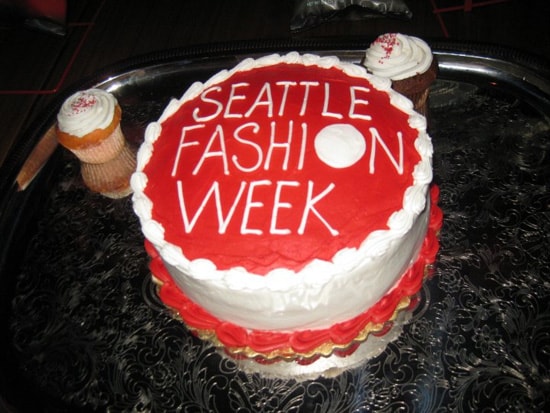 SFW Cake at the kickoff party
3. Be Aware of the Time Commitment.
I was more than just a volunteer on the days of the events – I tried to attend every meeting in the weeks leading up to Seattle Fashion Week as well. This way, I got to learn more about the process from start-to-end and meet most of the team members. However, because I also had to balance my school work at the same time, I had to give up several opportunities, such as attending some preliminary events. This may seem simple, but the key is give-and-take: if you really can't manage to contribute much time, don't expect them to give you a bigger or "cooler" responsibility, such as working with the designers. Have this in mind before you start interning.
4. Speak up; Be assertive.
When I first started, my first thought was "wow, I'm so lucky to work with such experienced and talented people!" Because of my respect for them, I naturally felt shy, and thought "Since I am just a student, I should listen more instead of trying to voice out my opinion." But after a while, I realized I was wrong – they wanted me to contribute and speak up! After all, everyone makes mistakes sometimes, and it's good to have another set of eyes on a project to make sure everything looks okay. You're more helpful to your bosses if you can speak your mind!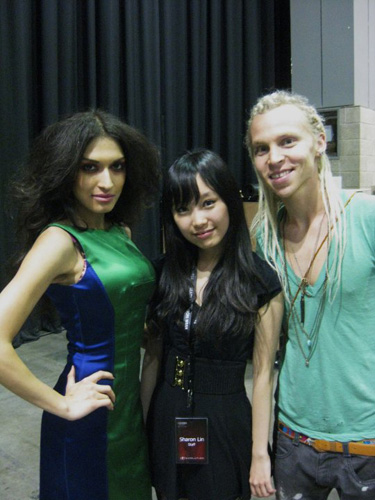 Me with a Seattle Fashion Week model and Project Runway designer Blayne Walsh
5. Networking, Networking, Networking.
For me, one of the best parts about interning at Seattle Fashion Week was meeting and getting to know new people in the fashion industry: models, designers, photographers, boutique owners, etc. So don't be shy! Most of them are really friendly, including Project Runway designer Blayne Walsh and international designer Bukky Are! I really enjoyed my working experience with them. Also, meeting these people may give you more opportunities that you've never thought of before. One of the other interns actually got to walk on the runway and another one got a potential internship with a fashion photographer!
What Surprised/Inspired/Amazed Me…
1. I was surprised when the Executive Producer, Gabriel Choy, told me that most people on the Seattle Fashion Week team didn't get paid! I really admire their passion and I also think it can be a fun experience for them aside from their actual job. (For example, one of them is a lawyer in the "real world!") So if you love fashion but have another job, volunteering some time for events/projects like Seattle Fashion Week could be a great alternative to actually working in the industry!
2. For some reason, I often don't associate fashion with volunteering or fundraising for a good cause (perhaps because it seems so glamorous). However, Seattle Fashion Week worked with the Susan G. Komen Foundation, and auctioned items, with proceeds going to find the cure for breast cancer. I thought it was so meaningful and I believe doing something great like this while pursuing your passion for fashion is more than perfect!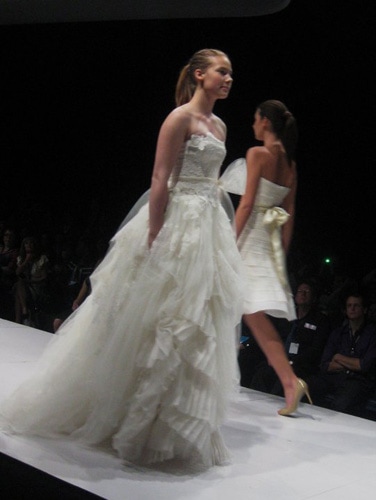 Vera Wang Bridal dress on the runway
3. On the last day of the show, I fortunately got to sit in the VIP area and watch the International and Established Designers Finale show. My favorite part was Vera Wang's bridal collection. The dresses were literally breathtaking (in fact, my heart still skips a beat when I see the pictures now), and the classical music and set design that went with it were all put together well, like a beautiful piece of art or performance. It's really hard to describe how touched and amazed I felt. After watching it, it assured me even more that fashion was the right path for me.
Your Thoughts?
Although not everything was as ideal as I might have imagined, my experience interning at Seattle Fashion Week was generally amazing and allowed me to pursue my dreams. I hope this article was somewhat helpful for you, especially those of you that are interested in having a fashion internship or want a peek at what happens behind the scenes! Best of luck! : )
Now I want to hear your thoughts: have you ever volunteered at Fashion Week, whether it's a local FW or one of the big ones, like New York Fashion Week? What was your experience like? Do you plan to volunteer at a Fashion Week in the future? Let me know your thoughts by leaving a comment.