This post may contain affiliate links, which means we may receive a commission if you purchase through our links. Please
read our full disclosure here
.
Maybe your gift fell through because of shipping delays. Or maybe you couldn't find it – that something unique for someone special. I know I've been in these situations a lot in the past years – often I just didn't plan right for holiday gifting. I would run around the days before a gift exchange searching for something, but I knew I didn't want my gift to scream "last-minute."
In these situations, it's so easy to reach for a gift card, but I always feel guilty at the lack of thought associated with these presents (even if the recipient really loves the retailer!). I also feel bad when my gift feels generic and could have been gifted to anyone. If you're in a similar gift-giving rut, read on to see three "handmade" gifts I plan to give this holiday season.
Girl's Night Mug

Materials:
Holiday mug
Hot chocolate mix
Slippers
Nail polish
Coupon for girl's night
So… I love holiday mugs. And I love experience gifts. I found a happy medium here by mixing a few smaller gifts that could be considered stocking stuffers and putting them into a cute, fun mug that reminded me of my friend Jess (she doesn't read CF so I'm not spoiling her present!).
The experience part comes in because I turned her gift into something we could use together. I made her a coupon for a girl's night since she loves to just hang out at home, and it's redeemable at her discretion. And because I always feel bad when I only give someone a coupon, I decided to include some of the things we could use that night! Hot chocolate is a must, especially because it is our favorite drink. If you have a friend with a different favorite snack or drink, use that instead (tea bags or coffee beans would be great here).
I found these tiny nail polishes at Target and decided they would be perfect for at-home manis and pedis. While I was walking out of Target, I saw the green slippers embroidered with Santa and knew they would complete the package. The point of this gift is finding small things the recipient might enjoy and turning them into a thoughtful present that shows you want to spend time with them!
Homemade Cookies
Materials:
Cookie dough and oven
Napkins
Mason jar
Milk
Gift box
All of my friends know I love to bake – I'm actually known for some delicious cookies. This gift is for one of my friends who always begs me to whip up something and stick it in the oven. I decided to keep it simple and make her a gift she could eat immediately! I actually have to give this gift to someone tomorrow because she's going out of town soon, which is why I already baked the cookies. Otherwise, I recommend baking them the day before you plan to give the gift. I added a cute mason jar full of milk so she can drink it with her cookies, then reuse the container.
If you're not in a position to give something as time-sensitive as milk (it'll go directly from my fridge to the car, and then into her mouth or fridge), you could always add candies or even hot chocolate mix. I lined the inside of my gift box with napkins so that the crumbs wouldn't go everywhere, and I'm also putting the rest of the cookies in a Ziploc for her. It's hard to find a cute way to package two dozen cookies!
Gift Card Mug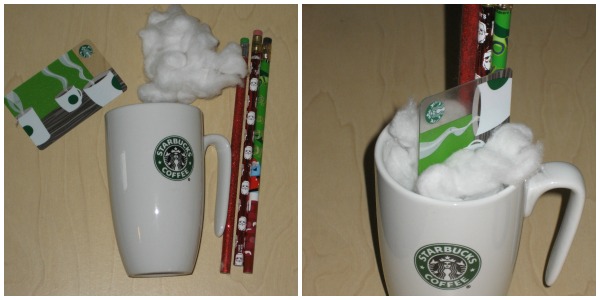 Materials:
Gift card
Pencils
Mug
Cotton balls
Yes, I went there. I was as boring as could be and bought my friend a Starbucks gift card. But chances are, you'll have at least one person on your gift list who could really benefit from a gift card. This gift in particular is for a friend that goes to Starbucks multiple times a day, so in this case I don't feel like the gift card is a cop-out.
If you do give a gift card and want to package it differently from the standard envelope, try the mug approach (yes, I love mugs). I obviously chose a Starbucks mug because it matches the theme, but you could also find a cute holiday mug (like in my first gift). I gathered about 10-15 cotton balls and gently pulled them apart to create a fluffy snow. Place some of this "snow" on the bottom of the mug to elevate the gift card, then surround it with the remaining fluff.
I also saw these holiday pencils while I was out shopping and decided to grab a few because they were really cheap. While not the most practical, fun novelties like these are sometimes the best and add something special to an otherwise ordinary mug. You could also find little figurines, notepads, or even just throw some chocolate candies on top.
What are your last-minute gift ideas?
Do you have all your gifts ready? If not, are you planning to make or buy something? I'd love to hear your ideas in the comments!