This post may contain affiliate links, which means we may receive a commission if you purchase through our links. Please
read our full disclosure here
.
Orientation season is upon us! If you're an admitted student who's both nervous and excited to be inundated with lots of new faces and icebreaker activities, you're not alone.
I barely remember my own orientation, but I know I put a lot of effort into looking cute and making a good first impression. While it worked out, you shouldn't have to stress out about your outfit for orientation. Between the mad rush of your first move-in day and the general stress that comes with being in a completely new environment, there's already plenty of stress to go around.
To help you tackle orientation in style, I've put together three super-simple outfits with basic pieces you should already own. Have fun!
1. "I know you! I stalked you on Instagram!"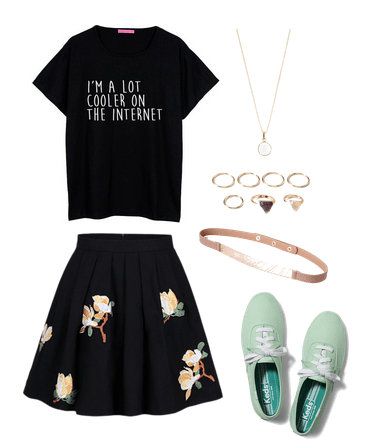 Product Information: Shirt – Etsy, Skirt – Black Five, Necklace – Accessorize, Rings – Forever 21, Belt – Missguided, Sneakers – Keds
If you're looking to elevate a basic shirt-and-skirt combination, careful coordination makes a world of difference. While I'm a huge fan of mixing metals, matching finishes on all your accessories lend a certain polish to your outfit. Here, I've gone with delicate gold jewelry and this super-chic statement belt for just a hint of edge.
I'm always on the lookout for basic pieces with interesting details, because putting them together instantly adds a certain je ne sais quoi. The skirt and sneakers are both really classic shapes, but I love the embroidered floral detail and unusual mint hue. This shirt is also a perfect conversation-starter during potentially awkward orientation games.
2. "I wish I woke up like this."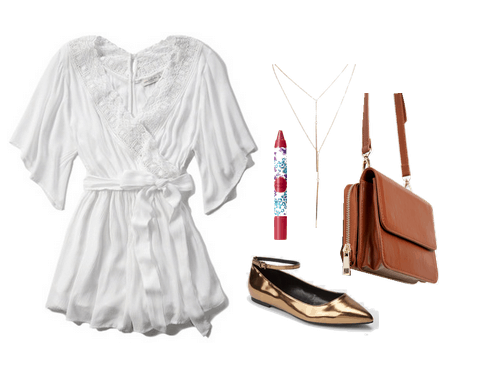 Product Information: Romper – Abercrombie, Necklace – Wet Seal, Lipstick – Tarte, Flats – Gap, Bag – Dailylook
Here's a secret: I'm often too lazy for separates. If I can get dressed and look polished by throwing on a single piece of clothing, I'm in. Because I have a special relationship with one-pieces, rompers were my foolproof choice for orientation. I've gone with this adorable one from Abercrombie, which should easily take you from information sessions to get-to-know-you games.
To keep the look streamlined, I went with gold jewelry and ankle-strap flats, but this romper can just as easily be styled with turquoise jewelry or any neck-scarves you might own. There's also nothing more polished than a red lip, and this red lip tint keeps the whole look incredibly effortless.
3. "Nervous? Me? No way."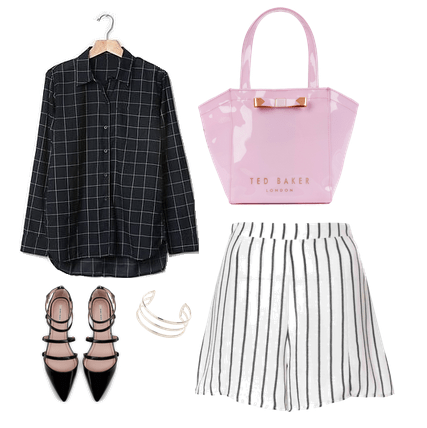 Product Information: Shirt – Gap, Shorts – Glamorous, Tote – Ted Baker, Flats – Zara, Cuff – Topshop
Print-mixing is the easiest way to look like you've got your life together. I've picked out pieces with clean lines so you look extra-sleek– but also because I think lines are the easiest pattern to work with.
If you've got any workshops lined up for the day, or think you'll gather a bunch of brochures at an event, a tote bag is definitely the way to go. This Ted Baker one breaks up the clean look we've got going on, and adds a really fun element of the unexpected to this outfit.
What do you think?
What do you wish you'd worn to your college orientation? Are you attending orientation this year? How do you add polish to basic outfit combinations? Let me know in the comments!