This post may contain affiliate links, which means we may receive a commission if you purchase through our links. Please
read our full disclosure here
.
As a fashion major, every day is different. Though our weekly course schedule remains the same, our daily lives are determined by the type and the amount of work we get. Throughout the last few weeks, we have been completing our midterms, which range from the typical tests and papers to designing and constructing garments.
Below, I take you along for one day in the life as a sophomore fashion major at Parsons:
Thursday March 14, 2013 (Pi Day!)
7 AM: The alarm goes off. I usually set three alarms on my phone — just to be on the safe side — though I often wake up to the first one and switch off the others.
7:30-8 AM: Since the majority of my classes are at night this semester, I rarely wake up so early. However, I have a presentation in my first class and I want to make sure I'm prepared. I start my day off by taking a shower and eating breakfast. For me, breakfast is really important, since it fuels my productivity — especially when I don't get a lot of sleep. I also have a major sweet tooth, so I try to incorporate a little of that into my breakfast. Today I went with a healthier, energy-filled meal of strawberry yogurt, granola, and fruit.
8-8:15 AM: The fashion campus is uptown, and since I dorm in the East Village, I have to commute via subway to class. It takes approximately fifteen minutes. During this time, I like to go over things I'd like to accomplish for the day as well as throughout the week. Sometimes, I scan the day's WWD (Women's Wear Daily) for the latest fashion news on my Kindle or listen to music.
8:15-9 AM: I arrive before my class starts to work on the presentation. I need to make a second muslin from an original pattern I revised for my "zero waste garment" assignment.
9 AM-12 PM: I put supplies for my later classes into my locker at the main fashion building before moving to the other fashion building where I have my studio elective, Zero Waste Garment. This is the only class that I have before 3:50 PM this semester, and it's one of my favorites. Currently, we are working on our first major project: a garment where we must utilize all of the fabric, including the selvages (the ends of the fabrics which prevent it from unraveling), to make a finished piece.
Today is our midterm critique. We present our progress, pattern, our garment's basic silhouette in muslin, and our plan for how to deal with the excess fabric once we cut out the pattern. This class is very different from my core Integrated Studio: 3D class, where we learn and follow a set of rules in order to construct a garment. In this class, we are allowed to try anything and break all the rules…as long as we make a wearable garment using all the fabric.
12-3:40 PM: After class, I usually have enough time to go home and finish up some work there. However, every so often, I decide to have lunch with my classmates and stay at school.
Today, I use this time to complete my muslin creative pants for Integrated Studio 3D. My 3D teacher wants us to custom fit pants to our measurements, so I have to alter my pants after I try them on. I reduce the size of the legs and made the side pocket more drape-y in order to mimic my sketch.
3:40-3:50 PM: I show the completed muslin pants to my teacher on the way to my next class to get some feedback. She recommends adding a dart in the flared pocket in order to prevent it from gaping.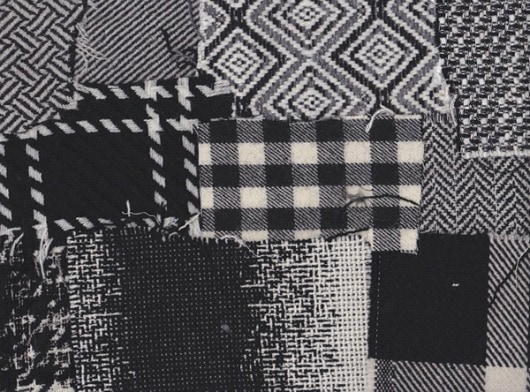 3:50-6:30 PM: Integrated Studio 2D class. We spend the class working on our midterm project, which is due next Tuesday. I spend the time narrowing down my fabric swatches by switching out herringbone for more graphic prints. For this project, we are working on our "alter ego", creating collections that reflect the opposite of our usual aesthetics. For me, it means utilizing more basic, geometric, structured forms that are less body-conscious. I'm also working with menswear. I look at elements of minimalism, Precisionism, and Russian Constructivism to get the final 14 looks. I am usually drawn towards colors for my collections, so this time I challenge myself by working solely with gray scale.
I spend the rest of class reviewing my 14 looks. Collections need to be cohesive, but not too repetitive in order to provide the customer with more of a selection. To mix things up, I work to adjust the hemlines and disperse the new prints within my looks.
6:30-7 PM: Dinner time! I go to a nearby deli for some make-your-own pasta. This time I try a mushroom sauce, which I pair with penne, red chili flakes, cherry tomatoes, peas, and crispy chicken. Delicious!

7-9:40 PM: Drawing class. We alternate each week between drawing models and rendering the figures to redesigning the clothes we sketched from the previous week with textiles our teacher demonstrated. This week, we show him tricky swatches from our 2D midterm projects and he goes around the room, suggesting materials we can use and steps we could take to realistically represent the fabric. Later in class, we are able to work on our figures for 2D while he continues with individual midterm evaluations.
9-40-10 PM: I pack up my things and take the subway back home. My roommate and I have classes on the same floor, and every so often we decide to take a pit stop for froyo (I'm just a little obsessed) before we return to the dorm. Mochi and fruit toppings on mine – yum!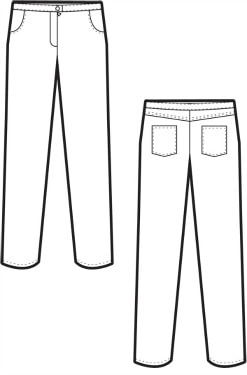 10 P -2 AM: Since I have a large midterm project due next week, I decide to get a head start on the flats for the 2D portion based on my revised edits. I work on these until 2 AM, which — especially around the days of a project deadline — is an early bedtime. I plan out the next day and text for a bit before getting some shut eye.
Your Thoughts?
What's 24 hours like in your major? Did you find this interesting? Would you like to know more and read about an average week as a fashion major? Tell me what you think by leaving a comment below!