This post may contain affiliate links, which means we may receive a commission if you purchase through our links. Please
read our full disclosure here
.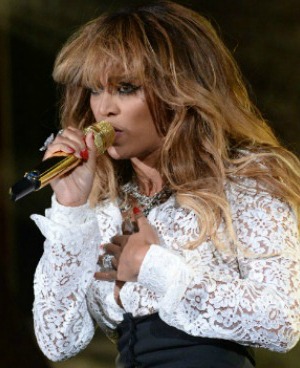 Photos:ELLE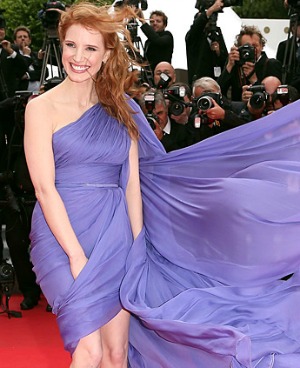 As college students, our lives are filled with stresses like jobs, academics, and extracurriculars. Fashion is a blessed, happy escape from all that. However, anyone who is passionate about fashion and looks forward to getting dressed every morning knows that some days, style is a struggle. So fashionistas, join me in acknowledging these everyday mishaps we all can recognize.
1. When your phone autocorrects designer names.
No, smartphone, "Proenza" and "Schouler" are definitely both real words. Are you sure you're so smart?
2. Jewelry mishaps.
Wearing major statement jewelry has its hazards. Big necklaces snagging a sweater, cocktail rings making high-fives hazardous, bangles jangling noisily in the library, or ill-fitting rings flying when you raise your hand at a Hermione-like speed in class – you name it, it's happened to me. Know you are not alone.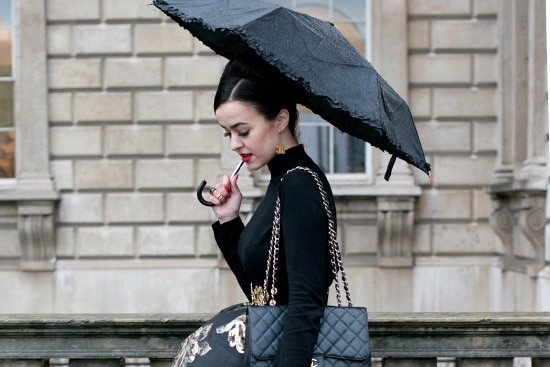 Photo Credit: ELLE
3. The weather.
The ruin of the best laid outfit plans. When I groan to my friends about the weather, it's usually not from discomfort, but because I want to wear what I feel like wearing regardless of its practicality, darn it! I'm sure you've all been there – you're all set to wear your fabulous new shoes on Friday, but the forecast says it's going to be raining cats and dogs.
Or what about the end of the summer, by which time you miss layering and can't wait to dig out your favorite blazer? Then again, when it's too cold, you have to say goodbye to bare legs, ripped jeans, and hello to covering up your fabulousness with a bulky coat. How many times have I scrambled around, running late, after realizing I need a jacket, adding an unexpected challenge to my outfit styling? Too many to count.
4. When your outfit is the (fabulous) elephant in the room.
I am an unapologetically bold dresser. Sometimes, when I go up to someone, be it a friend or a stranger, I'm feeling so boss in my crazy look that all I can think about is what they think of it. I don't know if it's because they're reading my mind, or because I'm just that fab, but they usually do say something about it. Sometimes that's great, but sometimes it leads to…
5. Receiving unsolicited fashion feedback (compliments?).
Mama always said, if you don't have anything nice to say, don't say anything at all. And yet, when I'm in an outfit-is-so-bold-everyone-has-to-comment-on-it situation, I don't just get compliments.
Sometimes people say, "You're so color-coordinated," or "Wow, those are some pants," or "That's really sparkly." These are the kind of comments where they could be loving my look or totally judging my over-the-top style.
Ever the confident optimist, I always just chirp, "Thank you!" But what I want to know is, why not just say, "I LOVE your pants and your sparkles!" or "It's so cool how your purse and your earrings match perfectly." Just so we're clear.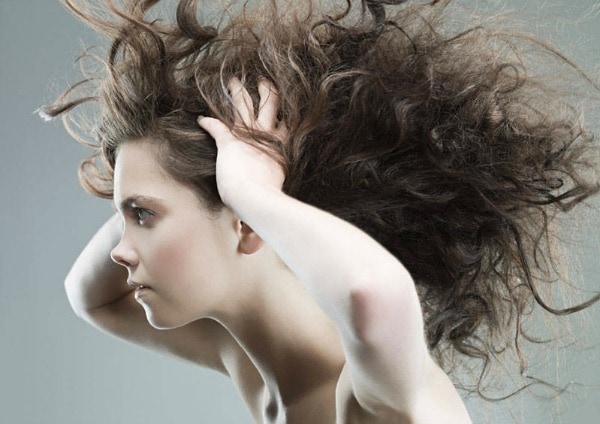 Photo Credit: ELLE
6. When bad hair days happen on good outfit days.
This one definitely connects to the whole weather problem, because no matter how much time I spend on my hair, if it's at all humid, it's toast.
I have been spoiled by magical days where my blowout skills have proven themselves and I'm rocking my new favorite boyfriend jeans and feel like I can take on the world. Sometimes my outfit is amazing, but my hair, well, that part didn't work out. I can still strut my stuff in my outfit, but the perfectionist in me is a little annoyed all day.
7. Noisy accessories.
How many times has this happened to you: You're super-focused, with mechanical pencil in hand, taking some serious notes or ploughing through a math test. You hear a strange metallic noise that's distracting to you and the rest of your classmates. Then, you realize that's the sound of your new cuff bracelet hitting the desk. Oops. You take it off discreetly and embarrassedly. If you're me, the answer is many, many times.
What about walking through the library with the chain straps on your bag making a loud noise as you walk down the stairs? Ever sat down to dinner and had your pendant necklace slap against the table, creating a sound that can be heard counties away? Yup, thought so.
8. Getting caught on things.
Another embarrassing fashion hazard is when your accessories get caught on things – your body, each other, furniture, other people… you name it. Rings stick on fingers (particularly humiliating when trying one on in a store) and snag on open-weave sweaters, layered necklaces and bracelets become inseparable, and handbag straps catch on the handle of the door that someone was so nice to hold for you.
It can be awkward to be so fierce.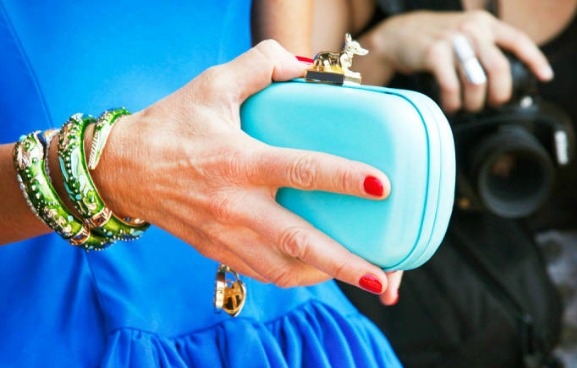 Photo Credit: ELLE
9. Bags that are everything, but hold nothing.
An evening out is, if you ask me, one of the times one needs to be most prepared. As someone who likes to carry an entire drugstore/first-aid kit in her bag at all times, evening clutches are far from practical – but they're so gorgeous!
Of course, the ones I'm most drawn to are the tiniest, chicest of minaudières, which cannot even fit my wallet or my phone, let alone the ever-necessary hand sanitizer and mini hairbrush.
10. Overly complicated rompers.
I love rompers. Their only flaw is, of course, that it's nearly impossible to use the restroom when wearing one. Never wear a romper anywhere you might have to pee and might be in a rush – as in class, on a date, at the theater, or… most places.
There are some great rompers that are soft and that you can just peel on and off, or that have an easy-ish side zipper. What the people who design rompers with back zippers are thinking I will never know. And my amazing floral playsuit with a side zip, buttons, and a tie around the neck? Let's just say it doesn't see much daylight.
11. All of the wonderful shopping there is to do in the world.
This is certainly a good problem to have, but can be very overwhelming, especially for the fashion-loving college girl whose eyes are bigger than her budget. I see things I love everywhere, and it would be so wonderful to have time and funds to peruse all of them… sigh. We can always enjoy the beauty via online shopping (which poses its own tempting dangers).
And we can't forget the overwhelmed feeling everyone has when they walk into a major store like H&M or Forever 21. So many crop tops, so little time!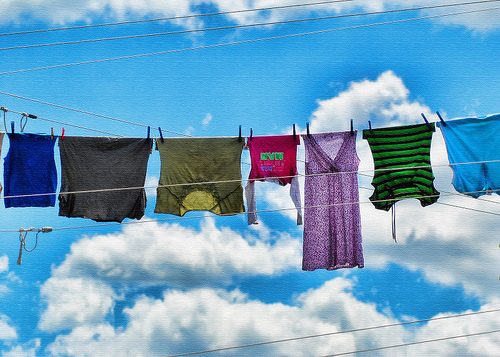 12. Laundry.
Laundry is second only to weather as the enemy of outfit planning. You never know when you might get your favorite jeans, which you were planning to wear multiple times this week, covered in pizza sauce in the dining hall or mud when schlepping to class. We all have basics we wear all the time, but we don't have time to wash them as often as we need to wear them! Ah, the eternal laundry struggle of college.
It is heartbreaking to get a stain on a favorite piece of clothing, and especially worrisome in college when dry cleaning is not so readily available. It is also very disappointing to have your heart set on wearing something and searching for it, only to discover it balled up at the bottom of your hamper.
13. Four words: Stilettos in the grass.
Need I even explain? From outdoor graduations to concerts to pre-formal photos, your heels are bound to get stuck and covered in dirt. But they look so perfect with your dress!
14. Making other people feel underdressed.
I LOVE dressing up. So when my friends and I go out to dinner, even if it's to a fairly casual place, I'm always the one to say, "Let's dress fancy! Let's take pictures!"
I wear blazers, dresses, heels, and red lipstick to class regularly. I often get asked where I'm going, but the answer is I'm just going to class. I just do it because its fun, but sometimes my friends feel underdressed going places with me, and sometimes I feel a tiny bit uncomfortable being overdressed. But, let's face it… it's kind of worth it.
15. Practicality.
Now don't get me wrong, I don't think practicality has to always be the enemy of fashion. Often, the two work together well – be it in the form of ballet flats, your favorite jeans, or a crisp black blazer. I don't buy any pieces that I know I won't be comfortable in, and even on my dressiest days I'm not uncomfortable. High fashion does not have to be unreasonable.
That being said, sometimes I just want to throw practicality to the wind! I wish I could wear my 5-inch heels to class and my best shoes in the rain. I love working with animals, but my least favorite part is having to wear sensible shoes. I love rompers and jumpsuits, despite the bathroom perils they pose. I have black lace fingerless gloves that I'm obsessed with, even though they snag on things and I have to take them off every time I wash my hands. I also want to wear huge, spiky jewelry all the time.
Maybe one day someone will invent magic clothes that deflect dirt and heels that never leave your foot feeling tired? A girl can dream.
What do you think?
Can you relate to any of these fashion problems? What is your most embarrassing fashion mishap? Any struggles I missed here? Let me know in the comments!