Shanghai glitters all sorts of colors at night, but it can't quite compete with Vivienne, who's interning here this summer. Simple and relaxed, but also trendy and well-composed, her style is the epitome of effortless chic. Topped off with a glowing smile, Vivienne's look is definitely inspiring.
Vivienne 101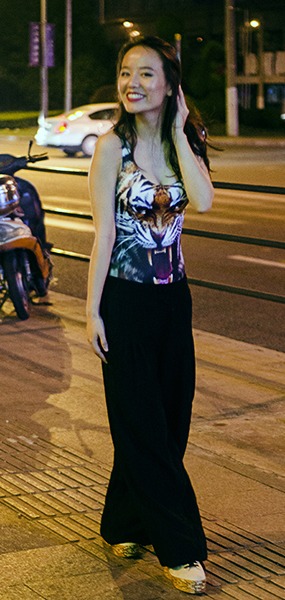 Name: Vivienne
School: Yale University
Year: Junior
Major: Art History
Let's Talk Fashion
Who or what inspires your style? "Animals! And art history. I have a skirt that's woven in the design of a piece I studied from an art history class I took."
Where do you like to shop? "Zara."
How would you describe your sense of style? "Casual, but thoughtful."
Why did you choose this particular outfit? "I like tigers, and this is a really cool tiger print from Blackmilk. I chose these pants because they're really comfortable. They also have subtle Chinese knots on the front. I got them in Shanghai from a Chinese ethnic clothing boutique. I got the Superga shoes from Bloomingdale's. Superga is an Italian brand – I love everything Italian!"
What fashion advice would you give to other students looking to improve their style? "Wear what fits your personality and interests."
What are your favorite trends right now? "Harem and flowing pants. Things with animals on them, not just animal prints."
Do you have any favorite fashion designers? If so, who? "Not really, I don't really follow fashion designers. However, I went to a Moschino fashion show and I liked the world series design collection – they had all sorts of culturally influenced outfits. For example, one outfit resembled a bullfighter's. I really enjoyed how the designs were artistic interpretations, not literal copies."
What do you do for fun – do you have any unique hobbies or interests? "I like watching funny animal videos on YouTube."
If you could raid anyone's closet, who would it be and why? "Alexa Chung – I don't really follow celebrities, but she's cool and smart, and she's an advocate for sustainable living. There's one quote from her, aptly summing up the problem of how sustainability is perceived in today's culture, that I love: 'Ethical Fashion: surely the least sexy words in fashion. Sustainable, ecological, organic … the language of conscience-free shopping is a clunky vocabulary that instantly brings to mind images of hemp kaftans, recycled tin-can bags, and other things I'd rather not swathe my body in, thanks.'"
Elements of Vivienne's Outfit
1. Tiger Bodysuit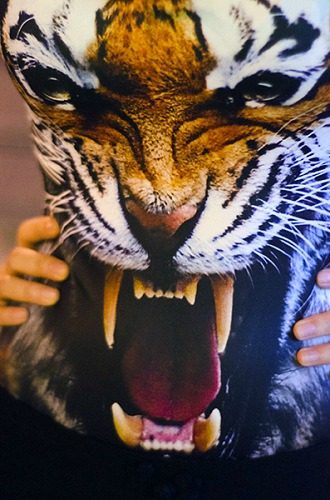 This is the centerpiece of Vivienne's outfit – your eyes are immediately drawn to the print. Trendy, flattering, and bold, this bodysuit is quite the statement piece. Vivienne speaks true to her own advice to dress according to your personality and interests, since she loves animals and her spirit animal is most likely a tiger. This girl is fierce!
2. Platform Sneakers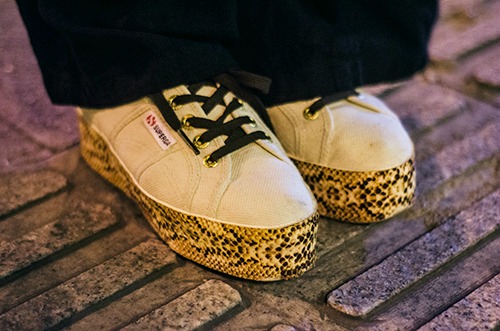 Animals are incorporated again in the form of a snakeskin print around the soles of Vivienne's sneakers. An equally bold fashion choice, these shoes could be a centerpiece on their own. However, in this outfit, Vivienne has partially masked them with the flowing hems of her black pants, turning the shoes into a complementary piece.
3. Gorgeous Smile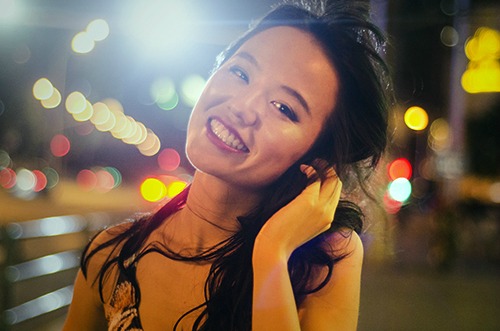 The most brilliant (literally!) aspect of Vivienne's outfit is her smile. Her energy is contagious and gives her bold ensemble the extra punch. Confidence is a girl's best accessory, they say, and Vivienne definitely wears it well.
What do you think?
What do you think of Vivienne's outfit? How do you incorporate your interests and personality into your style? How adorable is Vivienne's smile? What do you think of Vivienne's bold tiger bodysuit? Let us know in the comments!