I have to admit: Laurel's hair is what initially caught my eye. I'm glad it sparked my attention, because talking to Laurel was a highlight of my day. She explained her style so eloquently and really gave me a sense of how she expresses herself through fashion.
Laurel's personality, I discovered, is quite admirable as well – she was so open, down-to-earth, and fun. We ended up talking for quite a while after the interview about a variety of things, and I soaked up her vibrancy. Fashion is an expression of one's personality, and Laurel is one who really inspires.
Laurel 101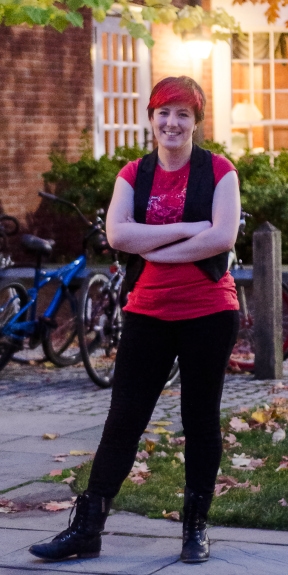 School: Yale University
Year: Junior
Major: Computing and the Arts
Let's Talk Fashion
Who or what inspires your style? "A lot of things. First off, color-wise, my hair. I wear what goes with my hair. It changed recently, and my favorite pieces changed with it. However, my hair is always in a color palette that I enjoy, typically reds and purples.
I also like bright colors and items that contradict each other. I think it's also in my repertoire to choose very noticeable outfits. Not necessarily flashy, but unexpected. For instance, I like to wear masculine clothing with frills.
I'm inspired by what my clothes communicate to people, who I'm going to see that night, and how my clothing might change my interaction with them."
Where do you like to shop? "The mall, generally. I get all of my favorite things when I'm not looking for something in particular."
How would you describe your sense of style? "Bright, glittery, and queer. A lot of times I end up looking like I'm part of a rock musical without meaning to. I constantly want to wear black leather and sequins."
Why did you choose this particular outfit? "I'm going out to a show and a co-op event, so I picked something that's comfortable and wearable for an extensive amount of time. I like to be comfortable and fashionable without being too formal. My vest is from H&M, my shirt is from Sears, my jeans are from Wet Seal, and my boots are from a boutique in SoHo [in New York City]."
What fashion advice would you give to other students looking to improve their style? "Wear what you want to wear. If I want to wear a red glitter cape today, that's what I'll wear."
What are your favorite trends right now? "Everything leather!"
What do you do for fun – do you have any unique hobbies or interests? "I'm a dancer, I'm in the marching band, I do lighting design for theater, and basically anything that has to do with performing arts."
If you could raid anyone's closet, who would it be and why? "It would be different people every day. There are days when I want to dress as a Disney princess and then there are days I want to dress as a twelve-year-old boy. And those are not the same people!"
Elements of Laurel's Outfit
1. Hair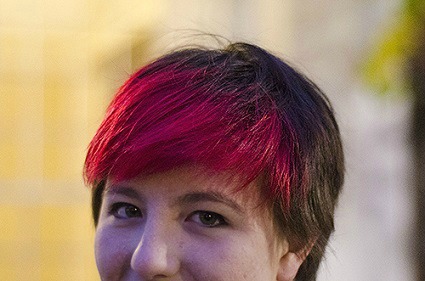 I have so much hair envy, but perhaps what it really is, is personality envy! Laurel's hair is a brilliant shade of magenta-red that makes me want to be more bold. It really is beautiful!
Laurel mentioned how her hair changes frequently which is a prime reflection her dynamic personality. I love what Laurel's hair expresses – she is unapologetically herself: dynamic, open, and vulnerable, too.
2. Shirt and Vest Combo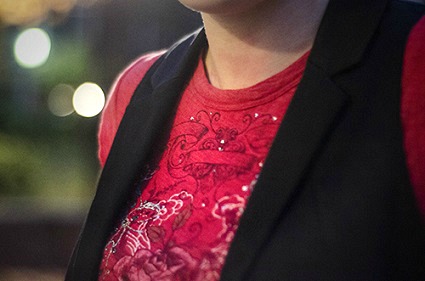 Laurel's shirt and vest pairing hints at the opposing elements she talked about. Laurel's outfit starts off as quintessentially masculine thanks to her vest, cropped 'do, and combat boots. That said, Laurel loves contrast, and therefore pairs these masculine pieces with a pop of reddish-pink and a feminine design on her tee.
3. Boots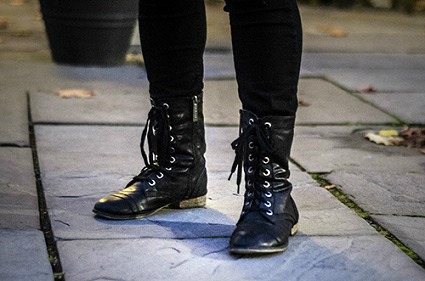 The combat boots give Laurel's outfit an edgy touch and solidify the simultaneously casual yet put-together style of Laurel's outfit. I especially like how the boots reflect leather texture but are not blatantly patent. Also, the subtle fabric paneling of the toe-cap and the heels perfectly balance the bold eye-holes that run up and down the fronts of her boots.
What do you think?
Do you dig Laurel's city-girl cool outfit as much as I do? What elements do you like? Do you wear combat boots or vests? Let us know by dropping us a line in the comments!