Deborah has a sparkling and magnetic personality – it's hard not to be drawn to her! I love how she's passionate about a wide variety of topics, from economics to art history to fashion business, and how expressive she is about her interests.
On top of all of that, she's consistently well-dressed, so I knew I just had to interview her for CF. I hope you enjoy her dynamic interview as much as I enjoyed conducting it:
Deborah 101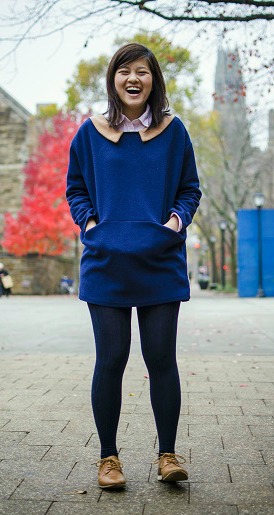 Name: Deborah
School: Yale University
Year: Junior
Major: Economics
Let's Talk Fashion
Who or what inspires your style? "Art history! It's not a direct influence, as in, I don't try to copy the costumes directly from a painting, but it's more of the feelings I get from paintings that inspire me. For example, I like Romanticism, with a capital R. It's the impressions I get from great art that give me a feel of how I want to dress everyday."
Where do you like to shop? "I really like ASOS and Nasty Gal. Oh my god, my wallet. Their styles are weird enough that you can't find them anywhere else, but amazing enough that they can be staple pieces you can wear over and over again."
How would you describe your sense of style? "I'm drawn to bright colors. I'm wearing something more muted and clean today, but in general I love prints. Life can be really boring, so you might as well make it interesting by wearing something fun!"
Why did you choose this particular outfit? "I like this top a lot and, in order to match it, everything else goes! I'm also dressing for cold weather. The top I got from Singapore's Haji Lane, which is a row of shop houses. My blouse is from Uniqlo, my tights are from a no-name online store, and my shoes are from Thom Brown, a local shoe store near Yale campus."
What fashion advice would you give to other students looking to improve their style? "I think everyone has style, but not everyone puts effort into thoughtful outfits. I think if everyone took the time, people would dress really well."
What are your favorite trends right now? "I love neon-colored things, as well as brightly colored sequins."
Do you have any favorite fashion designers? If so, who? "Alexander McQueen, because he [was] so out there. There are a lot of fashion designers that make clothing for everyday wear, but McQueen's styles are almost alien and surreal. What sets him apart is that most designers work with materials and details, but he really focus[ed] on the forms themselves. He [was] wonderful."
What do you do for fun – do you have any unique hobbies or interests? "Throwing costume parties! They take so much effort though, since we like to go all out. But it's just so much fun! Otherwise, I just like hanging out with people in general. If you hang out with fun and optimistic people, you'll have a great time no matter what you're doing."
If you could raid anyone's closet, who would it be and why? "Audrey Hepburn, maybe? All the dress[es] she's worn. Or maybe Edith Head's, who designed the costumes that Audrey and those other actresses wore. If we could get all the dresses back, I'd love to raid that collection of costumes. I like vintage things because it's so much fun dressing up!"
Elements of Deborah's Outfit
1. Collar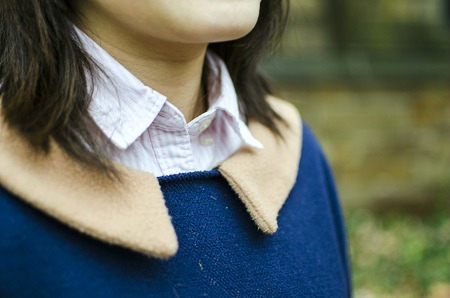 I'm fascinated by the spunky collar of Deborah's dress and how it contrasts with the very traditional collar of her inside blouse. The juxtaposition of dark neutral colors with clean pastels adds another layer of complexity, which helps structure her deceptively simple outfit.
What makes her style stand out is how easily everything seems to come together, but upon closer inspection, I feel like no one else would be able to put details together the way Deborah does.
2. Oxfords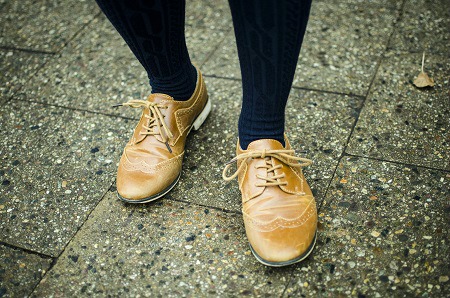 Deborah's menswear-inspired oxfords are a solid anchor to the rest of her outfit. These traditional shoes blend seamlessly with the rest of her classic yet quirky ensemble. Also, I love their Baroque detailing, which ties in with Deborah's love for art history.
3. Phone Case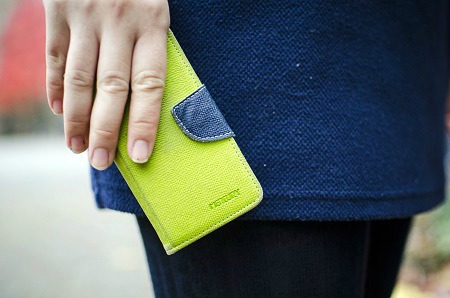 While her oxfords match the brown hue of her collar, Deborah's phone case matches her blue dress in the exact opposite way: the oxfords emphasize the classical tradition her outfit draws upon, while the bright green of her phone case reminds us of the modern world we live in.
Deborah mentioned how much she loves bright colors, and the case's lime hue is definitely eye-catching! We interact with our phones frequently throughout the day, so the fact that Deborah chose such a fun and colorful case really says a lot about her personality.
What do you think of Deborah's outfit?
Do you love her tunic dress as much as we do? What about her bold phone case? Do you ever wear oxfords? Leave us a comment below and let us know your thoughts!