On-campus events are a core aspect of campus culture, and subsequently these events impact the culture of campus fashion. Yale recently inaugurated its 23rd president, and, amongst the many events and festivities, I found Jackson looking especially sharp.
Not only do all the pieces in his outfit come together cohesively, but upon closer examination, each single piece is remarkable on its own. In retrospect this is unsurprising, as Jackson shows through his interview that he is quite a thoughtful and colorful individual.
Jackson 101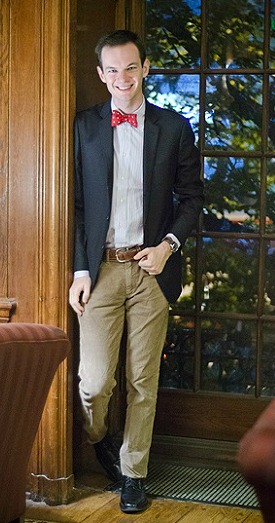 Name: Jackson
School: Yale University
Year: Junior
Major: English
Let's Talk Fashion
Who or what inspires your style? "I don't have a specific inspiration; I wear clothes that I feel comfortable in. Fashionable looks are great, but the key is to be able to go class and do work in the clothes you're wearing. I'm from Pasadena, California (outside of LA) but both my parents are from the East Coast, so that's influenced my preppy style. I also love fall and fall-inspired clothes."
Where do you like to shop? "A lot of my shirts are from the Gap or J. Crew, which have really nice fabrics. Sometimes I shop at Brooks Brothers, however it can be a little too jock-preppy for my style. I do a fair amount from various online websites, such as on Gilt. I shop online as a lot of retailers and brands I like only have slim and tall sizes available online."
How would you describe your sense of style? "Boy Scout professor!"
Why did you choose this particular outfit? "For inaugural festivities, I wanted to wear something that was fun and celebratory. I really love bow ties, so I settled on this one from my grandfather. I liked the contrast between the bow tie, which has a lot of fun energy, and the thin stripes on my shirt, which are more mellow. I didn't want to go for a full suit since the inaugural events are not full-on formal, so I chose these khaki colored corduroys together with a patterned belt that I always love to wear.
My jacket and pants are originally from J. Crew, and my shirt is from Florence, Italy. My bow tie, is my grandfather's, my belt is from a Guatemalan flea market, and my watch is a Hamilton. I got my shoes online and my socks are from Uniqlo."
What fashion advice would you give to other students looking to improve their style? "A lot of it is just paying attention to the fit of clothes you buy. Having a tailored jacket is very useful. Know your dimensions makes so much of a difference. Besides fit, I would say the other consideration would be fabrics – choose fabrics that are comfortable. If you're not comfortable wearing something, you aren't going to wear it."
What are your favorite trends right now? "I like the big, boxy glasses trend. Not necessarily for me, but definitely on others."
Do you have any favorite fashion designers? If so, who? "I don't have any particular ones. I like to go by looks rather than labels."
What do you do for fun; do you have any unique hobbies or interests? "I think it's important to keep a balance in your life, so I do a lot of extracurricular writing for school. I also collect postcards and miniature honey jars that are complimentary at hotels. You don't ever use them, but sometimes the designs are so cool."
If you could raid anyone's closet, who would it be and why? "I'd raid the collective closets of those thirty-something British actors. Such as, Benedict Cumberbatch, Eddie Redmayne, and Ben Whishaw. They all have very slightly different styles that are all very interesting. Benedict Cumberbatch has a lot of fantastic coats and is really Sherlock-y, Eddie Redmayne has an aristocratic British style, and Ben Whishaw has a more clean and trim style. Even though their outfits are probably dictated by stylists, these actors have really interesting pieces in their closets."
Elements of Jackson's Outfit
1. Bow tie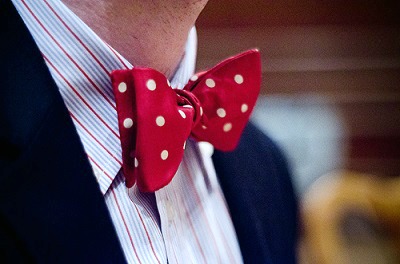 Jackson's bow tie adds so much fun and pizzazz to the other formal elements of his outfit. While the primary colors he chose for his shirt and tie are rather bold in relation to his otherwise-neutral outfit, all of the colors come together so tactfully. The full red balances playfully with the light blue and white, but at the same time the blacks and browns of his external layers anchor and frame the more colorful pieces elegantly.
I'd like to point out that Jackson is composing his outfit with five color groups here. That is no easy feat.
2. Watch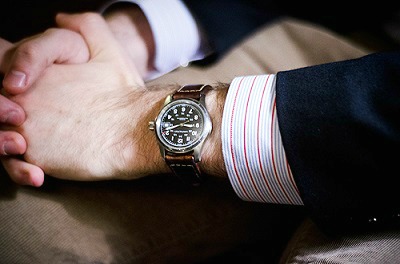 Jackson's watch is a Hamilton, which is, according to him, the American brand of watches that were issued to soldiers in World War II. Since then, Jackson said, the company has been acquired by a Swiss group.
While the watch alone is a solid piece and also interacts well with the other elements of his outfit, I think Jackson's best accessory comes from all the research he's done about the pieces he owns.
3. Socks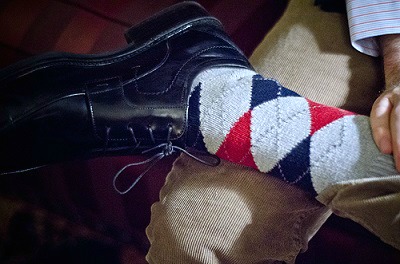 I think Jackson's socks are a great reflection of how complicated yet cohesive his outfit is. They're argyle, therefore reflecting the traditional form of the rest of Jackson's outfit, but they also incorporate the fun colors found in other pieces of his outfit.
These socks also from Uniqlo, which further adds a fun twist to the outfit, since Uniqlo is modern, Japanese, and a very non-traditional brand.
What do you think of Jackson's outfit?
Are you as in love with his mixed colors (red, blue, brown), and patterns (stripes, argyle) as we are? What do you think of his preppy yet fashion-forward sense of style? Does his own style inspire your style? Leave a comment below and let's discuss!